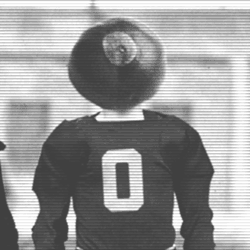 DiasporaBuck
---
MEMBER SINCE September 09, 2013
Lurker since TatGate in 2010 and then finally signed up for an account a few years later. I post rarely, but read the site several times a day even when football and basketball are in the offseason.
Recent Activity
Rosy-Cheeked Assassin 2.0
I never thought of driving a Kia as very yippie kai yay
"Why did you go for six?" "Because I couldn't go for seven."
All your base are belong to us
we only feast upon the finest of souls
Not sure we can say that after last weekend
That was actually my first thought: "We motorboated the big ten? Well, kind of."
His name has been changed to Harb-womp-wom-wom [sad trombone]
And teams are also nearly always playing from behind against us.
"If I hear anybody talk about anything other than the focus on beating Wisconsin, it's going to be a bad day for everyone." - Urban Meyer
"Everyone who played" ... except for all of michigan
I spent ten years defending my country, but half the time I see our flag any more it feels like somebody's just using it to try to sell me something.
We are Iowa now. Only we beat OSU less often.
So Harbaugh's getting COY?
Just showering down
This year I didn't see a red banner up in their stands to punctuate the win. Has that been shut down?
I love hearing the O-H-I-O going around our rival's stadium again!
Can you spell what The Rock is cookeeng?
Maybe they're going to quintuple-team him
I'm glad to have some level-headed TTUN fans over here. I feel a kinship with everybody on either side of the Rivalry, because whenever I discuss it with friends and coworkers from the other side, it really feels like we're part of something special that you just don't get when you talk with fans of any other team. (Not being the 1990s any more helps too)
here's to everyone getting through the game uninjured
I don't see my liver getting through this game uninjured.
That was a nice team
And if we score more points than them
But didn't Ahnold win?
They do have a history of letting predators roam freely.
None of the Tennessee alums who I know seem to have any delusions about where their football program stands, but maybe they're not a representative sample.
I would like to borrow some money from Desmond Howard