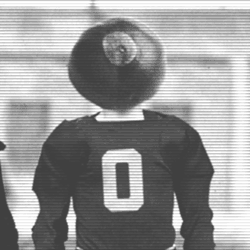 Dgeneral
---
MEMBER SINCE December 16, 2015
Recent Activity
They would fit right in with OSU's LBs.
Seeing alot of talk about Meyer wearing a Gator shirt. Kind of odd.
But he was invited by the Gators/SEC and fans dont realize he is really still close to Dan Mullen.
Lots of ex Gators- Tebow, Emmett Smith, Harvin, Dunlap- trying to get the university to induct him into the ring of honor.
Its surprising how many UF/OSU fans dislike a coach who has never had his university put on probation or disgraced himself by punching an opposing player.
Only weakness is backup QB? You must have not watched the LB play last year. It was the worst in 30 years.
Only Harrison was adequate and even he lacks speed that other elite LBs have. Changing coaches is not going to improve how slow a player is or how weak a LB is at fending off blocks.
The talent at LB is below average, There are supposedly players that have talent but they rotted on the bench last while the others played miserable.
Until we see players play significantly better the LB is by far the weakness on the roster.
You just have to laugh at the lip service the coaches give to the media and fans about a position group. The bottom line is the LBs played horrible last year. Having the 71 st rated defense was an embarrassment. The LBs couldn't pursue, couldnt shed blocks, couldnt cover and blaming the coaches was a scapegoat for the reality of these guys are simply not good players.
At Ohio State you have to have NFL caliber LBs like Shazier, McMillan, Lee, Rolle. None of these LBs on the roster that we have seen on the field will sniff the NFL. How many of these guys would play at Alabama or Clemson or Georgia right now? None. Certainly not Borland who is slower than Storm Klein or Werner.
Fans thinking these guys are going to be good are not watching reality. Recruiting misses happen and the weak LB group is more than obvious thats what happened.
Knowing your stuff doesnt help much when you are being outrun by the opposing teams Olineman like in the Maryland game. Borland would never see the field at Bama or Clemson and thats the standard this program is trying to get to.
He can cover TEs though. That seems to be his main positive strength.
Last year might have been the worst LB play in 30 years as Harrison was only acceptable at best.
Borland is even slower than Storm Klein and Werner is just not strong or physical enough to get off any blocks. Fans keep blaming the coaches for a poor scheme which is partly true but players still have to possess speed, strength and quickness and the group last years has none of that.
Most of the time there will only be 2 LBs in the game with Mattison's plan to play White at the hybrid LB/S positiuon.
I have 2 great cars in the last 20 years- a new Subaru Outback which I drove to 170,000 miles.Then I bought a 2 year old used Lexus RX350 ( for about $22,000)which I put 270,000 miles on it without any issues until it sort of died.
We will see what TT can do against legit offensive talent in Gonzaga. Both late games last nite were pitiful. Elite high school players dont want to go play for teams that play like that. They watch the Purdue- Tennessee and want that type of program. That is what today college basketball is about. Unfortunately the Buckeyes offense was worse than Michigan's and fans stayed away and the team generated little interest. I hope Holtmann moves toward an uptempo offensive style to get better recruits instead guys that cant throw the ball in the ocean like half of this years team.
Lol at the title of this article and showing a picture of the slowest LB in the last 40 years. It was really sad seeing the opponents offensive lineman run faster than Borland. We all thought Storm Klein was the worst LB starter in 20 years but that was bypassed last year by the horrific play of Borland and Werner. It was like the defense was playing 9 vs. 11. Add the bad play from Arnette and Pryor it should have been no surprise last years defense was historically bad.
While this season was somewhat successful making the Dance with limited talent, this team was 4-12 against teams that made the tournament which is really not very good.
Carton and Liddell have to be studs next year as their talent has to be the core of building a top 20 team. For this team to be good they need: 1- Kaleb to get in better shape and learn to play smart and get smarter off the court. 2- They have to get a legit shooting guard from 3 point to open up the low post 3- Improve this team's horrific passing. 4- Get a decent backup center ( grad transfer/Juco)
Next year at this time the lineup we will see- PG- Carton SG- DW/ Walker SF- AWesson( unfortunately) PF- Liddell C- Kaleb.
Good chance to win 2 games in the tourney next year.
My buddy in Vegas loves Holtmann. He had the over 132 in the game and for some ridiculous reason OSU kept fouling the last 45 seconds to push the total over. Nice.
Washington should be in the game. No brainer.
0 baskets in almost 8 minutes and Holtmann has Andre Wesson and Jallow in the game. Does he realize they are behind by 10 points and need a shooter?
Has anyone ever seen an OSU player throw the ball to the other team 4 times in about 10 minutes of playing time like Jallow? I dont think a HS girl would be that bad,
And Liddell at the 4. Walker 1st sub off the bench. 25 win team maybe.
Houston is decent but wait till they have to play against the athletes Kentucky has. They wont be driving in the lane and scoring next game. Im surprised Holtmann doesnt go zone with the way Houston's guard are abusing the Buckeyes with their quickness.
Wont happen this year. DW is the only player on the roster that can do that.
Kaleb Wesson is just asking for fouls to be called on him when he fights for low position with his damn elbows up into the defenders neck and chest area. The refs are always telling him to lower them but he does it all the time. Someone needs to teach him to use his wide base to get position instead of his arms. Then when he gets doubled he always dribbles away from the basket instead of turning to look for an open teammate.
Next year Carton, Liddell and Walker will add the much needed talent this team lacks. Just no consistant offensive talent this year.
Fans can hate on him all they want but he is better than any defensive player OSU has.
But Schiano would start Cooper over him if he was here.
Agree Schiano has not been good. But the LBs are MAC level talent. The DBs are poor tacklers and lack pursuing speed.
Players do have to make plays and tackle and get off blocks. These guys have proven they are bad despite any scheme.
More blame should be at Schiano for not benching the players that stink.