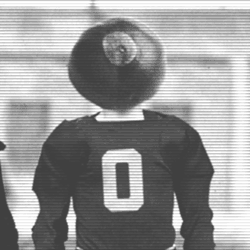 Dgeneral
---
MEMBER SINCE December 16, 2015
Recent Activity
Togiai played better than Hamilton and Landers in the 2nd half.
You are aware Lawrence will be the #1 pick in 2021 NFL draft?
Of course they will. Most never played football and are just homers that cannot analyze the game. I grew up in a football family with defensive coaches and can see things objectively. On here its like you are a criminal if you criticize obvious bad play.
LSU will win the NC. Joe Burrow is playing at a level above everyone else. And good for him. He should have started the 2nd half against Clemson when it was clear OSU had no hope with scatter arm JT Barrett at QB and they got embarrassed 31-0.
And LSU defense has gotten healthy and are playing better. They will easily beat Oklahoma and win the NC in the Dome.
Werner, Borland and Browning were terrible yesterday. Missed tackles led to both of Taylors long runs and TDs. Werner also was awful at setting the edge on the jet sweeps. No LB dropped quickly enough into the zone where short passes were being completed.
They had trouble against Michigan as well. We know Clemson is not Michigan or Wisky, they are NC.
Clemson is a more experienced team with the better QB and playoff tested players. Buckeyes should be the clear underdog in this game and fans should not expect winning this game.
QB play wins big games and Lawrence is the #1 pick in next years draft. Hoping OSU wins this game but Clemson has a huge advantage at the position that matters the most. Buckeyes have had a great season but beating Clemson would be a big upset.
You think Clemson DBs will be laughing in the film room like they did when when they watched Barrett? They knew he couldnt throw worth crap and that game would be an easy win. Fields presents a much better task for them this time. Fields needs to stop holding the ball so long and take off and run.
No. Vegas already has Clemson -1.5/ 2 in some places
Thats total nonsense. LSU is a great team. Joe Burrow is alot better than Justin Fields. QB play wins games. I cant imagine OSU's poor LB play stopping LSU's offense.
Clemson has the advantage with Lawrence at QB over inexperienced Fields. Plus their guys have been on this stage.
It would be an upset if they can beat Clemson.

Rewatched the game this morning and Coach Day has to be extremely disappointed with the very poor play of the LBs except for Harrison.
Werner was awful -his missed tackle led directly to Wisconsin scoring at the end of the half. He missed numerous tackles and failed to set the edge on the jet sweeps. Browning missed 3 or 4 tackles and Borland was too slow to drop into coverage on the short passes. On Taylors 1st TD run he was nowhere.
Their play will get this team beat against LSU and Clemson.
Funny the basketball team has a better shot to win the NC than the football team.
This is just like 2006 when we thought that defense was good and then they gave up 39 pts to Michigan and 41 to Florida.
Last week Michigan exposed this defense and should have scored at least 30 if their WRs hadn't dropped balls and Shea fumbled.
Tonite the D sucks again against an average offense.
Can you imagine what Burrow will do?
At some point the poor LBs were going cause defensive issues like last year and sure enough last week and tonite it has been the major cause of giving up 21 points. To think Borland, Werner, Browning were suddenly fast and great tacklers was a pipe dream.
They simply are not good enough to start at OSU.
Can you imagine them against LSU or Clemson's offense.
I didnt think this team could beat LSU or Clemson in the playoffs and was criticized by almost everyone.
But Lawrence and Burrow are clearly much better than Fields who really struggles against pressure and holds the ball way too long.
This team isnt better than Clemson/Lsu.
So far Coan playing much better than Fields.
The play of Liddell last nite was the highlight. He had not yet played near to the level he did last nite.
Holtmann used a number of combinations on the floor that were mostly very successful except for the group when Gaffney was in.
At some point I think he will use a lineup with the most skilled players at each position: PG- Carton, SG- Washington SF- A Wesson PF- Liddell C- K Wesson
At the end of games he likes to have both Carton and Walker in for better ball handling and Young for rebounding and defense.
Werner- awful tackle effort on 2 point try. The LBs have been pitiful today. Guess we were fooled on them being better.
Playing Riep and Borland is like playing 9 vs. 11. Advantage Patterson every play.
Browning plays the 1st series and makes 3 plays and a near sack if Cooper didnt get him. Maybe he should play a little more?
1st and goal at the 2 and they lose 2 yards. A FG is a huge loss here
Funny thing today- for all the bitching about Schiano and last years D coaches this years defense is playing far worse than last year.
And if having 1 player out is an excuse then your defense isnt that good to begin with. Clemsons defense would never be playing this bad.
At some point a team with decent WRs/TE would test OSUs LBs and its happening today. Borland cannot cover one on one or cover enough space in the zone coverage and Werner has been exposed on a few big plays as well.
Give UM credit they have 3 really good WRs and TE and Patterson has been accurate.
Playing bad offensive teams all year has made this defense overrated.
The defense has not played 1 good offensive team with good WRs/TE this year like Michigan. Hamler was hurt last week and not a factor. UM has a good plan attacking the slow LBs with quick passes. Give them credit.
Fields inexperience is showing against the 1st good team he has faced on the road. Have no idea how OSU fans thought he would be good today. He is nowhere near the QB Haskins was yet fans think he is great. Not the case at all.