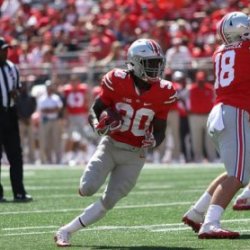 DFrelin06
Huber Heights (via Toledo)
MEMBER SINCE September 22, 2017
Favorites
SPORTS MOMENT: 85 Yards through the Heart of the South
NFL TEAM: Minnesota Vikings but the Saints are making a case
NHL TEAM: Pittsburgh Penguins
NBA TEAM: Los Angelas Lakers via Lebron James
MLB TEAM: Cincinnatti Reds
SOCCER TEAM: This is America...we don't watch socer!
Recent Activity
406
423
Top ranked undefeated team: Alabama(SEC). Top ranked 1 loss team: Georgia(SEC), Michigan is the only relevant 2 loss team, Top two ranked 3 loss teams: Florida & LSU(SEC), Top two ranked 4 loss teams: Mississippi St & Texas A&M(SEC)...No bias there
Mississippi St scored a combined 16 points against their top 4 opponents Bama, Florida, LSU, Kentucky(I'm sure the committee would tell you they beat 8th ranked Auburn)...they were outscored 84-16, but magically are the highest rated 4 loss team. No ulterior motive there.
417
268
348... but I'll be stoked if I'm wrong and lose when the Buckeyes go for 477 yards and drop 42 points on Sparty. Headed to East Lansing in 10 minutes.
After seeing what White did on Saturday, I gotta wonder what our defense would look like if guys like Keandre Jones, Dante Booker, and Browning were given playing time like White was yesterday. I just can't believe that Borland and Werner are better, no way.
415
931
177
Weather report for Saturday? Hopefully it's not one that limits the passing game.
577
Send their phones to a forensics lab? This wasn't the Penn St investigation. It wasn't even a legal investigation. Urban Meyer was never accused of abusing anybody, nor was he accused of covering up abuse...there is hoards of evidence to suggest that law enforcement was well aware of what was going on in the home of Zach and Courtney. Move on already.
The other guy that could get a look at safety is Sheffield. Freak athlete, speed to burn, has trouble in man coverage. Wade, Okudah, and Arnette at CB, Sheffield and Fuller at Safety.
At the end of the day, you either perform when i counts, or you don't. What you do in practice Monday-Friday mean nothing if you cant perform on Saturday. I think Shaun Wade is one of those players who might not shine in practice, but deserves to be on the field on Saturday. I met his Dad this past summer, and he told me that Shaun isn't one of those aggressive press corners, he doesn't always look like he's going 100%. He has a very casual style of play, where he makes it look effortless. He said the coaches were really getting on him because they wanted him to be more aggressive, but that's not his style. I'm glad to see that Schiano is starting to recognize that the kids got game, and should be on the field. Okudah and Wade are going to be scary next year.
I think when the seasons done, we will look back on the TCU game as the "coming out" for JK Dobbins. He has really started slow this year, and it was starting to look like splitting carries with Weber was affecting him, like it did JT & Cardale. But there was a point in the second half, where you saw him come alive. I predict big things for him moving forward, and were going to need him, and Weber, come November when the weather starts affecting the games.
Michigan #3?...They must have included the profits from the players selling their Jordan's. Someone call Brett McMurphy!
Stock Down: DeMario McCall...makes me so sad!
Glad I wasn't the only one that saw that. Had me thinking about those slam dunk videos from the team last year...Wasn't it Harrison that won? Either way, dude got up, way up.
Exactly what I have been saying this week about MSU & Nebraska. They lose these out of conference games, which doesn't hurt their B1G chances, but then manage to give the Buckeyes a conference loss. 2 years ago, it was Penn St, before that it was MSU. Heavy is the head that wears the crown I guess.
Forgot to mention Dante Booker. How did he go from being a starter last year, to 3rd string this year when we lost the other two starters?
Based on his special teams play at the end of last season, I was really high on Hilliard and expecting big things this year. He was a 5-star recruit, and it has been injuries that have set him back, never the lack of ability. No reason not to expect him to have a big year. That being said, I have never been a huge Borland fan. He was adequate enough last year when they needed him, but this is Ohio State...we don't do adequate.
The Saints will pick him up because they have realized the talent that comes out of Columbus