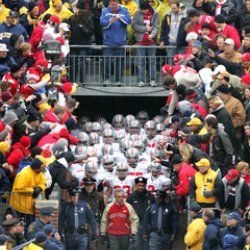 DevilDawg81
---
MEMBER SINCE August 31, 2014
Favorites
SPORTS MOMENT: Getting to witness these in person: Dale Earnhardt's last victory at Talladega, '02 win over *ichigan, Eddie's 314 yards vs Illinois
NFL TEAM: Cleveland Browns
MLB TEAM: Cleveland Indians
Recent Activity
Is that an SMU shirt he's wearing up top?
I was just about to post this. Hate to see stories like this when you wake up...
"Let's go give the country hell these last couple of games"...well stated EZE. Let's go walk the walk now
Brutus is wearing gold pants!!
Time to go kick some fucking ass boys...
I've been stewing all day. I'm tired of all these ESPN articles about Harbaugh and showing stats of *ichigan coaches beating us their first time at home. Fuck these guys. Urban needs to rip Harbaughs heart out of his chest, take a if bite out of it and throw the rest to the Slobs to finish off. I can swallow last weeks loss and move on with a W in Ann Arbor Saturday.
The last time he wore it we got beat. We're undefeated with him as #1
You are correct, this is nowhere near campus.
I'd rather be in the underdog role anyways...one game at a time though
Shake it off ladies, it's still early in the season
Great story about a great young man. Hats off to him and all of our veterans
This is great for the B1G. If there are more top ten upsets within the next couple of weeks, we could see more teams crack the top 10
One game at a time...as long as we're in the top 4 at the end. Notre Dame at 4 is interesting
Oohrah DevilDawgs!!
Semper Fi do or die
Agreed. He's going to make a great receiver at the next level
Congrats to her, hope the Lady Bucks have a great year
My first Ohio State game in-person. Incredibly cold, yet awesome.