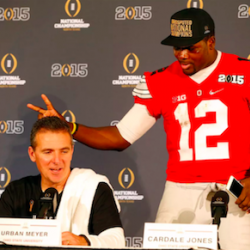 Desymond
---
Columbus (via Rochester, NY)
MEMBER SINCE September 15, 2016
Friend from my MS program had me store his huge block O (from his undergrad) that he couldn't move cross-country with, a year before I ended up committing to a PhD here. It was destiny. I offset horrible Sundays watching the Bills with great Saturdays watching the Buckeyes.
Favorites
SPORTS MOMENT: Catching a baseball that Mariano Rivera warmed up with in the bullpen. He never went in the game because Joba Chamberlain blew it in the 8th before Mo could save it in the 9th. Bullpen coach tossed me the ball after the game was over.
COLLEGE FOOTBALL PLAYER: Cardale Jones
COLLEGE BASKETBALL PLAYER: C.J. Fair
NFL TEAM: Buffalo Bills
MLB TEAM: New York Yankees
Recent Activity
AV you need to test it out and report back.
shocked 2 c people still txt like this in 2018
Wow, had no clue it would be close to 4k. That's like the perfect size for a wrestling venue. Small enough to be intimidating, but big enough that I don't need to worry too much about getting tickets lol.
Any idea how many fans it holds? Wondering if it will be tough to get tickets this year. Can't wait to check it out though!
Hopefully the Schott match comes back eventually, that was a freaking cool atmosphere for a dual meet.
Haha was hoping someone had posted a wwe gif. Buckeyes roster is turning up tranquilo!
ESPN always has to make things into a sob story.
What is Bosa's suit made out of? Velvet? Still 10x better than Kyler's.
Kyler's suit shows very poor decision making skills. Horrible #1 pick.
I'm guessing he's not expected to dethrone David Taylor anytime soon? Don't follow the US team much outside of Snyder/Stieber.
Any McKenna-esque transfers out there looking to come to Cbus?
We can dream right? Damn, McKenna was a great pickup.
The Hidley-Nolf match alone should be enough to institute changes to the review system. This just pushes it over the edge. Shit has to change. It's amazing that at the highest level, officiating was so poor at this tourney. In general I don't think wrestling is that tough to ref, so it's sad the tourney was tarnished a bit.
The DeSanto match showed a lot about Pletcher. Dude's half a step away from being a champ. Hope he can come back strong next year and win it all.
Martin finishes 3rd. 4x all american, despite the upset he's still a all-time great buckeye.
Pletcher pulls out an exciting match against Desanto. Despite Brands and the refs best attempts to get in the way.
Brands says hands to the face against his shithead Desanto is the worst call of the tournament. stfu Brands. Apparently he didn't watch the Hidley match last night.
I'm going to be a bit more optimistic. PSU loses Nolf, Nickal, Cassar, and Rasheed next year. I don't follow their recruiting until AV puts out articles on it in the offseason, but we've got some studs coming in. Losing McKenna, Jordan, and MyMar is going to hurt, but I think PSU loses more.
Great interview AV. Any thoughts on the reffing in the Hidley-Nolf match? What were other reporters/coaches/athletes saying about it?
Not sure you can call getting pinned by Bo Nickal "choking." I hate the guy just as much as the next guy, but give him some credit.
I just got a chubby thinking about this.
Hate to say it but there's a good possibility we finish the #2 team with no individual champs. I'd say McKenna has a 50:50 shot. I'd give Micah 25:75 just because he's been improving against Ashnault. Give Moore 10:90 just because he improved a bit too. Not great odds. Damn, I'm so bummed about Mymar.
Tom Ryan just seen shaking his head in disgust after Moores win. Bet he's still pissed about MyMar.
The only thing I could think of was he was waiting for a stalemate call there right at the end. Then he let up and got caught when the call didn't come.
Yeah man I'm so sad about this. Should have been a storybook walkoff for MyMar. Wtf.