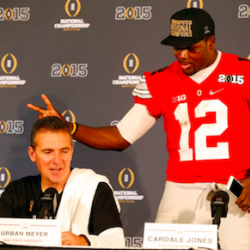 Desymond
---
Columbus (via Rochester, NY)
Member since 15 September 2016 | Blog
Friend from my MS program had me store his huge block O (from his undergrad) that he couldn't move cross-country with, a year before I ended up committing to a PhD here. It was destiny. I offset horrible Sundays watching the Bills with great Saturdays watching the Buckeyes.
Favorites
SPORTS MOMENT: Catching a baseball that Mariano Rivera warmed up with in the bullpen. He never went in the game because Joba Chamberlain blew it in the 8th before Mo could save it in the 9th. Bullpen coach tossed me the ball after the game was over.
COLLEGE FOOTBALL PLAYER: Cardale Jones
COLLEGE BASKETBALL PLAYER: C.J. Fair
NFL TEAM: Buffalo Bills
MLB TEAM: New York Yankees
Recent Activity
AV, any word from inside the room on what we can expect from Singletary or Romero?
Bo Jordan wins the 2017 NCAA championship with a decent referee. I'll stand by that and therefore never say an ill word about Bo. Also he had the foot thing going on this year which just amazes me that he did as well as he did.
CUSE!
My boys took out an MSU team that played like a giant pile of poop. Cuse played slightly less poop-like.
Agreed. Highest team score in school history, most all americans in school history. You can't just simplify it and say the team lost and failed. Huge successes in an era where no other team is even competing with PSU.
This really is the best 2nd place team ever. Set records for most points by an OSU team, most all Americans at OSU, and first time ever that a trio was 4x AA's. Really freaking glad I got to see the Snyder era in person.
AV, do you know if Snyder will be doing any promo events around Columbus like the football guys do? I got a request from a friends 7 year old back in NY for a Snyder autograph. Might be early for that kind of thing, but if you hear anything can you keep us posted?
1/4 of that was Knar and I yelling at one another.
Jokes aside, great coverage the past three days Andy, we all appreciate it.
Read that Nickal and Snyder got docked a team point for throwing headgear after winning. Wasn't for Nickals postmatch exhibition of douchebaggery.
Snyder's peak is higher though.
Nickal:
Yup. I'm glad Coon brought it this match, really adds to that trilogy.
Coon would have a neanderthal gimmick for sure. I want Snyder as Kurt Angle 2.0
Jesse Owens.
Jack Nicklaus.
Archie Griffin.
Kyle Snyder.

There is no other consideration.

— Jimmy Longo (@jnlongojr) March 18, 2018
Agreed 100%
If there is one thing that can offset the disappointments of this tourney, it was that.
Coon is too big to get a double on. Gotta get a single and get it in the air.
"look at that athleticism"
Coon duck walks. get the fuck out of here.
Holy crap. Neanderthal took a shot.
Did they just penalize PSU a team point for Nickal? Couldn't really hear the PA system.
Cael hugged him and lifted him up three seconds after that.
I'd rather have Martin on this team and take second than have a douche like Nickal and take first.
Nickal, nobody likes you. Prick. Fuck off. I bet you Retherford and Nolf are shaking their heads right now.
Holy fuck. What a swing of emotions.