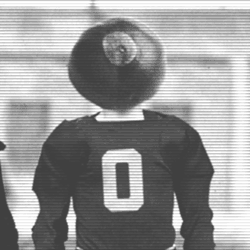 Deshaun
---
Member since 28 June 2012 | Blog
Recent Activity
Yes. This is a winner.
Paul Chryst may be another uninspired hire for Barry, but Mike Riley has been a hot commodity in college coaching circles a few different times. He turned down the head job at USC, spent time as an NFL head coach, and had the biggest have-not in the Pac-12 playing far above their historical mean for a full decade. His personality seems to remind a lot of Huskers of the legend, Tom Osborn. Sure, it's possible he never surpasses Pelini's success. But it's also possible he returns the program to a perennial top 10 program. His track record is a lot stronger than the whole "never lost less than 4 games" line.
The Wisconsin fans I know say the exact same thing. He should have been aiming far higher in 2012 than a guy who had 1 good year at Utah State. He should have aimed far higher this year than a .500 coach from the ACC. Per Wisconsin's own fan base, Alvarez won't consider anyone with the juice to tell Barry to sit down and color. Championship caliber coaches would be able to do just that. As long as he is there, Wisconsin will likely never exceed the standard set the past 2 decades: win about 9 games a year, finish in the top 25, but never have the team to make the College Football Playoff. Wrote this 2 years ago and it applies directly today: http://www.elevenwarriors.com/blogs/deshaun/the-importance-of-wisconsin's-coaching-hire-to-the-big-ten Now, it appears Jim Harbaugh is heading to the Wolverines and he may bring in Florida's DJ Durkin as D Coordinator. On one hand, I'm happy someone else in the Big Ten is genuinely attempting to win. On the other hand, does it have to be THAT team? Either way, between Urban, Dantonio, Harbaugh, Franklin, and Wilson (who has Indiana playing well above its historical mean), the Big Ten East has perhaps the best coaching of any division in college football. That's a good thing for Ohio State.
And this is why I shake my head every time someone says, "I don't care about the rest of the conference. I'm just a fan of OSU. Just win and we'll be fine. I'm a Buckeye fan. The Big Ten is no team I ever heard of." We get graded on a different scale than the rest of the country because of the perception of our conference. Yes, Wisconsin blowing that game to LSU two months ago is keeping our ranking down, even though we don't play either team this year. If Wisconsin wins that game, Michigan State beats Oregon, and Minnesota beats TCU, we would be ranked higher than #14 right now with exactly the same resume, even though we haven't played a single one of those schools yet.
No, no. I have no idea what he said. I closed it as soon as I saw Paawwwl's name. I guess he could have, but that was just paraphrasing his consistent "expert opinion" over the past year or more. I, personally, do not remember him saying any team out there is better than any given SEC team. It's predictable enough I am surprised they still even waste time asking. Sorry, I should have made that more clear.
Closed the window as soon as I saw Paul Finebaum's name. That troll's lazy rhetoric is not important enough to bother us. "The Big Ten doesn't have a team who could compete with Kentucky. Arkansas would go undefeated in that conference." Propaganda too unsophisticated and predictable to be taken seriously. Yawn.
Wisconsin came off three straight Rose Bowl appearances to hire some guy who had one good season and one decent one out of four years at a program in a mid-major (at best) conference. He went on to lose four games in his first season at Wisconsin with what Bert projected to be his best team there. Why do people think this was a solid hire? They should have been able to land Chris Peterson, David Shaw, or someone of that stature. That is, if they tried harder. I'm sorry, but you are in the Big Ten and coming off your best three year run ever. Gary Anderson? That's simply not good enough.
http://www.elevenwarriors.com/blogs/deshaun/the-importance-of-wisconsin%E2%80%99s-coaching-hire-to-the-big-ten
Admittedly, I was never a fan of the Beckman hire. I wanted Mike Leach to run his famed air raid with talent from Chicago, St Louis, and Texas.
http://www.elevenwarriors.com/blogs/deshaun/the-importance-of-wisconsin%E2%80%99s-coaching-hire-to-the-big-ten
Tim Beckman spent too much time recruiting and constantly breaks down film? Then why did Illinois' recruiting hit the tank the second he took over for Ron Zook? How does he routinely lose games with poor in-game strategy with players who haven't developed?
Is he just unable to attract solid assistant coaches? Zook, for all his faults (which were numerous) at least had two decent coordinators his last season. In fact, Illinois has shown they will pay assistant coaches, with Zook's staff consistently the third highest collectively in the Big Ten.
This could just be a case of Tim Beckman not being good enough. New Illinois AD Mike Thomas missed on his top choice (Kevin Sumlin) and settled for a guy who had one decent season in the MAC
In high school football (or a video game) you give the ball to one fast guy and he dances around the field for a touchdown. In the NFL, flashy wide receivers don't create touchdowns, dominant offensive lines do. Go with the granola (dominant offensive lineman), not the dandy doodle (flashy wide receiver).
Of the 8 offensive tackles in the Pro Bowl, 7 were taken in the first round, including 4 as top 10 picks. Only 6 of the 11 Pro Bowl receivers were first round picks. Stud linemen (which are crucial to NFL offenses) can only be found early in the draft. Come on Robinson or Matthews at #4! Just once, Browns, please get this right.
Hoyer (or Cousins, or whomever) handing off to Ben Tate and throwing to Gordon, Cameron and Lee behind a line of Thomas-TBD-Mack-Schwartz-Robinson is far more potent than Bortles getting sacked before Sammy Watkins can get off the line.
We've tried taking linemen later and developing them over a few years. That doesn't work. You need to have studs on the O-line and then magically all the other skill position players become much more competent. Even exciting or electric.
Are Bortles, Manziel, and Bridgewater better than Sam Bradford, Jake Locker, Blaine Gabbert, Christian Ponder, and Ryan Tannehill? Those guys were all rated at least as high as the three guys from this year.
I'm not saying Hoyer is a franchise QB. Maybe, maybe not. I am saying the difference in impact on the offense between Hoyer and the best QB in this first round is less than the difference between a loaded line and one with Schwartz at right tackle. In other words, until we fix the line, it doesn't matter who the QB is. Then again, that trade for Kirk Cousins (or similar) thing is intriguing too.
When Trent Richardson was taken #3 by the Browns in 2012, my SEC friend (Tennessee and Colts fan) told me he would average >5.0 yards per carry, fix our offense, and make the Pro Bowl. I told him Richardson would average less than 3.0 yards per carry and get knocked out for the season in less than 8 games behind our "line." He was better than I thought but nowhere near transcendent. Sammy Watkins does have Peter Warrick and Reggie Bush written all over him. Go O-line. All the sudden every skill player just got better.
An average to decent QB looks great behind the right O-line. Look at what Matt Cassel did in 2008 behind Tom Brady's line. Then look at what he did for KC and Minnesota since. Robinson or Matthews. That's the pick.
Please please PLEASE go O-line with the #4 pick! I am so sick of seeing Browns QBs getting broken. In our last 7 drafts, we have taken seven offensive skill players (Brady Quinn, Brian Robiskie, Mohamed Massaquoi, Montario Hardesty, Greg Little, Trent Richardson, Brandon Weeden) in the first two rounds compared to just three O-linemen (Joe Thomas, Alex Mack, Mitchell Schwartz). All but maybe Massaquoi and Little were busts among the skill players. Only Schwartz hasn't been good to great among the linemen. Drafting exciting players high and "Eh, we'll get someone to block for them later" shortcuts don't work in the NFL.
This isn't basketball where you draft Lebron James and he is a star. The exciting players don't make Sportscenter highlights without a good line. Ours stinks!
That is actually the direction a lot of people consider more likely. By bundling a few channels, the companies can charge the higher dollar value to match consumer demand, while pushing less desirable channels to the consumer base. Going back to the ESPN example, Disney could offer a package of ESPN, ESPNU and ESPNews for $27/month. But, if you want ESPN2 for the upcoming Ohio St game, Disney may require you to buy the package of ESPN, ESPNU, SEC ESPN, ESPNews, ESPN Classic, the Longhorn Network, and ESPN2 for $45/month, on a 12 month contract. The goal is to attach more at-risk properties to items of value with high demand. The Big Ten could potentially have been positioning itself for exactly such an environment with its recent addition of Rutgers. This was obviously covered in detail months ago, so here is the brief recap of the hypothesis: Maryland delivers BTN on expanded basic cable/satellite packages in DC and Baltimore. Rutgers does not, in and of itself, have the demand to deliver NYC. News Corp (who owns half of BTN) buys the Yankees' YES network to bundle with BTN in NYC. If the a la carte bundle concept comes to pass, we could see a bundle with BTN, YES, Fox Sports 1, FX, MSG, and possibly a Fox News type channel. A bundle like that could do very well in New York, creating the desired windfall for the Big Ten.
At first, the concept of a la carte channel subscriptions sounded great. Take that list linked in the article ($5.06/month for ESPN, $0.67 for ESPN2, $0.80 for BTN, etc) outlining what the cable/satellite companies pay the networks and and simply add up the costs for the channels I want. How great would it be to spend around $15/month for the channels I watch without the overhead of channels like QVC, Boomerang, and Fuel? Then I realized these channels would simply set prices to match demand and within a year consumers would be paying $15+/month for ESPN. Also, whereas games are now placed on ABC, ESPN, ESPN2, ESPNU, etc based on a tiered approach of marketability, companies like Disney would likely scatter games of the most marketable teams (Ohio St, Texas, Florida, Oklahoma, etc) among its holdings to entice consumers to buy every one of their networks. In the past 5 years, Ohio St has played on ABC 34 times, BTN 20 times, ESPN 17 times, ESPN2 four times, and Fox twice. Under the a la carte system, networks would be incentivized to make those numbers far more balanced, with a few games on ESPNU and ESPN Classic thrown in as well. Sure, we would not have to pay for the channels we would never watch (such as E! and TLC for me), which would feel good in principle. But paying $20ish for ESPN, $8 for ESPN2, $7 for BTN, $7 for the History Channel, $6 for AMC, etc. could quickly exceed what I currently pay to have access to all the channels I want.
Wow. Awesome on so many levels. You always knew a punk like Joffrey would be a TTUN fan. And any image of either Joffrey or a TTUN fan being clubbed in the head by Kerry Coombs is a winner in my book.
What we won is a matter of perspective based self-perception. Specifically, asking ourselves the question, "Who do we want the Big Ten to be?" I would like the Big Ten to be the dominant academic and athletic conference in the country. Despite Maryland's football struggles the past 2 seasons, this is an institution with academics comparable to OSU (25 graduate programs, over $400M annually in academic research, #58 rated school in US News, #28 ranked school in ARWU) and solid athletics (top 30 annually in Learfield Directors Cup, basketball in NCAA tournament 14 of past 20 seasons, and a decent football program which traditionally goes through cycles on the level of Colorado, Arizona State, and Oklahoma State). Maryland's football program has been ranked after 4 seasons since 2001, won at least 8 games 6 times from 2001-2010, and has a surprisingly strong recruiting base in DC/Baltimore/Northern Virginia. Maryland is a solid addition. Rutgers is still an AAU member, but has a lower academic profile (#68 by US News, lower research spending than every Big Ten school but Iowa, and less prestigious graduate programs than every Big Ten school but Nebraska). Rutgers, unfortunately, also has one of the worst athletic programs in the country. The most telling stat to illuminate the difference between Rutgers and the Big Ten is the Learfield Directors Cup, where OSU scores a median 1,060.03 points over the past 4 seasons, followed by Penn State (973.40) and TTUN (970.63). Iowa is last in the Big Ten at 478.15, ranked #46 of all schools with FBS football. Rutgers scores 170.50 (ranked #80). That's not a typo. That's lower than Akron, Kent, Army, Hawaii, and Fresno State. Rutgers' Men's Basketball average RPI over the past decade is about #150, comparable to Penn State and has average gameday attendance of about 5,500. Rutgers also has one of the worst traditions in college football, similar to an Indiana. Sure, they've had a number of 8-9 win seasons against a schedule even Bill Snyder would laugh at. But, it still only has a 47.51% winning percentage in the BCS era, has only finished one season ranked since 1976, only marginally moves the needle in it's home state, and has only once even shared a conference title in a much weaker Big East. Back to who we want to be. The Big Ten is currently one of the best academic conferences in the country. It is one of the best, but not necessarily THE best athletic conference in the country. Adding some combination of Virginia, North Carolina (both more attractive then Maryland or Rutgers), or Georgia Tech assures two things: 1) the Big Ten will be one of the last 4 power conferences standing, and 2) the Big Ten will never be the #1 conference. To me, unless a move is a step toward that end, why make it? The new ACC Grant of Rights does nothing to impact the Big Ten's ability to be the dominant academic and athletic conference in the country.
"There's no ironclad rule that says you have to play a home-and-home series in back-to-back years for each opponent." This line is dead on. It would be a mistake to schedule back-to-back crossover series. A conference where teams go 4 consecutive seasons without playing fall into the trap of creating two separate divisions who happen to come together for a conference championship rather than a truly unified conference. There is a way to rotate crossover matchups such that no matchup is absent more than 2 consecutive seasons and every team will play at every stadium at least once every 6 years. That takes into account the protected Indiana-Purdue crossover.
I remember when Rick Reilly was one of the better sports writers in the country during his SI days. I can also remember the exact article when he lost me as a reader: http://espn.go.com/general/story?storyId=6783415&src=desktop I remember thinking, "Rick, what happened to you?" Then I read Johnny's spot-on take on the article: http://www.elevenwarriors.com/2011/07/rick-reilly-attempts-to-make-some-jokes Well done, Johnny!
That rule has been changed since then. A student-athlete transferring from one Big Ten school to another can now be on scholarship. However, the student-athlete now loses a year of eligibility while sitting out the transfer year. This is also in contrast to Justin Boren, who started 2 years for TTUN, sat a transfer year, and then played 2 years for OSU. Per NCAA rules, a student-athlete has 5 years (stated in the NCAA manual as 10 semesters or 15 quarters) to complete 4 seasons of competition, with rare exceptions for medical redshirts, etc. Based on current Big Ten rules, a student-athlete could hypothetically compete as a freshman for Illinois in 2012, transfer to Wisconsin, sit the 2013 season due to the transfer, and have 2014-2016 to complete 2 seasons of competition. If that same player transferred to a non-Big Ten FBS school, he would be eligible all 3 seasons from 2014-2016. The hypothetical student-athlete is immediately eligible to be on athletic scholarship at Wisconsin. In the case of Mr. Pittman, he would suffer almost no difference between transferring to another Big Ten school and transferring to a non-Big Ten school. This is due to the fact he redshirted his true freshman season in 2012. He could transfer to Michigan State, have to sit the 2013 season (losing a season of eligibility during this transfer year) and have 3 seasons of eligibility remaining. He could also transfer to any non-Big Ten FBS school, sit the 2013 transfer year, and have 3 seasons of eligibility remaining, as 2 of his 5 seasons were used by the redshirt year in 2012 and transfer year in 2013.
I remember the lean years of the mid-90's when Randy Ayers brought in the Greg Simpsons, Damon Stringers, (who were fun to watch in high school at Lima Senior and Cleveland Heights, respectively) and Jamie Bosleys of the world. We went 39-72 from 1993-94 through 1996-97, including losses to such powerhouses as Ohio, Penn, Cleveland St, Bowling Green, Chattanooga, South Florida, and San Diego St. We also went 1-5 against Penn St from 1995-1997. Then I remember Jim O'Brien refusing to recruit talented prospects who were a threat to leave early for the NBA, refusing to go after even Ohio products such as Kenny Gregory (Kansas), Andrew Lavender (Oklahoma, then Xavier), and some guy from Akron named LeBron (not sure where he ended up). He preferred instead to build a team of Velimir Radinovics, Sean Connollys, and Boban Savovics. Two quotes come to mind when Jim O'Brien's view of Ohio State basketball is brought up. The first was in reference to his preference for European and under-the-radar recruits, O'Brien said he didn't "want to deal with the posses" of elite recruits. The second was following Ohio State's trip to the 1999 Final Four, when he said Buckeye fans ought not to get used to Final Four runs, and if that is their expectation, "they (we) should become fans of Duke." I imagine the landing of Greg Oden and the Thad 5 at lowly (sarcasm intended) Ohio State must have been quite a shock to Jim O'Brien. Luckily, we were able to land and keep (so far...crossing fingers) Thad Matta, a coach who can recruit at a high level and keep players on the team until they graduate, leave early for the NBA, or transfer due to lack of playing time from the bench. We have been ranked in the top 5 of the AP poll multiple weeks in each of the past 4 seasons. Ohio State is now an elite basketball program. But we had to endure 12 years (excluding 2 shining seasons of Scoonie Penn and Michael Redd) of mediocre to horrible basketball before we got to this point. There was a period of time when we were lower in the college basketball hierarchy than Penn State.
You hit the nail on the head, pointing out Tim Frazier's injury. He wasn't just the best player on his team. Frazier led the Big Ten in assists while finishing second in points and steals (only 0.1/game behind Craft) last season. According to ESPN, he assisted on 45.3% of his team's available possessions in 2011-12, second best in the whole nation. When a team with limited (read: "almost no") depth loses one of the best players in the whole league through whom the entire offense and defense run, there will be a huge drop in performance. Anyone who attended the 2011 Big Ten Tournament (where Penn State made its run to the finals over Indiana, Wisconsin, and Michigan St) remembers it was more than just Talor Battle. He ruptured his Achilles 6 minutes into the 4th game of the season. They actually had a winning record at the time (wins over St Francis and Providence, loss to at the time #6 NC State.) Now, would they have had a winning record in the Big Ten this season with a healthy Tim Frazier? Almost certainly not. But, would they have been semi-competitive and won a few conference games? Yeah, probably.