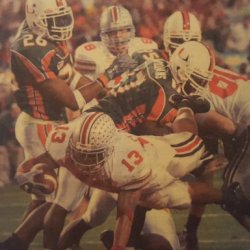 DenOSU
---
MEMBER SINCE December 15, 2016
Recent Activity
WWE Creative and Vince is giving you a call right now!
I said the same thing but looking at replay of Kudos Man actually grabbed his jersey and pulled him down
Foxsportsgo app
Mack get on the ball!
Go Bucks!
Went to 2012 World Series game in Detroit with my Tiger's jersey and OSU hat. Pleasantly surprised by how many OH and Go Bucks I received.
One game suspension.
Total bummer, I liked the local programming but also liked late night Fox sports over ESPN.
RIP young man! Boiler up
Thanks Coach Matta!
Thank you Coach Meyer and your family from Buckeye Nation!
I was wondering that myself. How do you score 1 point in football?
Now that was some funny stuff! Thank you, upvote
Offense is more horizontal then vertical especially in the red zone.
Thank you, you gave me a good laugh this morning. Up vote.
377
Way to go UC and Coach Fickell
Cut the cord after the bowl games this year. I use you tube tv for my live sports action (hockey, baseball etc.)
Good Day
Good read, I'm proud of the Buckeye Nation. Go Bucks!
Thank you for the situational today Ramzy, like you I'm one of the unfortunate ones who have to work today. It made my day go a little bit faster especially watching Ohio State beat up on Michigan again. Everyone have a happy and safe 4th of July and Go Bucks!
+1 to you sir for giving me a good laugh this morning. Btw, Happy Father's Day!
Snyder is a Beast!!! Congratulations Kyle.
ROFLMAO! +1
Wrestling Bucks are blowing up!