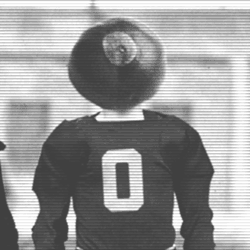 denner
---
Member since 02 July 2013 | Blog
Favorites
SPORTS MOMENT: 2003 in Tempe
NFL TEAM: Cleveland Browns
NBA TEAM: Cavs
MLB TEAM: Indians
SOCCER TEAM: huh?
Recent Activity
Send Twitter tough guy Zach Smith packing.
To be fair I would probably split my pants standing that close to Aly as well.
TP blew right by that 50+ yr old coach.
The Browns OL has sucked for years. Why not pay less for the same incompetence?
And I'm a Browns fan.
SEC wont let Bama lose next weekend.
When did Hawaii become Hawai'i?
1984 win versus TTUN with my Dad. Terry White made an INT in the end zone right in front of us. I remember Mike Lanese making a crucial 3rd down catch as well. Good times.
Not a surprise since Cincy is part of Kentucky. #secwannabees
Just glad not to listen Rose and Wade beat up the English language during the pregame. Go Cavs!
+ Jessica Beard.
Also of note, Nick Gray, an OSU track commit in Div. 1 sprints tomorrow.
Bo beat IMAR in HS twice. Love the way IMAR wrestles,
Probably an Iowa fan, just out of habit.
EDIT was responding to the stalling post below
Courts and Demas are so talented, just cannot get over the hump for some reason. Gotta love the freshman though, and what a gutsy win by Hunter. Wish they all had his heart.
I was impressed he lasted that long.
Beau comes off as a douche to me on the radio as he never lets Rothman finish a point. He loves to brag about how he is an insider in the locker-room or at the hotel with the Buckeyes on the road, just comes off as a pompous prick. I will take May over him any day of the week.
Wow, he gets fired and finds a better job. Good for Bo.
Yes it is, and I have never called for anyone's firing. Has the OP been defending Fickell in those threads and all along or did he wait until now?
So OP, you were happy with the defense for the last 3 years? Props to Fickell/Ash last night - but you have to recognize there have been struggles. And to come on here with 20/20 hindsight after last night's game to "call out the haters" i.e., those who have been critical of the defense - is a d-bag move.
I liked it just for the fact that it's new and the real teaser. The content was just meh, except for the Millennium Falcon.
Wait until you get married...
Clay bullies himself around the interview room like he's Geraldo or something. I like Rothman and Finkes.
Selfies with duck lips and/or fake gang signs.
Honda Odyssey drivers - usually on the phone, driving slowly, no turn signal etc.
There are so many more...
Sounds like a normal Pete Carroll team to me.