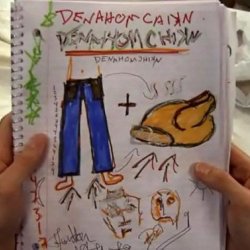 Denim Chiken
---
Coldwater, OH (via The dream book)
MEMBER SINCE August 22, 2018
Favorites
SPORTS MOMENT: Cie Grant coming off the edge to win the national championship
COLLEGE FOOTBALL PLAYER: Troy Smith
COLLEGE BASKETBALL PLAYER: Aaron Craft
MLB TEAM: The Tribe
Recent Activity
Per Kuerlic, Harry Miller has reaffirmed his commitment and will sign on Dec 19th. Boom
Eight teams fixes the process by giving the the deserving teams the shot at a title they deserve. Let the committee use their "eye test" for two at large bids. Any conference champion with 3 losses could become an additional at large bid. Going to 8 teams solves everything
I don't think theres any chance Urban fires either of them if he's coming back next season. If Urban had a hard time firing Zach Smith, he's probably going to have a hard time firing the best man at his wedding.
The timing of this makes sense to me. Something definitive was going to need to be said or done before the early signing period out of respect to current commits. This clears the air and helps salvage recruiting going forward
Yeah we all knew Urban was going to leave at some point. I think 8 years is probably even more than I excepted. Would love to have him stick around in an administrative capacity.
As far as Day goes, I think it's a high risk, high reward situation. Have to like that he's worked closely with Chip Kelly and Urban, time in the NFL, and being younger. I think the only other realistic option if Urban is stepping down after next season that I might prefer over Day would be Matt Campbell.
Don't think he's going but not sure why some think Miss St would be a better job than Colorado. They've got some decent football tradition in a very average power 5 conference with a bit of a power vacuum at the moment. I've got to imagine boulder is a helluva lot nicer than Starkville to live and to recruit. And you don't have to play bama every year.
I'm guessing we will be 6, but won't be surprised when they find a way to put us at 7. 5 seems highly unlikely regardless of how the resumes compare to Oklahoma based on how the committee has thought of us all season
Martell CAN throw. We will just be more balanced. Tate is going to be a good one as well
Pressure is on them! The only thing that's slowed this offense down so far is penalties
Per Bill Greene, JD Duplain is on campus. Sounds like he expects a flip in the near future
1. All the pressure is on them. Favored, playoffs on the line, 2 wins against us in the last 17 years, etc.
2. IU moved the ball on their defense doing a lot of what we would like to do with lesser talent
3. We haven't played a complete game all season, and we haven't looked good against a good team in years. We are due
Tyvis Powell comes to mind. Not an elite athlete but made some big plays in big games, most notably, THE Game!
Mo bamba would be great. Oklahoma state was blasting it between plays on WVUs last drive and Boone Pickens stadium seemed like it was rockin
On a more positive note, Cade Stover's senior highlight is up on hudl and it's impressive. Violent on defense
Kurelic with the crystal ball to ttun for Harrison
I think it's really the best case scenario at this point. I don't love it, but I don't hate it either. But something has to be done to stabilize recruiting.
This team gave up 31 to a shitty Oregon St team at near peak health (minus Fuller). We've had the same issues defensively since then. It's more than just injuries
I wouldn't expect Schiano to throw players under the bus, or layout his exact plans going forward. But I don't have much confidence in this defense being "close". Getting whipped by Purdue seems more like it hit rock bottom