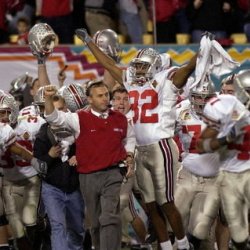 DefendYoungstown
---
Pasadena CA (via Youngstown OH)
MEMBER SINCE February 03, 2012
Favorites
NFL TEAM: Steelers
MLB TEAM: Dodgers
Recent Activity
#tanking for the draft pick
Just like we "dealt" with ole' Fick and the bear cats last season to the tune of 42-0. If he thinks the grass is greener, so be it. We'll handle Fickle wherever he is.
Pelini was trying to get his brother to take over the YSU job
Please NO, this dude has a little bit of drama everywhere he goes. Hopefully Tressel can right the ship and get the program back on course.
Good job ya sailors. Of course Wisky CHOKES once again, 0-4 in their last 4 trips to pasadena.
Whomever can perform without putting the ball on the ground should get the job.
That's a strategy, remember "tresselball"?
These clemson boys aren't used to B1G football...
These announcers are freaking horrible.
Fields is fine, if you knew anything about football you would know the run opens up the pass.
Let's go Bucks, now or never. This is why you came here, finish the job.
The defense is going to have pull this one out. Kirk is a jacka$$ pure and simple...
The defense is going to have to win this game, Chase needs to get his head in the game
Shame on wade, you don't lead with your helmet, you know better..
Buckeyes came to play, BOOMSTICK out...
Anybody else not like dabo sweeney???
Sounds like a lot of Buckeyes in the desert...
Joe Burrow is really really good...
Anybody missing Grinch yet?
Anybody missing Alex, on another note, could Joe Burrow have been this successful if he stayed at tOSU? Gotta make you wonder...
And would you look at Bo now, just driving a once strong YSU program into the ground...