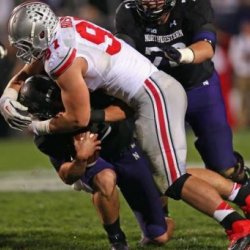 Deebo
---
MEMBER SINCE September 06, 2014
Recent Activity
I agree 100%. In the Rose Bowl I saw at least two plays where he had given up on the play....coastin. I love the kid and his potential, but there is way more in the tank. I hope he quits taking plays off.
I've been around for a few years and have always enjoyed the recruiting threads.....They are terrible now. I don't know if it is because everything is in one thread now and all the bitches are in one spot or...........
Pull your skirt up....this sounds like something pitiful I would read on MGO...
How old are you? The end of what exactly? Is there going to be a drop off from losing one of the best coaches in history....absolutely.....are we going to become Illinois....cmon now.
Love Peppers flying through the air from the Zeke block
He Gone! He's just been waiting for an excuse to make him feel better I suppose. Good luck to him.
That would be all dandi if we were actually confident about Cox.....at this point I will be surprised if he doesn't flip.
This is exactly right. I have seen so many examples of lack of effort from both of these guys.
Wrong.....Buckeye nation are being a bunch of spoiled babies.
This!!!! This is exactly what he is talking about. This writer is spot on. I have watched a lack of effort in many areas and unfortunately I have seen it most on film with our linebackers. If the Bucks don't bring their A game today we will surely get beat.
I also think this could be a problem but possibly the worst performing unit on the team yesterday are all Ohio kids. I have noticed a just plain lack of effort from Booker and Baker. It is sickening....they are just going through the motions and not even the right ones. I think we have a huge issue between Bill Davis and Schiano as far as discipline and expectation. I do not think excellence is being demanded Day in and Day out.
I think it means that the staff is real confident in Oweh and Parson's.......That is of course backed by nothing but wouldn't that be fun!
I am pretty sure it is a luxury we are afforded right now......I believe we are able to be choosy with the highest of character players. I am sure they could figure out a way to get him in but we don't have to...
Wasn't it supposed to be a 3 day stay?
I thought Toledo was in Michigan....
Buying my son his first gun this year....22/410 combo! I am probably more excited about it than he could possibly be.
How about someone inform me.....What is Tim Beck good at and why would we want him even if he was an angel? If Wilson played hurt players and that was the issue, he won't be making those decisions anymore. Wilson put together an unbelievable offense at a hopeless program.......I can only imagine what our offense might look like with Wilson as our OC.
I love JT....But I believe in every job being up for grabs every year based on performance and growth of the players year to year. Unfortunately I think Urban stays "loyal" if JT stays unless one of our other recruits look like a man amongst boys. This practice though that he has followed over the years may just be part of his continuing successful recruiting tactics.....we really don't have a very high transfer rate for a school the recruits a gang of high 4 stars every year.
Guess this explains your user name.
In all seriousness, glad to see you are willing to try and help a guy out even if he is a TTUN fan.
Good Luck Blu! Don't give up on him. Just like Loverbuck here I also had very different ideas than my parents did on the ways to go about my business as a teen.....ran away from home, chased girls, pot, and booze and I eventually got tired of the idea of being a factory rat or laborer the rest of my life. My parents never gave up on me and are my best friends today. A factory job broke me, went to college and never looked back. Keep loving your son and lovingly try to steer him in the right direction but try not to push too hard.....when my parents did it only pushed me further away. I am ashamed of my behavior back then in relation to how much I love my parents but it was what it was and no one but me was going to fix it. I hope things go well for your family, but I wan't your football team to lose miserably.......Forever!!!
I'm sorry....I see nothing wrong with partying and having a great time, but if my child is in high school and a video of the Dean of students(leadership position) surfaces like this, I want action. Whether he was in the back seat of a car or not it is illegal. In Michigan it is called open intox....the kids at the school think it was cool as hell....I mean think about that for a minute. I am not a PC dude at all. I don't have a problem with people smoking pot but if the Dean of students was filmed on a video and it surfaced and got back to the entire community you can bet as a tax paying member of the community with children in that district.....he better be gone!