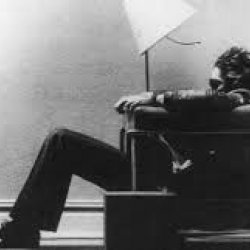 Deacon
---
MEMBER SINCE March 10, 2015
Recent Activity
Florida hating Florida is interesting
IMO the roster shuffling with Washington and Young messed with the chemistry. If you look back when they were firing on all cylinders it was different from what it is now.
They should get back to where they were earlier and be better because of the development other guys have gone through but it's obviously still a work in progress
It may look, smell and be something else but if Ken says it's rain then it's rain people.
No kidding. The ball was becoming loose?
If you want to see a guy who is full of crap, find a pic of that guy.
Sometimes you get the bear and sometimes....
Not often you finish a game with around seven more minutes of possession, have nearly 100 more yards of offense and have a back run for close to 200 yards and lose a game but it happened. Statistically OSU was the better team, but the miscues and the booth kept Clemson close enough to make it a one possession game at the end.
One thing we're not talking about yet that we will get around to in due time is the job Ryan Day and co. put in tonight. Yes, there were some questionable moves re field goals and fourth downs, but on the biggest stage, against arguably the best opposing coaches he more than held his own. It was the last remaining question I had about his abilities and he came through with flying colors.
No, but looking forward to it since one or the other is guaranteed to lose.
"I'll be taking these Huggies, and whatever cash you got"
Raising Arizona
Wasn't it just last season he gave the "Almost there, gonna do what it takes to get there" speech?
if so, gotta say interesting way to go about executing the plan.
You Tube TV unlimited DVR = unlimited commercial fast forward.
Here's a thought. If you're going to have review make things reviewable.
Period
Since Terry Glenn and a few others have been mentioned, does anybody know where Antoine Winfield was rated coming in in 1995?
An amazingly good DB who, at 5'9" probably wasn't rated that high.
Anybody know if there's a pic of McLaurin taking out 3 guys for the game winner at PSU? That would be a 2018 iconic pic.
Chris Spielman with one of 29 tackles against TTUN in 1986.
Looking forward to more as well.
FWIW, Hopalong is in here about six posts up - scoring the final TD in OSU's 1954 undefeated season. Kinda looks like a Beanie/Eddie/Curtis/etc. moment before all those modern guys had their time in the sun.
21-7 Bucks Beat TTUN and Woody's 1st National Championship. I believe Hopalong went on to win the Heisman the following year.
First win over TTUN
I've read that it's Chic Harley with the ball, deciding whether to run or throw to Stinchcomb.
The year is 1919 in Ann Arbor, attendance 25,000 (Ohio field might have had a max capacity of around 10,000)
OSU wins 13-3. This at a time when the series was 12-0-2 UM and OSU's points scored amounted to only 21 points over the entirety of those games. OSU goes on to win the next two 14-7 (Columbus), and 14-0 in front of 45,000 in Ann Arbor. The next year (1922) the 'Shoe opens and attendance is 71,000. TTUN Put up with it for a few years, then opened the Big House in '27, and it's essentially "game on" for the Rivalry.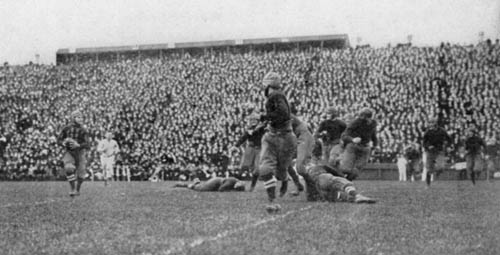 This thread needs some Pete Stinchcomb and Chick Harley.
Scheduling is just as big a problem as number of playoff teams, IMO.