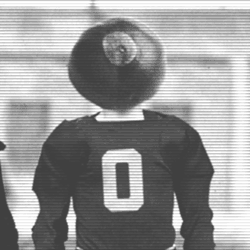 DdougOSU
MEMBER SINCE September 19, 2015
Recent Activity
I think he should start Etsying those lol i need one in my life
If anyone can help id love to know where Kevin got that OSU throwback shirt from the "Snap crackle and POP" section lol definitely a must purchase
With his older brother already doing the same thing he plans to with the mission, I would assume he has some kind of plan to follow to workout and make sure he1s building his strength. Also think Coach Mick will be in touch very often to give him some workouts and dieting tips.
I mean he is going to Kansas so a lot of losing will still happen
This should be a wild off season we need a Buckeyes Hard Knocks. Day era starting off with some pretty big bangs
Almost swerved off of the road getting the notification this morning but as a Buckeye nothing you can do but be thankful for 7 years of sad *ichigan fans and a Natty. Wish Urban was one of those coaches that are coaching into their 70s but oh well next man up coach Day!! LGB!
Yea this article kind of bummed me out but i have faith in UFM to get some key pieces on board.
For some reason i feel as if the coaches may have asked Mike Thomas to come back this weekend. Great idea if thats what they did.
I am about to buy a 4 pack of Four Lokos. Only way i make it through this stressful game saturday without losing it is to be passed out for the 2nd half. Still think we win by 12 but dont need that stress on my heart this young
I will root for any B1G team that isnt TTUN. I dont care if it makes us look better they can kick rocks
Exactly! its almost like people would prefer us to throw it downfield 30+ yards every other play but hell i dont care if we throw backwards passes as long as it nets positive big plays.
Agreed. So many of us (me included) have been clamoring for more passes and opening up the playbook and we are finally getting to enjoy it. I am just happy hes on our team and we get to enjoy his arm this season because who knows when another talent like his graces our halls again.
Still hopes he wins the Heisman though lol
This recruiting cycle seems way more odd than in recent years and im sure all of the UFM/ Zach Smith stuff has something to do with it. I hope we get back to some BOOMS soon i miss the gifs
Yea its one thing to be suspended from football related activities but being banned from classes is a whole different ball game, something had to happen that hes not stating. Thats such a severe punishment.
Haskins will only learn to make those throws and reads under pressure if he experiences it in a true game (hopefully not too often). He got some of that last week ad now he can look at film and see what he needs to do in the future when he has to deal with a not so clean pocket or forced to roll out. I feel like people keep forgetting hes only been at the helm for 5 games. it takes a little more time than that to have total control of most situations. Cant wait to see him later on in the season. Go Bucks!
Saw Kamryn Babb and his family last night watching the Cavs game at World of Beer he is a nice size kid and is pretty filled out. Cant wait to see him on the field.
Also who said Tate can`t throw? Are people basing that on the spring game where he had to go against our D line and could barely get a clean pocket? They also ran him the majority of the time I would not use that as the baseline for him. He can definitely throw a quick slant or an out route I think people are severely underestimating his abilities. ( which I hope other teams do too)
I agree. Urban can not afford for Haskins to take a beating running the ball so much with the depth we have at QB right now. More than likely will run Tate or just only run Haskins on occasion. Plus we have 2 studs in the backfield no reason to run Haskins when we have 2 1,000 yd rushers back there. Def could be wrong though but I`m hoping I`m not.
like we travel extremely well to Dallas. I am hoping for more of the same for this one but I could see a lot of their fans showing up as well for this huge matchup. Everyone wants to watch us play
Haskins knows he is THE guy already. He knows its his job and he has to perform and I`m fairly certain he has been in meetings where the Tate coming in on special packages has been discussed. He knows he's not a great runner and knows some situations may arise where Tate will be better suited but no doubt in my mind he knows its his job. I`m not worried about Haskins mentality he seems like a tough kid with plenty of confidence in his abilities
Starting to get the feeling Gunnell will not be a Buckeye. Everything juts seems odd about his recruitment or maybe I`m just being paranoid.
Here's to hoping Joe B dumps Bama this season! Id buy his jersey on DHgate for sure if that were to happen
This game makes me nervous but I`m glad we will get a nice test that should set the tone for the season if we come out with a solid W. Huge confidence boost for the young guys getting their first real meaningful playing time. Cant wait!
That was my favorite part about Eddie Georges when it was on campus the M`s in the urinals. The creepy part of the bathroom was the 2 way mirror where you can look out at the bar area while using the urinal. Always felt that was super creepy