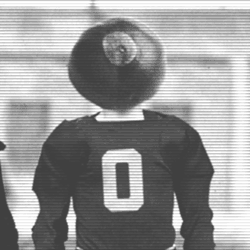 ddilley2000
---
Charlotte (via Ocala, Florida)
MEMBER SINCE January 04, 2014
Favorites
SPORTS MOMENT: 2025 Beatin Bama
COLLEGE FOOTBALL PLAYER: Zeke Elliot
NFL TEAM: Tampa Bay Bucs
NHL TEAM: Columbus Blue Jackets
NBA TEAM: Orlando Magic
MLB TEAM: New York Yankees
SOCCER TEAM: Columbus Crew
Recent Activity
Are we surprised by this, whatsoever, or are we "ignitt"?...it's been Groundhog Day all year
That's awesome! How freakin happy is J.T. (Jonathan Thomas)?!? You know Tressel was tearing up with long snapper/punter battery today...a thing of beauty
Bill Murray uttered it best in Meatballs, "It just doesn't matter!" regarding 26-6 or 19-6. Everyone knows what this game was
What? Really? That is the standard Big 10 apologist answer. "All the teams are just better because I've heard of them AND they're in the Big 10. Both boxes checked on being solid/good."
U know it's coming, as well as, that dumbass look on Urban's face when it happens. Like your "surprised". Practice must be amazing based on how much the boast about it every week
Right! Nebraska? Really? This ain't ole granddad's Nebraska. This IS "water cooler over the head for ANY victory" Nebraska so let's stay grounded here. We could win 62-10 and the story of this season will lay on outcomes of MSU and Michigan, period. ....and it's gonna nap time quiet in The Shoe for Nebraska except for when the band comes out. Sorry, I still find it weird "fans" get worked up if you stand during a football play but when the band comes out it's like the stadium's been pumped full of high energy Geritol and B12. Jus sayin. Be there High Noon on Nov 3rd and you'll catch my drift.
I guess the major concern is the similarity to what occurred in Florida. Trust me, I lived in Florida. University of Florida football is a big deal. It is just as important to that region as Ohio State is in Ohio. That program is still trying to recover. Meyer melted down there after winning 2 N.C.s. An open question is, "What is Urban Meyer's longevity?" He hasn't maintained long-term employment anywhere. Not saying he can't accomplish long-term success but what are counter measures to change collapes in individual games and acheive sustained success. I mean, those are epic implosions against mediocre teams in Purdue (lost to Eastern Michigan) and Iowa last year. Colossal uncompetiveness against Clemson. If you say nothing, the mind wanders especially when you come across as dumb struck. Meyer is not a dumb struck guy. He shouldn't be flat footed when he should of seen this coming a mile away or he's a fool. I don't believe he's a fool. A major part of Big 10 coaching success is going to Nebraska, Iowa, Minnesota, Rutgers, Indiana, Maryland, Purdue, Northwestern and taking care of business especially when recent memory says "take nothing for granted". It happens but Top 10 programs don't make a habit of get boat raced by mediocre teams or trounced by supposedly equally talented teams
To the coaching staff - It IS unacceptable. It comes across as extremely lazy, unimaginative, and weak leadership. All from an extremely egotistical coach. A piece of advice, if you wanna be so arrogant then make sure you have your business in order. Lastly, whomever blows the "if it's so easy then why don't you go do it" b.s.. That's like saying "my Dad will beat up your Dad." If you wanna make dumba** comments then, at least, be a little more imaginative. Dude is highest paid employee in the state....by a mile. I think it's okay to assume he would have his responsibilities (ie student athletes) ready to perform on a nationally televised game at night after there were red flags everywhere. Another example of why I should never assume especially with Meyer. He's either running his mouth about being "7-0" or some cliche (wrinkles ironed out, wake up call, goals still in sight, fix some things). Guy makes $7 million or whatever, you'd figure he can held to high accountability. Otherwise, go coach Baldwin Wallace and make $250k. You can be a hero every day d**n day. Make though calls, recruit a sh** ton of OLs, and get your $**t together
and everyone saw this coming!!! Not this bad but there is ZERO reason to have thought you could walk through this one. This team shouldn't walk through any game. We don't need the lip service from the coaching staff or websites that proclaims Purdue is formidable. Not against the supposed talent at OSU. That's like selling "Pesky Indiana" or "Tenacious Minnesota". That's G-A-R-B-A-G-E. I think Ole Urban is a snake oil salesman at this point. Zero substance, mega arrogance, and tons of B.S.. Personally, I don't think he knows what to do except to just the same S**t but harder.
I'm gonna get right to the point(s):
1. The is coaching staff is below-average from a "coaching" standpoint. Period. That is just the flat answer. It's either that or they are extremely inaccurate in player evaluation. Your choice. Remember, other fans know the names of their coaches/players and it doesn't make them good just because they've "been there". I stated this earlier in the week as a poll question, "Who would be better prepared: 1 Ohio State or 2. Purdue"..They should be ashamed of themselves...at minimum.
2. Need to get rid of Davis and Studrawa....Studwara brings ZERO to the table. Zero. Nothing. Not a good recruiter and you better be extremely strong at player development if you get in 2-3 OLs per year. Neither box checked here. I
3. This is going to be a down-voted comment but, in my opinion, Dobbins isn't the elite RB everyone believes he is....just watch. I don't expect fans to believe it until it becomes the fact
4. I have pounded on this forever. The OL recruiting and development is abysmal. Absolutely unacceptable. I'm so sick of hearing about how there's now some 3* OL who they never wanted is now the "nasty diamond in-the rough". Garbage. More 3* have transferred out of Ohio State than succeeded. You better get A LOT of them if you hope to succeed.
5. To everyone, quit complaining about Alabama being overrated. Look in the mirror. Not in the same galaxy. Alabama IS that good and we ain't close.
This year's team has scuffled at almost every level. I understand Bucks are 7-0. I think the overwhelming concern is when is the other shoe gonna drop? I'll probably get down-voted but, generally, most don't believe Urban is the best tatican or having the team prepared. Helluva job with coming behind in the "fire drill" exercise though. Urban will go as far as the talent takes him. His, overwhelmingly, best coach trait is recruiting. That has zig zagged this year with some positives but alot of head scratching and questions surrounding how this class ends. This year just feels like a compass without a needle. Thank you Dwayne Haskins for doing a unbelievable job at leading....and passing Hey, maybe this year is a year we do better than our questions think we'll end. Beat Michigan and the rest is gravy
Ah, no and completely wrong. I am much more brash and oppose alot of takes from the staff and posters alike. However, mass liberal media is exactly who wants Meyer fired. The COMPLETE body of facts is completely irrelevant in a liberal perspective. Courtney Smith's word, whatever the dude's name that broke the story are considered the voices of fact in liberal media. Every opposing statement is viewed as cover up, insensitive, irrelevant and fraudulent. Based on what?
EXACTLY! Please don't miss on a high end, high quality, high caliber guy vs. chasing someone you'll be in a dogfight with to keep (even IF he committed) until signing day. Then you're shaking the bushes, again, for "best left".
So, there "isn't much emphasis being placed on the interior line" so that's the rational on not going full effort on Correll? Why put any effort with Moore? Beyond "they like Moore better" statement, it makes zero sense. I'm very very interested to see how the Tackle scenario works itself out as all the heavyweights are in play for those listed options
I agree that is not the QB they want. It's a settle from their standpoint.
I gotta laugh that each time a potential QB gets on the radar it's, "This guy is the $**t!!" then it doesn't happen the next guy becomes "the $**t!!" Example Matthew Baldwin. By the time it was said and done, you woulda believed he was THE guy they've wanted all along Bonus Example : "he is only offered by these schools but the offer list is about to explode.
Wow... I've stated all along this year in recruiting will test the Ohio State staff. Not saying it won't be a top flight class. Its dig-in time for OLs (for the quality and quantity desired) and there's gonna be alotta real recruiting battles that lay ahead. Please don't pass on higher end DTs. That depth can evaporate in a hurry... I live near Clemson and the threat is real. They know they can Go toe 2 toe against anyone including Bama and Georgia (firing on ALL cylinders right now) for anyone... anywhere.
It's time to start digging in with OL recruiting and cast the net wider. Need 6 strong and don't understand (at least the word I've read) the lower interest in Zeke Correll. Let's not get 3-4,rationalize why that was best, and holler how we're in on 23 guys NEXT year. I get the struggle OL recruiting. It's pure greed on my part.
We need "All Hands on Deck" to sign (not dance with) 4-5 high caliber OLs next year...and the following.. and the following.and so on. If a "Juice" Scruggs type wants to part of the program, you take him and live with a miss somewhere else. The philosophy of we're gonna screw around with some dude (and there were multiple this year) that is searching for reason to not be part the program you move forward. It's like working for a corporation, you don't put so many or all of your eggs in one basket. Now, once again, there's gotta be a scramble AND spin to get something to fill this continual lack of OL depth. S**t sign 6..7..8..lineman next year. We need it
Well, a problem that has been around here for many, many years is for whatever reason Ohio State recruits 2-3 OL a year and just flat pencil these dudes as though they'll be surefire starters or capable at some point. Obviously, that's ignorant but once again this year their bitching about OL #s and MAY get 1 more OL in this year's class. So, 3 OL. Huh. Got Kinnard... doesn't always gotta be 4-5 star guys or nothin
Ohio State seems rountinely unpreparded
And don't ask, "Do you want in or not!!??". Wait at least a year from the last ass kicking..IMHO
One question, what "strong" program gets obliterated rountinely (and this is now routine. We now worry it's coming.)? Not passing judgement, it's merely a question. Urban needs to start evaluating his own self
More like Johnny Raincloud....look, I piss and moan probably more than most. The Penn State game is huge to create positive momentum in recruiting battles. No 2 ways about this....look back at the fall out from the Oklahoma game. My hats off to UFM and staff. Going into Southern Territory and getting into fisticuffs over 4 and 5 star guys is not for the faint of heart....no other Ohio State HC has done this anywhere close to this level.
I'm somewhat nervous Schiano gets an HC gig this off season. Deservedly so...Helluva recruiter. If the guy can turn around Rutgers he can just about walk on water. I'm a Tampa fan and he got run outta town for saying QB Josh whatever his name is sucked...and he was spot on