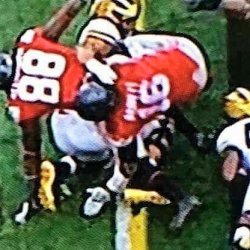 DCDDC
---
from zanesvillecambridgehahcolumbustoledo, ohio
MEMBER SINCE March 08, 2016
Favorites
SPORTS MOMENT: 85 yards through the heart of the south!!!
COLLEGE FOOTBALL PLAYER: Jack Tatum
COLLEGE BASKETBALL PLAYER: Jerry Lucas/Lewis Alcindor, Jr.
NFL TEAM: Brownies
NHL TEAM: Blue Jackets
NBA TEAM: Celtics/Cavs
MLB TEAM: Reds
SOCCER TEAM: AYSO
Recent Activity
Congratulations and good luck Osudray. Maybe you can name your new baby Urbie or Woody?
ACC teams aren't usually ranked.
Feldman talking down to the B10?
Go Bucks Beat the Badgers
We don't need no stinkin BAADJERS!!!
I like the sound of the word umami. And I like the taste of umami, but fish flakes don't sound so good to me.
How about some Buckeye football umami?
I thought it was because you were quoting someone.
And Missouri Iowabuckeye.
Thanks Johnny, that was fun. I never saw the video, just heard the song.
Easy Big regular. Just a cheesy saterical woof.
You're correct that I didn't know either of the guys that went with him to BC.
If Hafley takes any more of our personel somebody will have to go to Boston and have a chat with him.
Up stairs / Downstairs
3 for 1 happy hour and 10 cent beer nite.
I feel queesy
29 overall, and is the #5 pro style qb.
Here's to Howard's and The Brathaus.
That's right. We don't have replacements, just more starters.
228 days untill Bowling Green. There really will be a Bowling Green Massacre.
Congratulations BucksLover0214!
Your life is about to make the best change ever.
I love Brian Hartline. Great kid, great player, always giving his best. Turns out he's a great coach and recruiter too. I'm happy he's a Buckeye.
Cleveland, where QB dreams go to die. I'm stillpulling for Mayfield to break the habit.
I never thought I would miss Kosar.
195 days untill Bowling Green.