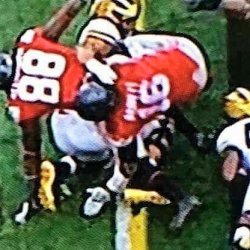 DCDDC
---
from zanesvillecambridgehahcolumbustoledo, ohio
MEMBER SINCE March 08, 2016
Favorites
SPORTS MOMENT: 85 yards through the heart of the south!!!
COLLEGE FOOTBALL PLAYER: Jack Tatum
COLLEGE BASKETBALL PLAYER: Jerry Lucas/Lewis Alcindor, Jr.
NFL TEAM: Brownies
NHL TEAM: Blue Jackets
NBA TEAM: Celtics/Cavs
MLB TEAM: Reds
SOCCER TEAM: AYSO
Recent Activity
That's as close as they get any more.
Do you think he looked at himself in the mirror and said "this looks great, I got this" as he left to go to the airport?
Mom was right, ya learn something everyday.
I think it started as a way to deal with players injured and out for the better part of a season. to give them an other year since they lost one due to injury. I'm not sure but I think that's close.
I'm thinking we may see more Kevin Wilson influence than before. Sure Day is the HC, but Wilson is the OC. OK Co-OC. But I'm thinking his roll may expand more this season. If I remember correctly from his days at Indiana that is a pretty wide open style of offense. And Fields is the guy to run a wide open offense. I can't wait to see what we're going to get this year. It's going to be good I think.
Roger that Extra. I heard the same thing.
Anyone know what is to become of Ga Tech??? New coaches, but will they bring a new offensive scheme?
Anyone have any insight?
Mark May not hear you Hovenaut.
As Air Force flies right by.
Like its never been kicked before.
Just imagine how we all will feel when Coach Day beats ttun by 40 his first match up as head coach.
your gonna need a bigger pair of gold pants.
In some respects they are the same question.
let's hope not, or an ESP moment either.
It's 6:33 pm and michigan still sucks!
I think Hate news is fake news, as the facts get shaded with hate and/or opinion. Then we are hearing an opinion presented as fact. Each "news program" seems to present the same story a bit differently than the next one. Some more than others. Hate sells though.
"Day come sin" or Day comes in. A small difference in pronounciation and spelling, but different in interpretation. OK I'm an ass.
Not to mention Doug "White Lightning" Donley from Guernsey Co. Played from 78-81. Broke all kinds of records as WR with Art Slieshter (spelling) at QB.