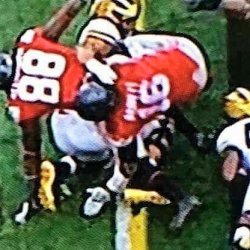 DCDDC
---
from zanesvillecambridgehahcolumbustoledo, ohio
MEMBER SINCE March 08, 2016
Favorites
SPORTS MOMENT: 85 yards through the heart of the south!!!
COLLEGE FOOTBALL PLAYER: Jack Tatum
COLLEGE BASKETBALL PLAYER: Jerry Lucas/Lewis Alcindor, Jr.
NFL TEAM: Brownies
NHL TEAM: Blue Jackets
NBA TEAM: Celtics/Cavs
MLB TEAM: Reds
SOCCER TEAM: AYSO
Recent Activity
Hey Coach Hairball, Pioneer High School is calling you.
Gus Johnson is the best thing that ever happened to Fox Sports, untill Urban got hired.
Go Bucks, Beat Miami!!!
Brick or concrete, I don't care. Just show me the wall. Any wall. Cause I'm running right thru it.
I love those game trailers. This week's more for some reason.
Go Bucks!
I say we're going to hang 60 + points on these Hoosier Twat Waffles. What say you?
GO BUCKS!!!
I say we hang at least 60 on these Hoosier Twat Waffles. What say you, I U who?
Preach baby preach. love that positivity.
Go have a great thursday, and remember, Mike Hart still sucks.
Pussy runningbacks coach. don't you think Soldierdad?
Paris Johnson Jr., Holy crap. Put the big ten on notice now. TOSU has another heisman candidate on the O-Line in the fold.
Hoosiers, it's ok to start trembling now.
Jack Tatum was the best safety ever, at any level.
I'm looking for continued improvement SoulPatrol. IU is a better offense than UC, but I think we will see more and more cofidence and domination each week with this defensive group. IU is in trouble this year.
Yesterday I kept thinking of the year TOSU fans took over the stadium in Indiana cheering O-H-I-O.
I attended a Buckeye basketball game in Columbia, SC against the Gamecocks a few years back. The usher asked me as I was walking back to my seat if we left anyone at home. As there were way more Buckeye fans in attendance than Gamecocks, and we just kept drowning out the cheerleaders, the student section, and the SC fans every time they would start a cheer. O-H baby
Go Bucks!!!
Hoosier daddy?
I agree. Last Monday's Skully was step up as well. I wonder if that has anything to do with having the return of the Saturday Skully?
Less rust perhaps? Most likely a boost in Buckeye spirit all around with the return of our favorite season.
Yes coach, I'll run thru all of the walls.
I think Fick is about as competitive as they come. He is in for the W with zero reservations.
Go Bucks!
Fick em up
I'm with you. I think we need to tighten up a bit on D. Cincy looked pretty good.
Breath it all in folks. Its here and its real. Go enjoy the day for all its worth. Happy Happy Joy Joy.
Now lets eat some owls.
Go Bucks!!!
Roger that. I never said she was not good at her job. I think I was taken by that big smile more than anything. Maybe you should go after the writer as he remarked on her big smile and bubbley personality. That might be secret writers code for she's a hottie?
I'm sorry Roamingbuckeye if my words offended you. There was nothing durogatory, belittling, sexist or even gender biased about my remarks. And they were posted with all positivity. You're detimination is yours to make. I am delighted she is part of the program. And as a fellow Perrysburger I am a touch proud too.
I hope you enjoy your weekend. And all of the other hotties do too too. Girls and boys.
So GO BUCKS!!!
Cincy did just that. not baad for an opening game.
Would it be better if Isaid she was cute? My comment was meant to be complimentary.
She's a hottie. Of course as an old guy I must say, there is nothing more beautiful than youth.
I'm thinking owl burgers for dinner tomorrow.
Maybe with himself? He is a bit wierd.
I don't care that its FAU. I'm just glad it's time to play.
Go Bucks!!!
He has had some excellent teachers and mentors at great places to learn.
And thank you to ActionStanlyJackson. You made me laugh out loud with that initial comment.
I don't think owls do much when it's Day time.
One more day and a wake-up. OH YEAH
Ribs, we were in Mt. Pleasant, SC last weekend went to a place called Crave. Mmm Hmm. Best short ribs ever. They are famous for their mac and cheese though. Won the international mac-off 10 years straight or something like that. The bartender there is Benny. Great guy, fellow skully reader. He makes some great bloody marys. SC Buck you rock.