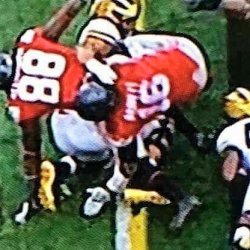 DCDDC
---
from zanesvillecambridgehahcolumbustoledo, ohio
MEMBER SINCE March 08, 2016
Favorites
SPORTS MOMENT: 85 yards through the heart of the south!!!
COLLEGE FOOTBALL PLAYER: Jack Tatum
COLLEGE BASKETBALL PLAYER: Jerry Lucas/Lewis Alcindor, Jr.
NFL TEAM: Brownies
NHL TEAM: Blue Jackets
NBA TEAM: Celtics/Cavs
MLB TEAM: Reds
SOCCER TEAM: AYSO
Recent Activity
Some are only happy when they do whine.
Who are you talking to Kalmar?
I thought he may have learned that team 1st perspective at OSU.
I'm going to guess shell shocked.
That might go along with the 20 some world series championships they own.
That's why I go to the movies instead. They can't hear you scream in the movies theatre.
please excuse me. I meant Heacock.
This is exactly what Meyer did to us in the natty game. Dantonio said after the game they did not see a single familiar alignment in the entire first half, after having watched the entire season of film of the U. Fla.
Great minds think alike at least most of the time.
Thank you for the clarification.
I noticed that Ted Ginn, Jr.'s name was left off of the top drafted Buckeye list. Geeeez!
Burrow was a graduate transfer.
I did not see Ted Ginn, Jr. on this list. I think he was the number one pick in the draft. At least I think so. I know Miami used their number one pick on him. How you can leave him off of this list is beyond me.
I thought Grimes wanted to go home to a sick mother???
It's funny that a guy with a handle of Chewbucca would throw out the new nickname ZekeSquatch.
I can't think of a better nickname for him, at least not now with this new Squatch look.
Wow, let's hope you are correct. If he pulls that off with the talent that is already in that room. Oh YEAH!!!
Funny Calpoppy. Thanks, love a good chuckle.
Kevin, you might be better off talking about politics. That which pet is better, cats or dogs conversation can be pretty polorarizing.
Sometimes Herbie seems to go out of his way to be impartial, so he ends up not saying enough pro Buckeye stuff.