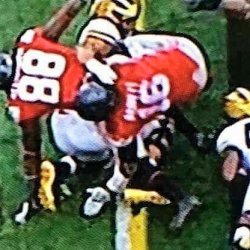 DCDDC
---
from zanesvillecambridgehahcolumbustoledo, ohio
MEMBER SINCE March 08, 2016
Favorites
SPORTS MOMENT: 85 yards through the heart of the south!!!
COLLEGE FOOTBALL PLAYER: Jack Tatum
COLLEGE BASKETBALL PLAYER: Jerry Lucas/Lewis Alcindor, Jr.
NFL TEAM: Brownies
NHL TEAM: Blue Jackets
NBA TEAM: Cavs/Celtics
MLB TEAM: Reds
SOCCER TEAM: AYSO
Recent Activity
Unless you are refering to a shine.
True dat.
I pretty sure I heard So Cal playing Seven Army Nation before we did it.
BOOM BOOM OUT GO THE LIGHTS!!!!!!!!!!!!!!!!!!!!!
Yes, and the high tempuratures here in the Carolinas are to be in the 70's this weekend. Some normalcy in life. WOO HOO!
It's like "Hang On Sloopy" the kids in school at the time that song was popular adopted it. The band was cool enough to play a current well liked song, and everyone took to it. So begins a bit of tradition. A bit Afro Duckish.
Not even an honorable mention for Cornelius Green either. A lot of triple option then, but he was pretty good as I remember. Of course I was playing on the playground at Montrose Elementary school then.
I'd say Fields's efforts have been heard.
Again, the great unknown.
I'm glad that none of you are my doctor, and you should be too
The reason for the variance is becuase we are all different chemically. So we all react differently to any virus. The great unknown.
DillonG your quote said covid shows evidence of cardio inflamation at a higher rate than other viruses. At least with just the powers of observation.
What about alternative facts?
In my short 61 years I have seen strong and weak divisions over topic and issue, but never have i seen so much division with anger in society in general over politics.
I love the moniker FalcotoyourMartel.
What has divided us is the truth, or better said the lack of truth and integrity in govt. Politics has spoiled it.
Which one? At the risk of sounding political.
Some hospitals are overflowing. Regions that re-opened slowly, with the public being responsible, masks, social distancing, contact tracing like New York went from hot spot to well contained. Areas like south Florida, Myrtle Beach, parts of Texas and California opened up full bore and had huge spikes. So when and where people start being responsible for their own actions and care for others saftey and take those measures we will see lasting positive results. Untill then your guess is as good as mine.
I still am hoping for some football.
I know. I just don't want to stop expecting it.
The vomit still comes to the back of my throat when I think about D.H. standing on top of the north end of Ohio Stadium and singing "Hail To The Victors" on College Game Day.
Just a few more weeks.
Hopefully just a few more weeks.
Thanks Dan. I'm ready for some football now more than ever.
OK, you don't have to yell at me. Legitimate is fine. You're not my wife. Say that to the face of the players at VT. The kid still made his decision based on his needs, goals and his willingness to choose himself over his team. I am NOT judging him.