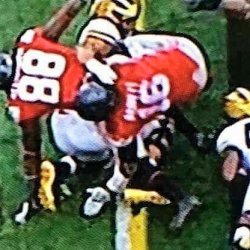 DCDDC
---
from zanesvillecambridgehahcolumbustoledo, ohio
MEMBER SINCE March 08, 2016
Favorites
SPORTS MOMENT: 85 yards through the heart of the south!!!
COLLEGE FOOTBALL PLAYER: Jack Tatum
COLLEGE BASKETBALL PLAYER: Jerry Lucas/Lewis Alcindor, Jr.
NFL TEAM: Brownies
NHL TEAM: Blue Jackets
NBA TEAM: Celtics/Cavs
MLB TEAM: Reds
SOCCER TEAM: AYSO
Recent Activity
Thanks Hove. Started today off with a laugh.
Sean Miller, Ha Ha!
Thank you for serving to all of you 11W vets here at the Skull Session.
The USS Wasp was a great read.
Go Bucks!
Beat Indiana!
If the Brownies could get Pryor back that would make a nice looking receiving corp.
That's why they play the games Hovenaut.
I wonder how Eli feels after losing one of the best receivers in the league.
Kind of like constellation vs. consolation.
I like the special team line of thinking BH7.
Congrats to our B10 Champion Wrestle Bucks!!!
The Wrestle Bucks continue to march on in an impressive manner.
Great job Greg Oden. Congratulations!!!
I had to google it; Oleh Onoprienko was a famous Ukranian serial killer. One of his nicknames is the Terminator. He confessed to 52 killings over a 6 year period. Holy Crap.
With Oden getting his degree he should have better career options than Onoprienko.
You would think so BH7, but they did not get the first pick because they're smart.
I'm with you on the conventional wisdom though.
The Columbus Destroyers may need a QB, but they don't need that lockeroom cancer named Manzel.
Rex Kern made it with the Colts as a DB for a few years.
You guys are both wrong. They invented that left lane bullshit right here in South Carolina. And its not uncommon to be getting on the freeway begin to excellerate, get ready to merge only to find the car in front of you has slammed on their brakes come to a complete stop at the normal merge point, then turn their head to look over their shoulder to check traffic. I can't tell you how many times I have seen a rear-ending accident at a highway ramp from that. Sorry, I just had to share. OK maybe some venting.
Like the man said. "Good Skully today Kevin"
Don't forget the beating Willis Mc Gahee took when his knee bent backwards. Ooh My.
Is anyone else hungry?
Andy K. had a hell of a freshman year. We've had many linebackers with better college careers, but he was the best freshman linebacker.
How about Scarlet and Gray Haired.
I have not heard that from any scouting reports i am aware of Kevin.
Some how that lanyard makes him look bad. And not in a Michael Jackson way.
Matt Miller at Bleacher Report is a moron. Everything he wrote was clearly off the mark. Not just what he wrote about Haskins. He may actually be a worse writer than Brett Mc Shitbag. Really.
Kevin, isn't it owner not ownee? i'm not sure, just asking.
I'm with you Hovenaut. The new faces every year , the excitment of not knowing what they bring to the table.
That may be the best part of the off season.
I hope Kevin is ok. No Scully is kinda wierd.