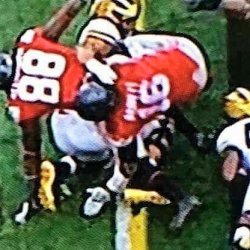 DCDDC
---
from zanesvillecambridgehahcolumbustoledo, ohio
MEMBER SINCE March 08, 2016
Favorites
SPORTS MOMENT: 85 yards through the heart of the south!!!
COLLEGE FOOTBALL PLAYER: Jack Tatum
COLLEGE BASKETBALL PLAYER: Jerry Lucas/Lewis Alcindor, Jr.
NFL TEAM: Brownies
NHL TEAM: Blue Jackets
NBA TEAM: Celtics/Cavs
MLB TEAM: Reds
SOCCER TEAM: AYSO
Recent Activity
Hell yeah we are the number one team in the nation.
Happy Friday Buckeye Nation. Tomorrow we party hardy. It's going to be a fun day talking and thinking about our season and impending championship/s. I will be wearing my new Scarlet and Gray tie dye. As it is Tie Dye Friday in my office today.
Enjoy it all.
Go Bucks!
Just so I can keep it straight, Will the new handle be BucksHave8, or BucksHad7?
Either way it's going to be a red out.
Meyer might have gotten a pair when he was a GA under Earle Bruce too. ?????
Tyler Moeller had six years, but I dont know if he got six pairs of gold pants.
It did not hurt my feelings to see Zack Smith and Bill Davis go.
Nick and Little Nicky, they are cousins.
Sabin is 0-2 against 3rd string Buckeye QB's.
Badger burgers at my house Saturday. We're going to smoke them. He He
Beat the curd out of Wisconsin.
And it just makes me laugh RunEddieRun
Hail to those motherfuckers.
Hail to those cock suckers.
Hail, Hail to Xichigan.
The sespool of the world.
Those are the only lines to that song I know.
We may be watching rebulds at Minnesota and Nebraska.
Charles Woodson. Buwaahahahaha
With any luck at all, it won't be the last either.
Go Bucks!
Just win it all baby!!!
Mic drop cause Michigan is our Bitch again.
Looks like another fish story Coach Jimmy Jim Jim.
Nor does his line of thinking.
Savage Tiger, is that you?
Either Tom Brady had the ball over inflated, or the ball was just defective, because Mike just doesn't drop passes. Truth or conspiracy? You choose.
Ok Kevin, I don't usually say squat about the typos, as I am the king of the fat finger typo.
But "he" and "the" are 2 separate words.
The next time we play Tennessee your "t" dropping will make for an easy typing of the Skully.
We love your Skullybllity. Keep up the good work.
Beat Blue untill there is no face to be blue
He spoke at my high school graduation. It was a Talk about military history with a very heavy sprinkling of how to motivate ones self. The entire gymnasium erupted in cheer when he finished. I was ready to play coach.
Go Bucks
Beat that so called team up north
Maybe add The Vest as grandpa.
Stlbuckeye 15, I'm thinking Xichigan is the whole cake.