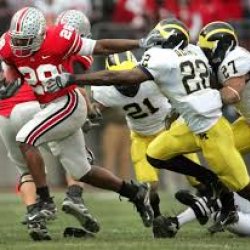 DCBuckeye33
---
Member since 18 August 2014 | Blog
Favorites
SPORTS MOMENT: Cie Grant untouched off the edge...
NFL TEAM: Browns
NHL TEAM: Caps
NBA TEAM: Cavs
MLB TEAM: Tribe
Recent Activity
"41 yards to swing town"
That is just brilliant writing there
awww those poor folks in state college :( /s
i dunno, they dont even spell their names the same!
I agree, but the team suffered big injuries to a lot of key guys last year. Assuming health is dangerous, though I do think they have the depth to get through the regular season with the occasional injury. Im just in a 'wait and see' mode with this team this year, but I am excited to see how it plays out!
This is the most amazingly specific (and awesome) prediction I have ever seen. Predicting the world series scores in february, i LOVE it!
Any time a season starts with high expectations for the tribe, i am dubious to say the least. I say they end up in a wild card chase and end up coming up just short, and miss the playoffs. Just like when they blew the 3-1 lead in 2007 ALCS then flopped the following year under the weight of expectations, i think the team is a little overrated based off a great playoff run. Hope im wrong!!
I am a city fan, and i have to disagree. The finishing was strong but most of the goals were set up by awful D.
Stones was AWFUL and his awful defending was the only reason falcao even had a chance for his awesome chip. The first monaco goal only happened because willy had a pathetic clearance right to monaco...two passes later they score. There were a number of other chances monaco wasted when stones or otamendi were caught out.
Agueros first goal should be saved by a pro goalie at any level. The marking on both city corner goals was very bad. For sure agueros half-volley was awesome finishing, but a ball falling to his feet untouched off a corner is terrible. Two city players could have scored the second corner (if stones doesnt get the touch, aguero does), monaco having no one running with TWO players to the back post was awful defending.
The game was insane and exciting and the best of this years UCL, but as great as the finishing was, even average defense would have prevented a few of those goals.
This jumped out to me as well. I also noticed how often the WR were forced to the ground by the throw despite having a lot of space around them. Better throws, and on time throws, could have picked up a lot more yards.
"I believe they will help develop my body both academically and physically"
interested to see what the academic development of a body looks like
The last thing this team needs is melo. You have two ball dominant guys in bron and kyrie, love is doing well as the third option who does things without the ball in his hands. melo is useless without the ball. he would destory the offensive chemistry of the team.
it will be interesting to see if he doesnt immediately live up to expectations and they ask him to gray shirt one more year because the 2018 class is just soo talented. cant believe the kid is willing to do this, but i guess such is the allure
i really really hate to think what you are implying with this
'sorry coach my LOI is gonna be late, need to post bail first. Also this is the only call i get, can you let my parents know where i am?'
He should still be a top 10 pick. He will be working out in June, and ready to go full out for training camp. anyone passing on him for this reason alone is going to regret it
need to get some shots to fall
he looks so puffy and pale. dude is on something
i thought the name and thread were fake until i saw the article tweeted out. pretty interesting stuff and glad he stayed with OSU!
that is still my favorite all time call, and one of the three best sports moments of my life. i loved brent and will miss him
man bama is doing to LSU what we are doing to Texas this year
so many comments and now so may threads! hope it comes true. as always, expecting the worst, hoping for the best
That is what my monday afternoon needed! BOOOOOOM
I enjoyed the Hobbit book more than i did LOTR trilogy. I enjoyed the LOTR movies way way more. I think part of that is they came first, so by the Hobbit trilogy I was used to seeing the Middle Earth world on screen. I also think they extended the Hobbit into too many movies. Coulda done the job in two