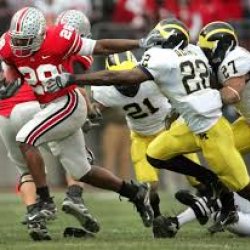 DCBuckeye33
---
MEMBER SINCE August 18, 2014
Favorites
SPORTS MOMENT: Cie Grant untouched off the edge...
NFL TEAM: Browns
NHL TEAM: Caps
NBA TEAM: Cavs
MLB TEAM: Tribe
Recent Activity
7 feet, 190!? thats a skinny fella
still cant run the ball, still no discipline. good good good
+1. Borland still looked slow and werner not good enough. FAU didn't gain yards against only the back ups. These guys were in there a lot the second half getting beat
The linebackers still seem poor
said the same thing to a friend earlier. clevinger getting a win to start this series would be HUGE. eating innings after the bullpen was chewed through yesterday would be nice as well. big game tonight!
There a LOT of plot holes and issues with the handling of time travel BUT...WHO CARES!?!?! That was the single greatest fan service movie of all time, it was amazing fun the entire time, there were clever quips at every turn but it never felt forced or overdone. I loved it. AVENGERS.....ASSEMBLE. You have to be heartless to not fall out of your chair cap dropped that line.
The best thing the MCU has done has been creating serious moments without taking themselves too seriously. Like rocket saying 'hes pretty good at that' after caps speech. And this movie delivered on that. Lot of heavy scenes done well, but never taking themselves too seriously.
It delivered on what i wanted to see anyway. Fun, callbacks, intense, great!
elite on ST too, which there is a place for in the nfl
i have been dying for this type of breakdown of this potential new defensive position. you are great at what you do kyle, never change!
That doesnt mean Day or someone else didnt tell tate "we really want you to stay and compete for the job, but you should know we think the skills of fields and baldwin fit the system we want to run better." Of course he would be able to compete for the job, but a competition tilted heavily against him before it starts? doenst make him some terrible asshole (though again, many other things might)
That is making huge assumptions about things we have no information on. I think its just unclear what happened and minor a thing to be calling someone an entitled douche over. he wanted to play, he wasnt going to play here, he left. it doesnt make him anything other than normal
Im not saying he isnt an entitled douche, but this certainly isnt the reason he is. He came to osu to play football under urban. Urban left and it was clear tathan wasnt going to play football at osu. So he went somewhere to play football. hard to blame him for trying to make the rules work in his favor
that defense better take a big step forward
who pays this arkansas lawyer for this case? Maybe he does it pro bono for the publicity but I would guess someone has to be paying this guy? Sounds like he has talked to Day so im curious if OSU is involved at all
its said all the time, but its still not enough: you are the goddamn best
Whos best man was he!?!?!
Agree for sure. The good sign for me was he sounds like a willing recruiter. I like the 'search far and wide' approach. Coach will be racking up those frequent flyer miles at osu!
he clearly doesnt care for the 11w servers
Day moves fast if nothing else, damn
He wasnt the DC. He didnt call the plays and likely didnt have a ton to do with scheme and game planning.
isnt it schianos teaching to not have the DBs turn for the ball but the play wr hands? If it was grinch teaching that, good riddance, but i get the feeling a lot of the fundamentals being taught were schianos. I was hoping to see grinch in charge and see what he brought
eyes glued to tates instagram
holy hell! i cant believe how long he was rising
seriously! this is my first time watching them in detail and oh my gosh he is bad
with how insanely bad fromm looks i cant believe fields hasnt been able to beat him out. id love for him to come cuz you cant have too much talent, but with his time in the system i think tate would be the front runner to start