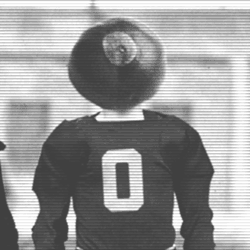 dcbuck-i
---
Member since 17 January 2013 | Blog
Recent Activity
Bet you're fun at parties.
Keep winning and the people will come watch.
Woof, I remember Diebler's freshman season vividly...it was ugly. Being such a prolific HS scorer I think it took him like 7-8 games to hit his first college 3-pointer.
Della Valle averaged 4 points in his sophomore year. Could he have been a contributing factor? Sure, but likely not. He was shooting 32% from 3, and he was supposed to be a 3 point specialist.
Sibert left because he was going to be on a team with Aaron Craft, Q Ross, Shannon Scott, Lenzelle Smith, Deshaun Thomas, and Sam THompson fighting for PT. He was the worst of those players going into 2012-2013, so he left.
JD Weatherspoon averaged 3 points his sophomore year, and was academically ineligible for the 2nd half of his freshman year. He would've been fighting with Sibert and the other guys, who were better than he was. WHile he was successful at Toledo, it is unlikely he would've had any impact at OSU.
Offutt only played in garbage time at OSU, and was benched for a few games. Maybe you could argue he was a miss.
Zisis - NO. (Played professionally in Greece, has topped at 6.6 points and 4.7 rebounds per game. He was TERRIBLE.)
PJ Hill GRADUATED FROM OSU. He topped out at 12 minutes a game in Evan Turner's player of the year season, playing alongside Buford, Diebler, Lighty, and Dallas Lauderdale. Whose time was Thad going to take away?
Eric Wallace played 3 seasons at 3 schools (OSU, DePaul, and Seattle).
If you want to give Thad crap about bench usage, these are NOT the players to use. Especially Hill, Wallace, Zisis, Della Valle, and Weatherspoon.
Think Thad is having fun yet?! Haven't seen a smile/reaction like that "WOOOO" out of him in a few years!
The best players who want the NBA do not choose the Buckeyes because they do not like Thad Matta.
I suppose the best players who want the NBA also don't want to play at UConn, Indiana, Villanova, Louisville, Maryland, Virginia, Gonzaga...because those schools have the same number or fewer of NBA players as OSU does (5). Shocking when only 15 teams in the country have more NBA players than OSU, right? Sometimes it helps to research.
You need a bench and OSU has not had a complete bench in years.
Thad has extended his bench in recent years after years of criticism only playing a 6-7 man rotation. Which do you want?
Christ, we're 4 seasons removed from an Elite 8 and 5 from a Final Four. You know who has the same number of visits in the same timeframe? Izzo, and arguably his best team of the last 15 years was upset in the first round last year.
Use the aggregate 247 rankings, like everyone else.
2010 - #2 (6 recruits)
2011 - #6 (5 recruits)
2012 - unranked (1 recruit)
2013 - #36 (2 recruits, 2nd highest class < 3 recruits)
2014 - #6 (4 recruits)
2015 - #5 (5 recruits)
2016 - #41 (4 recruits, 2015 class gone)
2017 - #59 (2 recruits)
2018 - #2 (3 recruits, obviously looking ahead)
What exactly are you talking about? Since 2010 (so 7 years) he has had 4 top-10 classes. Two of those years he had two or fewer recruits - which, with extremely rare exceptions, will not get you near the top 25, let alone top 10 in recruiting rankings. I would say truly the only year Thad "missed" was last year...and that was because the 2015 class was just plain crap. You can't complain about Thad not recruiting top-10 classes then completely caveat that with "little or nothing to show for it" when he does. He dumped those players. THe scouting sites were wrong, and he kept who he wanted. He did well to recoup whatever losses he could, and the highest-ranked player from last year (Funderburk) is redshirting this year.
For all the "in-state" complainers, Thad has next year's # ranked Ohio recruit (Wesson) locked up, and in 2018 has #1, #4, and #5 locked up. I swear if people come out and bitch about Thad not going for higher-ranked recruits in that 2018 class I'm going to blow my lid.
@SB97 - No matter how hard Matta and co. could've recruited Bragg and Kennard, neither was coming to OSU. Kennard was a Duke fan all his life, and Bragg just never wanted to come to OSU.
I was saying Burke developed between whenever Shannon Scott was offered and Burke's senior season in which he was named Mr. Ohio for basketball. Thad had no way of knowing that Burke was going to be so good, considering that Akron was his only offer at the time Thad offered Shannon Scott.
And this aspect is what troubles me more than anything now about Thad Matta's program- the inability to land the best players from the Buckeye State in C-bus.
Or it's simply that they didn't want to come to OSU or weren't offered.
Take a player like Ward at MSU. MSU offered Ward before anyone else did. Thad had Giddens, Thompson, and Bell locked up for several years and didn't need another big man. OSU was the last to offer and it never seemed realistic for him to come here.
It is extremely unreasonable to think that Thad has to get every single Ohio and central Ohio player to come to OSU. The Trey Burke argument always comes up - Matta already had Mr. Basketball in the state of Georgia (Shannon Scott) committed - why would he want a lesser recruit, just because he was from Ohio? Burke certainly developed but was wasn't certain was that if Thad passed on Shannon Scott, then Burke would have committed.
There's a lot of "Woulda coulda" stuff about Thad recruiting Ohio. Just because their birth certificate ends in "OH" doesn't mean they're destined to come here. Thad should worry about taking the best players, period.
Man, people on this board have terribly short memories. Less than a week ago we led a very good UVA team for 35 minutes on the road, didn't falter when UVA came rushing back into the game, and played very very well against the best D in college basketball, year in and year out. We lost with out best player, Lyle, having 8 turnovers, and still had a chance to tie or win the game.
This is a completely different team than last year, both in buy-in and talent. Everyone is pissed at Thad but we're 7-1 with two chances at good OOC wins. We've shown the ability to play at a high level, and the aggressiveness in the paint will pay dividends in the B1G season.
I see a 7-8 seed in the NCAA tourney, which, all things considered, would be great. I think we go 12-6 or 13-5 in B1G play and win a game or two in the B1G tournament, depending on seeding. That's a 24-25 win season, which lots of fan bases would be happy about.
This is a good, not great team. BUt they're getting better. Before the Providence game everyone was complaining about not blowing out the bad competition by enough, and after the UVA game everyone was pissed because we had a chance for a top-10 road win. Now we're back to complaining about a "mediocre" team. Let's look at the positives and realize that there's a shot against UCLA - Nebraska kept it close to the end, and Texas A&M (not good) was tied with UCLA with two minutes left in the game. I haven't seen anything that automatically disqualifies this OSU team.
Yeah I realized he was in foul trouble too - but I recall one time in particular where he missed his defensive assignment and was pulled immediately (the announcers noted it too). Regardless, I'm ok with the younger guys getting PT.
Forget the comments about the quality of WCU - yes, they were/are terrible. OSU played solid defense all night long and it's great to see them continue to set the tone in the paint, just like in the Providence game. THat will be big in B1G play.
I continue to be amazed with Tate. There were several times last night when he was the shortest guy in a rebounding scrum by several inches and came out clean with the ball. I don't think his height hinders him as much with a big body, willingness to scrap, and hops.
Loving was benched when he needed to be. Again, Thad only played him 17 minutes. Keep sending the message. Good to see Wesson getting quality PT early in games. We'll need him to spell the KBD/Tate/Loving rotation every once in awhile.
Lyle is good. Lyle is great. All hail Lyle.
He played 17 minutes in the NC Central game, that was his punishment.
Yesterday his line was: 2-6 shooting, 8 points, 10 rebounds, 3 assists, 2 blocks, 1 foul, 2 turnovers. 10 rips, 3 assists, 2 blocks are good. He can work on his shooting.
I think Thad has shown throughout his OSU tenure that he doesn't give preferential treatment to seniors. His order of priority for letting guys play is 1) defense, 2) everything else. Loving played some good D last night and had some good rim protection.
And outscored them in the paint something like 46-22.
I don't think I argued that he played a great game - he didn't - but 10 boards is 10 boards. Not every one just hit him in the face. He worked hard for a few of them and had some decent rim defense too.
I know we're quick to emote as OSU fans, but there are positive things to look at, even with Loving. I trust Thad - otherwise 1) he wouldn't be starting or 2) he would've kicked his ass to the curb like the rest of the 2015ers last season. Just give it time.
Ball movement was good, pretty good shot choices, great defense and good ball-hawking (7 blocks!?). Did this with Loving yet again MIA except for 10 boards, which is solid. Also Potter with his first bad game, Jackson not getting much PT, and KBD going down.
Next man up, for anyone who thought last year's team and this year's team were exactly the same - this should settle it. The win over UK last year was UGLY and we got really lucky - this team tonight is different.
Which—if any—of the 4 who departed would you play?
Exactly. Potter and Jackson have already contributed more in two games than any of the other 4 did all year.
I'm sorry Ole Buck but you're just being a curmudgeon now. Last year OSU went 11-7 in the Big Ten. 7-11 this year with a better, more experienced, more talented team? That means dropping 3 games against Northwestern, Rutgers, Nebraska, Penn State, or Minnesota.
If we're 11-7 or greater in the B1G this year we likely finish the regular season (after B1G tournament) with 23 wins or so. That's good for the NCAAT.
Lyle, KBD, and Loving were all recruited as "top-end guys." Kam is filling out his role nicely. Not every team automatically has to have an all-star, but needs leaders. They have that.
Lyle doesn't have an attitude problem. If you recall, he's the only one who actually decided to stick around after last year. He lost weight and put the work in. He's just off to a bad start, which he's allowed.
We managed 20 wins in the regular season last year after going 8-5 OOC with losses to UT-Arlington, Louisiana Tech, and Memphis. This team should walk out of OOC 10-3 at the worst (UVA, UCLA, and either Providence or UConn), however UConn has been terrible and UCLA looks beatable too. If this team puts together complete games like they're capable of (we saw it in spurts last night), there is a good chance they finish the regular season with 23 wins or so, which is easily in the tourney in a good B1G year.
But, as we all know, that's why we play the games. No sense in jumping to conclusions after the second game of the season.
First, Jamar Butler was a 4*. Lenzelle Smith was too, #95 in the class. Craft was a 4*, #94 in the exact same class. Ron Lewis was an overshadowed recruit who transferred after averaging 12.5 points/game for his freshman season at Bowling Green. These are not non highly touted recruits.
The talent level is just not there, and it definitely hurt that they lost their entire freshman class from last year, which obviously led to scrambling to fill the roster.
None of the guys we lost last year were in the top 6 in any statistical category on the team, except for Giddens with blocks. Potter and Jackson have already contributed more than any of those guys did last year. Those 2 guys, plus the 6 returning statistical leaders is a solid 8-man rotation.
See:
(Losing team, winning team) Duke, Mercer; Duke, Lehigh; Missouri, Norfolk State; Michigan State, Middle Tennessee State; WVU, Stephen F Austin; Georgia State, Baylor; Iowa State, UAB.
Those are all in the tournament, in the last 4 years. I think Duke should fire Coach K, MSU should fire Izzo, and WVU should fire Huggins. All 3 (likely) HOF coaches - overpaid and how could they lose to teams with less resources? Sad!
I don't think you can criticize chemistry after only the second regular season game. There is plenty of enthusiasm - Kam and Tate are both a ton of fun to watch and Potter already seems to be coming into his own. Thompson has flashes where he's really grinding it out too. For every Aaron Craft there is a Laquinton Ross (in terms of effort and enthusiasm).
I agree re: Loving. Bench his ass until he figures it out. He's not winning us any games right now.
The talent is not overrated by fans. That has a team full of very solid recruits. People need to make up their mind in criticizing Thad. When he recruits poorly it's "Thad needs to go! He can't bring in top talent!" Then when he brings in top classes it's "Recruiting rankings don't matter that much...these guys are overrated." Let Thad do his thing and we'll see how it plays out. We've won with our best player (Lyle) in a slump, this is ok. KBD has been sick, this is ok.
If a 24-25 win season is a rough year, I'll take it. That's where I think we'll be and will be a 7-9 in the tournament.
With all of this negativity around here you'd think we were 0-2 instead of 2-0. Keep in mind we lost to UT-Arlington and Louisiana Tech last year - winning these games, regardless of however close, is good.
UConn lost to Northeastern and WAGNER. #7 Xavier was fought to the end by Lehigh only to eek out a 3 point win. Texas had a 5 point win over Incarnate Word. Tennessee got SMOKED by Chatanooga. Pitt needed double OT to beat Eastern Michigan. Sometimes good teams/blue bloods lose games they shouldn't. We didn't.
The world isn't ending. There were streaks of really great play (the 12-0 run midway through the 1st, for example), which is something to build off. Everyone except Loving looked like they want to be out there. Tate is a leader, Kam is a microwave, Jackson has been a pleasant surprise. Potter has exceeded expectations after only two games. Loving needs a benching until the match is lit under his ass. There is more to like about this team than the previous two years.
Take a deep breath and step back everyone, we're 2-0.
It was a Monday night game against a bad opponent at 9 pm, for a team coming off a rough year. The basketball team isn't losing money. The world isn't ending.