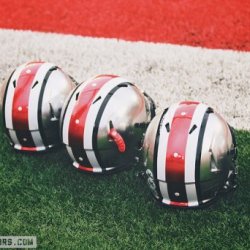 dbit
OHIO (via Alliance, OH)
MEMBER SINCE November 17, 2011
From NE Ohio, OSU alum, in medicine.

How Firm Thy Friendship
Favorites
SPORTS MOMENT: 2016 The Game
NFL TEAM: Browns
NHL TEAM: BJs
NBA TEAM: Cavs
MLB TEAM: Indians
Recent Activity
Seems like he has Braxton Miller's body type, speed, and similar arm.. He has similar top end speed, agility and acceleration to Miller, but more physicality when running. Miller would always try to make the guy miss, Fields looks like he's trying to run them over
It seems like the consensus is: Tua is good, but didn't deserve to win. Kyler is great, did deserve to win.
I agree regarding Tua. However, I think we need to consider that maybe Kyler is a product of the system and his Big12 schedule. Kyler put up 4000 passing and 1000 rushing, while the QB right before him (Baker) put up 4700 passing and 300 rushing. Baker had 3700 and 4000 passing yards the years before that, albeit without the rushing numbers.
Haskins put up 4600 passing and 100 rushing. The QB preceding him (JT) in the two prior years put up 3000 passing and 800 rushing, and then 2600 passing and 800 rushing. This is a stark difference.
To me, we know Haskins is not a system quarterback playing against soft defenses, whereas, while Kyler is likely very talented, there also may be a large component of the Lincoln Riley system combined with Big 12 defenses. This makes Haskins the clear winner in my book.
Wasn't it just a few years ago that the Big10 conference decided to start their conference games earlier in the year, and spread them out of a longer period of time? You would think this would give them more wiggle room to prevent difficult and unnecessary back to backs. I think Delaney's recent comments regarding the playoff choices, along with no discussion about changing the 9 game conference schedule demonstrates they only care about creating big time Big 10 matchups to make money/ratings, as opposed to actually helping their teams reach and win the playoff.
Hey yeah, sure hope he bring that Tim Beck guy with him....
Apologies for throwing shade on this beautiful statogram, but it says Wisc has 2 passing TDs... I thought they had Zero! Maybe I'm interpreting it wrong?
I am a little bit surprised that no one had JT Barrett as their pick. I know that some folks out there think he shouldn't even be Ohio State's starting QB, but if he can get back to his 2014 form (which with Kevin Wilson and Ryan Day shouldn't be a huge leap of faith), and the Buckeyes have a tremendous W-L records (as we all expect), then I think that is a Heisman winning recipe. QB position + big numbers/breaking records + playoff caliber team + Ohio State brand = ?Heisman
Perhaps, some feel his WRs and OL may hold the offense back.
You should try petitioning your league commissioner to let you start Pryor at the QB position, and fill his spot with Philly Brown.
The Browns do a good enough job on their own losing games... They do not need any help from the Refs! That call unfortunately did not take into account any of the current circumstances of the game.
If that is the correct call by rule, then defensive players should stand near refs and move in front to get hit by the ball to get a free taunting penalty!
I think this is a good hire for Michigan. But so was Durkin and look what we did to him.
Michael, I have to say I'm skeptical of that Jim Tressel story. He seems more like the type who would use a thimble!
I'm a loyal Apollos customer,
Amen to that
I think we've got an early winner!
I heard it will decide the starting QB in the fall!
Not quite what you mean, but here you go:
https://www.flickr.com/photos/elevenwarriors/
How many times will Urban be accused of running up the score when 2nd or 3rd string QB (insert QB name here) comes in and continues to put up points?
I think the biggest difference is in the experience of the OL. Last year, we had 4 news guys and VT took major advantage of that. This year, there will be four guys returning, and hopefully that equals a field day for EZE.
I rather enjoyed their loss to Ohio University in the NCAA basketball tournament after they took such delight in referring to us as "Ohio"