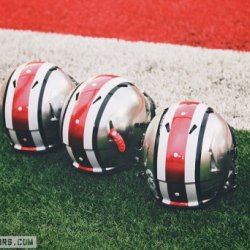 dbit
OHIO (via Alliance, OH)
Member since 17 November 2011 | Blog
From NE Ohio, OSU alum, in medicine.

How Firm Thy Friendship
Favorites
SPORTS MOMENT: 2016 The Game
NFL TEAM: Browns
NHL TEAM: BJs
NBA TEAM: Cavs
MLB TEAM: Indians
Recent Activity
You should try petitioning your league commissioner to let you start Pryor at the QB position, and fill his spot with Philly Brown.
The Browns do a good enough job on their own losing games... They do not need any help from the Refs! That call unfortunately did not take into account any of the current circumstances of the game.
If that is the correct call by rule, then defensive players should stand near refs and move in front to get hit by the ball to get a free taunting penalty!
I think this is a good hire for Michigan. But so was Durkin and look what we did to him.
Michael, I have to say I'm skeptical of that Jim Tressel story. He seems more like the type who would use a thimble!
I'm a loyal Apollos customer,
Amen to that
I think we've got an early winner!
I heard it will decide the starting QB in the fall!
Not quite what you mean, but here you go:
https://www.flickr.com/photos/elevenwarriors/
How many times will Urban be accused of running up the score when 2nd or 3rd string QB (insert QB name here) comes in and continues to put up points?
I think the biggest difference is in the experience of the OL. Last year, we had 4 news guys and VT took major advantage of that. This year, there will be four guys returning, and hopefully that equals a field day for EZE.
I rather enjoyed their loss to Ohio University in the NCAA basketball tournament after they took such delight in referring to us as "Ohio"
for centuries
Hahaha ....
We all made fun of Mich St hiring Bollman...and then they beat us in the BTNCG!
Ramzy's famed article about Jim Tressel is what brought me here
I loved the intensity meter at the bottom, slowly creeping up as the shouting just becomes louder and more non-sensical
Haha, after crunching the numbers, and with a p value of <0.05, the data is statistically significant for SUCK
Yes, I agree. I think they heard all of the backlash they were getting and are now overcompensating. I (obviously) pretty much follow only the Buckeyes and so I can't speak for other teams, but I don't remember the last time we got this much love from their analysts and writers.
As long as the punishments are more consistent than the NCAA!