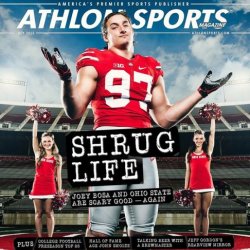 dbev1980
---
Member since 25 July 2012 | Blog
Recent Activity
He was jogging around the indoor field at the Woody. I had a polo on with a Nike dryfit #5 jersey t-shirt under it. When he got close, I pulled up my polo and showed him my #5 t-shirt, he walked over and shook hands. I asked him about the arm and he said he was ready to go.
Kiper predicted him to be #1 pick. He's gone. Excited about Nick though. Need to land him bad!
I got to help my buddy Matt Hernandez with this shoot and met JBBigBear and Braxton! An experience I'll never forget.
Not gonna need a punter! Let's go for it on 4th down. First team ever to win a National Championship without punting.