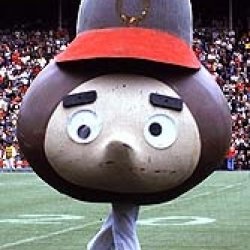 DaytonBuck1980
---
Columbus (via Dayton)
MEMBER SINCE May 27, 2013
Favorites
SPORTS MOMENT: Holy Buckeye!
COLLEGE FOOTBALL PLAYER: O- Troy Smith D- Andy Katzenmoyer
COLLEGE BASKETBALL PLAYER: The Villian Evan Turner
NFL TEAM: The one with the least scUM alum
NHL TEAM: Bluejackets if I have to choose
NBA TEAM: Cavs
MLB TEAM: Reds
SOCCER TEAM: Crew
Recent Activity
Warner has been damn consistent this year.
No joke, it's down right now
I guess I'm in the minority, but coming off a bye week I couldn't be happier with the Friday kickoff. Let's get to it!
I'm just here to say, you've been killing it Zach. Setting a really high standard for the hurry up.
He is a retired speech pathologist and world traveler, not a crank living in a shack.
Just a crank who's a retired speech pathologist and world traveler.
Kegs and eggs is dinner if you rage all night
And in this years case, the Wisconsin nooner severely hinders the intensity of the dubgate :(
Noon kickoffs for Indiana, Illinois and the like are just fine, but the benefits of playing our biggest games under the lights are undeniable. Crowd is more into it, team is more fired up, recruits love it, media hypes it all day long, more eyes nationally, etc, etc.
Anyone that can hang around in the league for as long as he has is doing something right, hall of famer or not.
I'm interested as well. A brief Wikipedia search on the man who made the post doesn't reveal any ties to the university. Perhaps he's the Bryce Harper of astronauts?
Time to put some real money down my man
Holy crap! How did I not know this?!
Whereas Ohio State would have to be Reese's Cups. An all around, perennial favorite that plays well on both sides and has a huge and loyal fan base.
Kit Kat is the Clemson of Halloween candies.
Can we get a Time and Change on the story of the band's banana?
I'm sorry, but Its 2019, who give af about what anyone wears. Just win baby. All these fans fretting over black unis and what not are arraigning furniture on the titanic. It's happening, get with it or get lost.
82nd airborne? Former 307th FSB medic myself. Not sure The 307th is even a thing anymore
Ermmm Wisconsin didn't play ucf this year. South Florida, yes. Not the same. #fail
Meh. Those still suck, but in black.
How much is 11w getting paid to promote these monstrosities? Hideous.
I really like the answering of questions. Hope to see it continue. Already making your mark on the hurry up. Great work Zach
And the next and the next and the....
I could listen to Hafley talk all day long