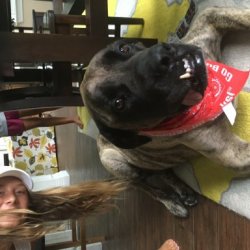 Dayton Buckeye
---
MEMBER SINCE August 29, 2012
Favorites
SPORTS MOMENT: 2002 National Championship
COLLEGE FOOTBALL PLAYER: Antoine Winfield
NFL TEAM: Cowboys
NHL TEAM: Blue Jackets
MLB TEAM: Reds
Recent Activity
I think we can all agree that TTUN still sucks.
Werner should stay at SAM. He was very good in coverage and against the run. He has the speed and athleticism to play there.
Sounds like the kid has all the talent, but no character. No thanks.
Henderson looks like he is shot out of a cannon. If we don't get him I hope he doesn't go to Clemson.
Next man up. Hopefully Chambers and McCall can carry the load until he is back.
Pay Day!! Well deserved coach.
He has too much juice to keep in the press box. Can't wait for next season.
I was at the Iowa game. Clutch kick. It should have never been that close, but what an ending.
I believe Cade can really develop into a good defensive end. He is very athletic and has a nose for the ball. It will be fun to watch him progress this year.
I miss Audrey. She did a great job covering the Puckeyes. Good luck to both teams.
Reminds me of Mike Doss. I think this kid is going to be special.
Fight tooth and nail to a double digit win with two gifts. Carry on kitty cats.
I feel like replay has slowed down the game, and made the refs hesitant in their calls. Before replay I don't remember the refs having that much influence on the game. They typically got the calls correct on most of the time. I don't think there was even a flag on the targeting play, but replay stopped the game to review. This just makes me lose interest in watching non Buckeye games.
I hate they play on a Monday. Not taking Tuesday off to watch two teams I don't care about.
Pay Day! He totally outcoached Clemson.
The line will help with Teagues development. He gain confidence through out next year. Defensive secondary will need to step up if we are going to make another playoff.
He should be a 5 star. His tape is ridiculous.
DaVon has been a beast inside. Great to see a kid's hard work pay off.
I watched about 5 minutes of the show. Fowler is a goof ball. Had to turn it off. Don't really care who won the awards. Just beat Clemson.
D1 Pick, D2 Lasalle D3 Trotwood D4 Newark D5 Kirtland D6 Anna D7 Marion
Harbaugh is just a weird cat. That video is disturbing.
I played high school in the 90's. Played offensive and defensive line. I think you can appreciate the toll the pounding takes on players bodies. I could have played at a small school but chose not to. I can't imagine the speed and strength of playing again all D1 athletes. I remember hitting William Houston who later played full back at OSU. I hit his as hard as I could and he ran me over and then dragged me with one arm for another 5 yards. As stated above we were full contact all week except for Thursday. I still have lower back issues but I would not have traded it for the world. I think it may give you a little better prospective on the game and the techniques the players use. That being said there are a lot of people who never played that know much more than me.