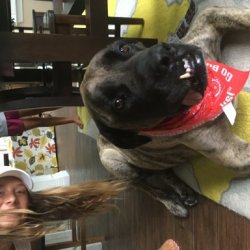 Dayton Buckeye
---
Member since 29 August 2012 | Blog
Favorites
SPORTS MOMENT: 2002 National Championship
COLLEGE FOOTBALL PLAYER: Antoine Winfield
NFL TEAM: Cowboys
NHL TEAM: Blue Jackets
MLB TEAM: Reds
Recent Activity
Teague reminds me of Jonathon Wells from back in the day.
What a game. I can't believe we out played them with out 2 senior defense men. That freshmen D #5 is going to be very good. Great season Bucks!
This is going to be tough with out Healey. I think the Big Ten had it in for him. Most of his hits were clean. The one against Wisky the guy turned right at the last second. Anyway any success here would be gravy for us. This has been a very good year for the Bucks.
Great job boys. Go beat Sparty.
Aubrey if they win Sat does that put them in the frozen four tourney? Where will they be in the pair wise rankings? If they lose do they have to win the big ten tourney to make it? Thanks for your great coverage.
Sounds like a great kid. Keep lighting them up Mason. Go Bucks.
Need a sweep for the pair wise rankings. Don't want to be put in a must win situation in the tourney.
Just keep your head down. There is no arguing with them. I have family that are LSU, Georgia, Kentucky, and Arkansas fans. They do not listen to reason.
I agree. A sweep is needed and no better team to do it against.
I watched him play against St X. Kid is scary good.
He is 6' 200 and hits like a truck.
I really hope they make the tournament this year. They have really ben playing well. A sweep of Wisky would be nice this weekend.
Feed Weber. I don't remember him getting the ball more than 10 times a game most games.
They are playing really well. Hope they keep it up against Wisky.
Lewis. I thought he was gone for sure. He is often looked over. After that I would say JT and Jones.
I doubt this is true. He looked great when he came in for mop up duty. He has a great arm, and can run ok for his size.
Should have swept the sun devils. Tough series coming up with the Lions. Would be happy with a split there. Keep standing on your head Frey.
I thought he was gone for sure. This made my day.
First round draft hype, third round actual talent.
I really wish it was coach Stud going to Minny. Ed did a fantastic job with our lines. I would assume he will assist with the OC job at Minnesota.
I thought he was going to play the walk out LB. These guys are terrific athletes. The ability to play so many different positions is amazing.
This defensive back haul is insane. If some of them don't work out there move them to wide receiver.
This should be a great match up. Need to get at least a split this weekend.
like to see Samuel and Weber get more touches this game. Control the clock and wear their defense down.
I agree that the game will be won or lost in the trenches. Our O line must play a great game, and our d line must stop the run and pt pressue on Watson. This is going to be a close game. I have confidence in coach Mic having them in better shape for the 4th quarter.