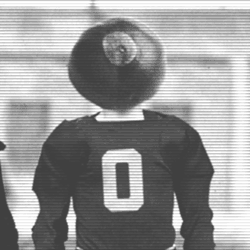 Day-310
---
Wilmette, IL (via Columbus, Eastmoor. )
MEMBER SINCE January 07, 2019
"...and in three hundred and ten days, in Ann Arbor, Michigan." THAT rekindled me as a Buckeye fan FOREVER.
Favorites
SPORTS MOMENT: Clock running out in Jim Tressel's first Michigan game. I knew the nightmare was over.
COLLEGE FOOTBALL PLAYER: Archie Griffin, shook his hand when I was 8.
NFL TEAM: BEARS!
MLB TEAM: National League
SOCCER TEAM: lol
Recent Activity
Ah, that helps to know that Coach Stuart DID spend time on Bruce's staff. So yes, whatever it was must've not been too bad or was mended. Thanks for clarifying that! Maybe someone later will post with a clearer perspective on the story than me.
True, I was at Eastmoor when Mike Boren announced he was going to UM and coach Bob Stuart (who was very close to Woody) put the white stripes on the helmets. Only years later did I hear of the rift between Stuart and Earle and now learning it was endemic in Ohio.
Ah! The answer I was looking for. But 7th...in the Big freakin' ten?! My heart broke a little when they fired him. He was my Dad's age, and I had lost my Dad a few months before. I'll never forget when TBDBITL showed up at his house, the tv news report welled me up!
But yes, it was time for a change. I had very high hopes for Cooper. And he DID improve the program until things went soft at the end (that last bowl loss to So Car was ugly).
Also interesting how the EB coaching search was a CF as someone said. I was 14, but do remember how many people in Columbus were very disappointed. Disappointment soon and probably prematurely wiped out by the 11-0 season and a narrow loss to SoCal for the NC.
Best of all, it's clear the program is in far better shape than it was in '79. I'll credit it to Urban, and the fact he was able to set it up right! It could be said the last few years of Woody we were already in decline. I heard him admit to it on TV a few years before he died: that he had held on too long.
At 9-0, We need to understand that WE are their clemson. Think of how we'd react if the tigers were coming to The Shoe! Autzen be sheer madness (isn't it the LOUDEST stadium in the power 5?) , and a LOT tougher win that we all expect.
I miss Tyvis, I miss that whole team. Whata bunch! Glad to still see a few of them in The League.
THIS returned me to being a Buckeye fan. I was so horrified at the Earle Bruce firing, and Cooper's UM record I had fallen away (and moving to NYC and then Chicago).
THIS one moment made me feel like BUCKEYE again. Check out my username fer gosh sakes
Yup, ald we coulda-shoulda made up for it ALL with that last offensive play. It'll hurt forever, but all great teams have those "if onlys" in their histories. It goes with being great.
Time start "Clemsoning" up as a thing again?
Oh, it ends tonight. Although they lose Joe, they are a VERY young team. I heard losing only 6 seniors. We may very well see them soon.
Now, bring the Lombardi trophy to O-H-I-O next!
Despite how it ended for The Beloved, it's been a GREAT season with you guys! Love you all. We'll be BAAAAAACK!!!
So Trevor... izat Clemsoning?
So is "Clemsoning" a thing again?
WA thinking the same thing. We had him one series from falling apart like this. Then targeting with no flag on the field and the rest is history...
Dunno if I should, but Mike Gundy is alright, except for that hair. damn.
We'd be up by at least 10 by now.
Buckeyes would've handled LSU pretty easily.
TAYLOR. Time to turn this defense into mush!!