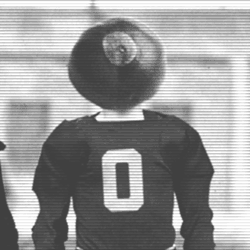 Day-310
---
Wilmette, IL (via Columbus, Eastmoor. )
MEMBER SINCE January 07, 2019
"...and in three hundred and ten days, in Ann Arbor, Michigan." THAT rekindled me as a Buckeye fan FOREVER.
Favorites
SPORTS MOMENT: Clock running out in Jim Tressel's first Michigan game. I knew the nightmare was over.
COLLEGE FOOTBALL PLAYER: Archie Griffin, shook his hand when I was 8.
NFL TEAM: BEARS!
MLB TEAM: National League
SOCCER TEAM: lol
Recent Activity
Gotta admit, Heisman moment for Harris. Didn't we recruit him?
Plain and simple: The Bear needs to sign some damn Buckeyes.
Got a little dusty in here during that rendition of Sloopy. sniff.sniff
Starting to think my alma mater isn't in the running after all. I can think of two guys from my HS class in '82 and some heavy hitters in the 70s that contributed greatly. I'll mention it by name next Saturday I guess.
Wow, I would've though Massillon would be in the top 5. To many have been seduced by scUM I guess. Wonder where my Alma Mater will place...
I'm with you Optimistic, a nice, windy drizzly-to-wet-snow day on a frozen field.
Even tho we didn't win, it was FANTASTIC having SoCal in our house! And Texas...and Oklahoma. Well..
Imagine having a chance to play in Tuscaloosa and to welcome them to The 'Shoe. Also in The Swamp and whatever they call LSU's home (Tiger stadium?) and GA. Cross pollination between their bluebloods against US, PSU, MSU and whichever gets good first between Neb and UM would be CF pageantry at its best! As long as the bands go too!
With a name like "Trey Leroux" I thought we just stole one from LSU, but I'll good Ohio stock any day!
I told my daughter when we started the playoff run in 2014 about how hard it is just to be in the position to have the chance to play for the NC, and that I hope this team had the drive to see it through, because it might be a long time until we'd be here again. Gratefully, they did that year, but not since...and it's now 2019.
Yes, too many times I've seen them come up short: I refer to the o.p. along with 1979 and 2006.
I was hoping for at least one more. I still feel he stole one from us in '07 (yes, they won fair and square, but...) so he only broke even for me. But what he did for the program overall and 7-0 make up for it. Leaving under his own power was something I hoped for too.
I'm no good with crystal balls...but any chance we can FINALLY get a Buckeye or two in team of the Beloved Bear? For one: Nuernberger could ONLY be an upgrade.
That sounds like a good spot for him. As long as we don't have to play him, I don't wanna experience the vitriol here!
So the DB buy from LSU didn't materialize? Sounded too good to be true. Considering how everyone here was afraid of Mattison back when Meyer couldn't get him from UM, and what that Gator Defense did to our '06 team in Glendale...I'm good with him.
Is it common for a major program program to do this after a disappointing season's end? I do remember never getting to see Tressel's postgame after the '06 NC, but I assumed I just missed it. And there was certainly signs of life in the WHAC.
Agreed, With Bosa, totally possible.
If so, I hope he doesn't burn out physically, as did Meyer. We all make fun of "satan-Nick Saban" but he his the energy Urban had, and focuses it like a laser. Urban is a very emotional man (I related to him for it...other than we were in the same class at UC) but at a price. I admired his fatherly affection for his players, he kept Zeke together (who I think is as nuts as Mo Clarett but from a better family/childhood). This nature of his may have resulted in the Bi-polar nature of his later teams. One week the most thrilling comeback against PSU, then 7 days later getting clobbered by a mediocre Iowa team. The program was SO emotionally all-over-the-place this year and STILL only lost one game...that in itself is amazing. Yet the program couldn't stay focused enough to lobby for "Dwayne's" (imho) Heisman. Let's hope he's as driven, but maybe a bit less "caloric"
I can't get the links to load and run at this late of date, maybe I waited too long. I usually love these analyses.
Seeing the balloon go flat on the Harrison recruitment, the butt-whoopn', the non-bowl-players and now this; ya gotta think something debilitating is afoot.
I've liked this kid ever since that video from his parents in the stands seeing his first TD as a Buckeye. ("is it KJ?...It's KJ!...YAAYYY!!!!") I could really get a feel for their joy in experiencing their son being cheered by 105,000 voices. That and the fact that his endzone celebrations are top-shelf.