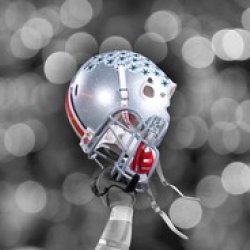 david43207
---
MEMBER SINCE July 30, 2012
Favorites
COLLEGE FOOTBALL PLAYER: Orlando Pace
COLLEGE BASKETBALL PLAYER: Clark Kellog
NFL TEAM: Chicago Bears
NHL TEAM: Columbus Blue Jackets
NBA TEAM: Dallas Mavricks
MLB TEAM: Cincinnati Reds
SOCCER TEAM: Columbus Crew
Recent Activity
AH man, that is click bait by ESPN. They must be down on clicks...lol
Sorry, maybe the word Offended may have come across incorrectly. I think Pat Forde offends me just being on the BIGN and he does not have any value to bring to the network.
I have never been a fan of Pat Forde. However, it seem like every sports analyst that does not pick the Buckeyes we seem to get offended, mad, angry or pissed off. If it makes you upset as a fan don't watch the shows. I have stopped watching ESPN for the most part (exception would be Buckeye games) because the content and programs have gone way down and all I hear is Charlie Browns parents talking.
It is Okay to say TTUN has a good team and yes they need to prove it first but they do have talent. The Buckeyes are going through some big changes that comes with a lot of unproven pieces in place. Talent is not the question but chemistry and familiarity are the issue.
Not post this to be critical of the topic but advise on what I have chosen to do with sport media today.
Honestly I like both popeyes and CFA. The problem I have with popeyes is the service and cleanliness. I have not found one where you recieved at best decent service. CFA menu very limited and waffle fries are not very good. Sandwich is a matter of taste. Popeyes is crisper but CFA is heartier.
Man I really was rooting for Tate to win the job. Once a Buckeye always a Buckeye. He might not have said all the right things people wanted to hear but he still was a Buckeye.
I think we are putting to much energy into Bijan. Good luck to wherever he decides to go. He seems like a great kid. I would like more info on the next targets.
Seen alot of coaches in my day. Herm is truly a nice man and cares about the players. The OSU and Ohio thing has been over played. Some of these kids just want to go somewhere else.
I thought the graphic was nice.
Don't forget about Gee Scott. Dude is a beast.
Meh, I am not offended. Dabo does things his own way and sometimes that rubs people the wrong way. I honestly think he is a good coach that has been extremely successful. We tend to not like that type of success unless it is Ohio State which is understandable. The comment really was not necessary in my opinion.
This is sad when someone takes a life of another. I know that Urban will probably be blamed again for the actions of an Athlete he coached and maybe that is unfair or fair. However, at the end of the day the person who has committed the crime is the one that needs held accountable. In today's world we want to convict people (Social media morale compass) that has been involved in that athletes life if said athlete makes bad decisions even though a coach, mother, friend, brother, or sister have tried to help them. The coach, in this case is Urban has said he should have done things differently while at Florida. He owns his mistakes but to blame Urban for the decisions each person or athlete he coaches or any coach is to much for me to tolerate. To each his own on opinions and we need to stop with trickle down morale compasses. If we blame everyone who knew that person we would eventually all be guilty. Sorry if this may offend or if disagree but my intent is not to make anyone upset just posting my view.
Rick Leach was my first true disliked player in any sport. Magic, Carl Malone would follow.
I like Gary Patterson out of TCU. Really good coach. i also really like Pat Fitzgerald.
I miss Western sizzler.
I was going t say daddyos
Not sure how he would be coming here. The visit was cut short. The parents were not with him. He just came off a great visit with GA. Good luck to the young man. Hope he has a wonderful experience except if he faces the Buckeyes.
Nothing will happen. Clemson does not push clicks or traffic to there network.
I don't understand why we question a recruits interest in another program. Yes OSU is a great school and has a consistent football program. Tennessee has struggled to be successful on the field for a while but they have a solid history and have proven to recruit well. The most important thing a recruit IMO is the system they would best fit. This of course only relates football fit. If a recruit looks at a school other than just football then other factors come in. I do know that one player at any given time will not define OSU success. So I don't believe in the saying MUST GET.
You all do know Paris is still committed to OSU. I think Birm even had an update stating that he would still take visits as he gets to know Day better and make sure OSU is where he wants to be. He has every right and should make sure this is where he wants to come. He is a great kid with a great mom.
I dislike Michigan-
1. I was born, raised, and had a mother who absolutely could not stand Michigan. The yelling and screaming during the game was constant when she was around.
2. I remember the 90s but i also remember 80s and late 70s. The talk that came from the fan base and the players with the amount of ego they had was non stop especially during the 90s. I would just be minding my own business and her comes some Michigan fan with the talk while I was trying to get a nice work out in the gym done. I will never forgive or forget that EVER.
Your points are valid for recent times about support for our conference. The one point I think you miss is before the recent influx of conference strength over all it was about individual teams. You could look at the SEC and basically say it has been Alabama and everyone else with a sprinkle Auburn, LSU and Florida (not so recent).
Michigan and Ohio State is a true rivalry and will always be that way. you can't change how generations have felt about each other on both sides of the rivalry. That is what makes it great. That is why you have fans that can't for the life of them root for Michigan it just won't happen and I am on that side even though you make valid points about recent times. Perhaps that might change over time but for now i still can't cheer for them.
I thought it was me that no love for Haskins in the Media. To be honest the best thing he can do is ball out and declare for the pros. I think he could climb the the draft board to number one pick. Awards are nice but getting paid is better.
Sorry I tapped the wrong reply.
Really like the Ozark's. I also liked Marco Polo.
Game experience usually has little impact on decisions. Zach will do what he wants and should. I laugh when comments are made by posters thinking these recruits look at a school based on wins and loses. From past experiences it is usually based on comfort and relationships.