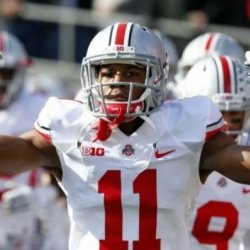 Dashoe
---
MEMBER SINCE September 14, 2014
Recent Activity
KJ Hill over Samuels would be my only argument
Bama redshirt freshman running back Jerome Ford has entered the portal
I think he'll get drafted late like Noah Brown, just gotta take advantage of it. Good luck Vic
I doubt it. History has shown Bourland will be on the field.
Getting sec sec sec vibes with all this we are 3-0. Man WE play tonight. Wish nothing but L's for the rest of the conference
LSU just lost another recruit. Burton to UGA
Cooper in this class is the typical HB. Fleming will be a stud on the outside.
Nola Buck Amcestry.com confirmed we are cousins, hello family
Y'all thinking UGA beating LSU must not have seen much UGA this year. Their offense is average at best. Add on Cager out, Pickens suspended for the 1st half, and Swift questionable. This the same UGA team that lost to USCe at home against a 3rd string qb. This game won't be close.
That's my transfer portal quarterback
Weather is supposed to hold off until after the game. Will be cold but dry
Disagree with little pressure on them. Their coach is 0-4 and it's been 7 straight.
They did as well. Werner was covering one of the best tight ends in the country and did a great job.
This game has been close the last few years, i got the Bucks by 31
Chase last game in the Shoe, gonna be a long day for psu
That's what Tua said. Feel bad for him
Where is the outrage when a guy intentionally throws a 100mph fastball at a batter, is that not assault either?