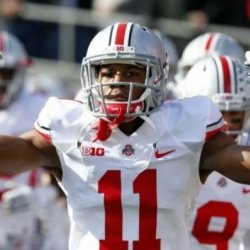 Dashoe
---
MEMBER SINCE September 14, 2014
Recent Activity
Routinely watched running backs run away from him and Bourland last year. Make it stop
Pretty good kid that played at Kentucky last year from Ohio
I be bringing buckets of Popeyes smothered in their honey packets when recruits visit telling them, it ain't no different than that chicken in Tallahassee
LSU insiders saying Ricks younger brother is going to school in Baton Rouge so i guess the family is indeed there if true.
True, but hands wise and straight line speed he is more Ginn imo. Nfl wise that's who I'd compare him too
Parris is a Ted Ginn type
So he gonna teach a class, be assistant AD, and be on tv?
https://m.youtube.com/watch?v=0DorVltB6z0
Pace, Korey Stringer r.i.p., "center" Billy Price
Yeah they're not that good. I wonder what the keeping KeAndre and Baron from taking their spots
Prays Pitt comes up with a miracle
scUM just put the clamps on McSorley, no need to have a "Tate" factor this week. We just need to do what we do on offense. Id rather have a Browning and KeAndre Jones factor on defense
Tempo slowed down once Urban came back. It's odd because Urban usually like fast tempo. Im lost on this one
Replace Werner and Borland
Warner and Borland are unathletic, out of position to often, and need to be replaced
If Josh Allen and Sam ducktales Darnold are 1st rounders, Dwayne sure as hell is
Yes he is, lets not forget the drops that happened. If Sam i am a turnover machine Darnold is a top 5 pick, surely Haskins is a 1st rounder
Okudah played well last night, Wade outside of that slant played well. Those 2 are really coming along
Seems like the strategy was to take the running back out the game and make the qb run. They just didn't adjust and spy on McSorely when he got rolling running, abd he beat the spy at times to. That wasn't on Chase. Chase balled out period.
Almost been that long it seems since they've beaten a team with a winning record
Still wanting to see Browning,Harrison, and Jones on the field together
Bosa injury
Arnette ( still don't like his cb play)
only 2 i can think of