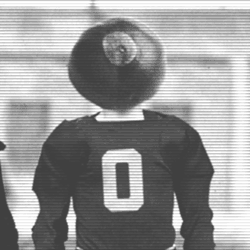 Darth Brutus
---
Member since 25 August 2011 | Blog
Recent Activity
Morning kids!
Love the old photo of the JHoke. Funny stuff!
And how about the "Tits or Tats Bowl"?
Morning Kids!
You know, my little girl just received a free ticket and uniform for our local high school's game on Friday from the Booster's Club so she and several other 1st grade girls can do a cheer/dance routine at half time.....I hope the NCAA doesn't get wind of this!
Morning kids,
Just want to say....Sarah, I really enjoy your style. You make my Hump Days memorable.
JFRANK373.... I love this!!
Morning kids, what's poppin'?
Maybe I'm a little old-fashioned or biased, or just stupid, but I don't see the purpose of "progress" just for the sake of progress. Or in this case "expansion for expansion's sake". Just leave it alone already. We're the Big 10, albeit with 12 teams. There's a tradition here. There are long- standing rivalries that could vanish. There is a Mid-west cultural identity. We already have a strong fan base and don't need any other schools to supposedly boost our revenue, which I have to agree would porbably not be such a boost after splitting it up. I'll shut-up now.
I too was unavoidably detained by some sort of family function that my wife made me attend (marriage really sucks at times). However, I had no idea who UM was playing that week. A buddy texted me about the Bucks, and then later about Michigan. " Who the hell is Appalachian State?! " I asked. My friend replied " My heroes!"
"We need to get hats," I said. Ever since we've both bought ball caps from any teams that have beat Michigan. Our collection is getting pretty big.
Morning kids, what's poppin'?
Is it just me or is there some freaky correlation between the days getting shorter and the wait for the first game feeling somehow longer! This blows donkeys!
Just recently discovered 11W, and I gotta say that it's this kind of incredible writing that has made me fall in love with this site. Wonderful piece Ramzy. Thank you.