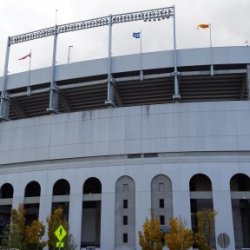 Darkebuck
---
MEMBER SINCE August 12, 2015
Recent Activity
What a special group of guys...wow.
Different vibe this year.
Great article.
Another quote from it...
"Seemed like every time we put in a new play, he'd execute it 100 percent," Dickmann said, "and we'd just go, 'Wow.'"
The OSU-MSU title game was 2013.
Screaming CARLOS! CARLOS! CARLOS! at the top of our lungs. That was a fun game.
Harball is a hard listen...borderline embarrassing...never fails.
Underdog to TTUN. Underdog to Alabama. Yes please!
I believe Cliff Claven's last two facts are from last week as well.
Really enjoy these Rundowns Matt.
"So I take every game like it's my last."
Well said young man, well said.
All for a cool $70m...meh
It's UNC OR UM I believe...after Xavier. I'm more worried about Gonzaga than Xavier though.
Its gotten so bad MGoBlog disabled readers' ability to leave comments shortly after the game
And it's still closed! But the meltdown that happened prior to the closing is pure gold.
After watching the full PC I'm sure that's what Urban believes. "big time college football" x2
Ripped their effing hearts out!!
Maturity across the board. Love it.
I've looked forward to Tressel's reaction since halftime yesterday. Hadn't considered he may just turn it off...perfect!
No matter how much they suck, the November 25th game will likely be a nail-biter. I love college football!
Did anyone notice the stat on JT's completion % on throws greater than 10 yds over the last 4 years? Other than the first two games of this year he's improved every year! Year over year he's improving on the very thing everybody is bitching about.
What a fickle bunch of fans. I'm appalled.
Speed and precision over size and strength won the day for the Buckeyes in 1942. 75 years later, those roles will flip when the Buckeyes host the Black Knights.
Hopefully the score doesn't flip with the roles.