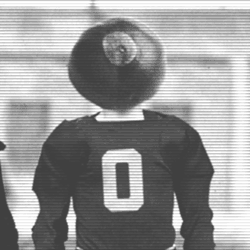 darbnurb
---
Member since 05 April 2013 | Blog
Recent Activity
most languages have a plural form for you. Now English does too.
Think Ramstetter proved that the black stripe removal has nothing to do with depth chart.
Just had a doctor friend prescribe gargling whiskey for a cough. I still have the cough, but no longer mind.
Nope! Curtis ran straight threw the end zone.
I'd be more impressed if those were melons.
Ha, seriously. He gave up too early. I bet if he tried for another minute or so, he could have gotten the broken headset to work.
Next time you're in the 'Shoe, please raise a glass to the men in Blue.
Knew this would come up pretty soon in the comments section. Well done!
It's hard for me to choose between Tress and Urban for President.
But Kerry Combs as Secretary of State would be awesome. After all, he already experience planting flags in other territories.
I hope that we have a game plan ready that includes blocking every damn MSU kick. Kickoff included.
I confess, I have took a few plays off the last few games. I don't have a tv in my kitchen yet.
Until tOSU finds themselves ranked #9 in a few seasons. Then we will make the case for a 16 team playoff.
We never, ever should have lost to Penn State. WTF were we thinking?
My guess is that we were thinking...Let's go to the playoffs, but let's not win our division which would require an extra game. I saw Urban whisper something to Durbin before he sent him out. I suspect he told him to line drive it into the line so that it can be returned for a TD. This gives us a "good" lose, because we lost by two blocked kicks, that doesn't penalize us too much and we still get to skip a grueling BT champ game. Just speculation though.
I could support this, however, each team should be ranked by their conference standings. Last place, only gets one ball. In 14 team conference, the top team gets 14 balls. This might encourage conference mergers so that we could have 20-30 team conferences, thus giving the conference champ even more balls to put in the pot.
It would take a lot of balls to do this.
I think there should be two playoffs. One for division winners. Another for the top 4 teams in the country. The winner of each will be crowned co-National champs. But only the conference champs will get an invite to the White House. On the rare occasion that the conference champ is also in the top 4, then they must play in the conference champs playoff. The top FCS team should then take their place in the top 4 bracket.
Damn, you're saying *Ichigan controls tOSU's destiny? I don't like that.
Man, I think you have someone from Michigan DV'ing you.
I thought about trying that approach, but then found that I would have to work.
I normally root for TTUN to win out until we play. Unless of course they suck from the beginning. Then I take joy in each loss.
"I have kind of gone back for a master's degree" Anyone know how to do this? I would kind of like to do this too.
Look how far back he was when his hair caught fire!
Being "quick" is overrated.