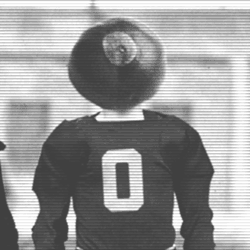 darbnurb
---
MEMBER SINCE April 05, 2013
Recent Activity
There is no way of knowing this without look at their shoes!
Clemson benefitted from timely breaks in action too. Our first drive, Wilson made an amazing catch, but the review time gave Clemson time to regroup and prepare for a red-zone stand. Also the end of the 1st quarter was right when OSU was in the the red zone. Tough breaks.
Yep, it was targeting and it was hands to the face.
When I saw the the play live, I thought that there was no way it would stand. When I saw the replay, I thought that there is no way it would be reversed. Also, the expert replay referee commentator was complete garbage too. The announcers even were not willing to agree with him.
If Young would have had 4,000 more yards worth of tackles for loss and few more TD,s, he would have won!
So you suggest cancelling a game a week before is to be played?
Not a proponent of sitting Fields (committee is has no logic to their choices), but just want to point out that his injury was while passing.
Did the bucks dial up more blitzes during the 2nd half or were they just wearing down TTUN line?
I watched the Rivalry document this week for the first time. It was hilarious that Woody tried to find the wolverines 'special' shoes. Perhaps, TTUN found out that tOSU had finally developed a shoe that makes them faster.
It's nice that they now name awards after former B10 coaches.
Edit: Oopps. Just found out that he is still coaching.
I would have never guessed that the series was a dead tie. Then again, I would have never assumed that TTUN leads the all-time series.
Noted. I will pass along your request to Coach Day.
President Tress, AD _eyer, and Coach Day? That would be awesome! _ichigan would just close their doors.
oh, and the phantom holding call that wiped out a big gain and lead to OSU's first punt.
Are you allowed to run and jump over the line (like #2 did) to try to block a field goal?
So, our 2nd and 3rd stringers might have some rain?
We are in a very difficult position. In order to jump LSU, we need to thrash Penn State and still make them look like a Top 10 team.
I hate Penn State. Not even kidding.
Damn! Now we have to leave the starters in until halftime, just so we don't slide to #3.
Except the committee justified their ranking based on Texas.
I keep my pitch fork sharpened precisely for this reason. Let's roll!
Seriously?
Ok, I am going to drop some coin on MSU this weekend. There is no way Dantonio loses after reading this tweet.
Coach Mick, you wanna field this one?
Pennt St was down 5 and needed to go for the touchdown to win because they did not take the easy points when they had a chance. The difference was needing a TD or chipping in the game winning FG. I loved watching it.