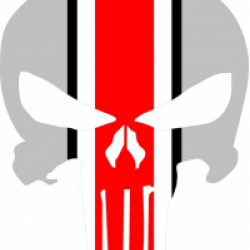 DAPBuck119
---
MEMBER SINCE October 01, 2015
Recent Activity
Please dont' bring up recruiting, please don't bring up recruiting, please don....ah fuck
Some motherfuckers are always trying to ice-skate uphill.
You're probably right, but I was at that game (wife went to Clemson... I know, I know) and Kyle Field is not an easy place to play. At all. I'd also be willing to wager that A&M will be ranked before long. They've got a solid ball club down there and their coach is pretty good too. My takeaway from the game was that Clemson got a little help from the zebras and probably should have lost. Unfortunately, I don't see anyone else on their schedule challenging them, but that sets up a nice revenge game for us in the playoffs. I can see them having a performance similar to ours against them a couple years ago if they make the CFP. They won't really be battle tested and they'll run into a buzzsaw. #Ihopeitsthebuckeyes
Hoping for FOX and Gus at 3:30 or perhaps at 6pm, but I believe the general consensus is correct with an 8pm kickoff so they can hype it all day. May also depend on when the ND game gets going. If you have to plan for childcare, I would plan on 8, but we should know by next Monday.
RIght! Dude took his ball and went home and then has the nerve to try to make himself look like some kind of champion of whoknowswhat. Adios, wadsworth.
Great points and I can agree to the point on not wanting to fire someone dealing with a family crisis, but there was still a glaring lack of accountability. Other options are on the table rather than firing - LOA, suspension, reassignment of duties, demotion, etc. It seems that there were conversations and potentially warnings about losing his job, but no follow through on repeated issues. That's what Toby in HR is there to help a leader deal with and it doesn't seem as though these issues were dealt with appropriately.
Obviously, I get the sentiment that this was an unjust punishment for failing to report a situation that may not have even been occurring, but, to me, the suspensions are due to mishandling an employee that is not meeting expectations. The lack of accountability has to have consequences. Had this been messaged at the press conference, the story would be over in a week.... but they ran a sweep to the short side of the field instead of giving Hyde the damn ball (sorry, can't let it go even now). For that, I believe Drake is due some sort of consequence as well. I also think that the punishment is reasonable considering all of the evidence we have seen in the report. Clouded judgement or not, ZS should have been let go a long time ago. A leader failing to hold his people accountable is unacceptable at any level and the coach and AD failed in that regard... hence the suspensions. I'm fine with that, but holy hell just communicate it like professionals.
It's already been said, but I'm chime in as well.... dogs take way more time out of your day-to-day than you think and way more time than I would have had if I was single (wife and I got our dog when we got engaged and moved into together). So you have to be ready for that and also kiss long trips goodbye unless you're taking the dog or have someone reliable that can either stay at your place with the dog or take it to their place (or you could drop the coin to board - adds up fast!). Also consider that, if you do travel a good bit, you don't want to be the guy that's always asking others to take care of his dog. I've had a few friends like that (also one that has gotten 2 dogs at separate times and both now live with his parents because he didn't consider the impact they would have on his life with a hectic work schedule and bachelor goals). Just additional things to consider. I wouldn't trade my dog for the world, but I also wouldn't have gotten her if I didn't have someone else to help take care of her.
Do we know what Ja-Rule has to say about this?
It's only 8am in AZ, so my work productivity won't take as big of a hit as others, but I did wake up early for this...
*Breaking* video from the BoT meeting tomorrow! /s

https://youtu.be/J6VjPM5CeWs (NSFW language)
Although, I wouldn't be surprised if this type of conversation goes down tomorrow.
You know what's missing from the snapshots of these text conversations? Context. We can assume all day that we know what is being discussed, but we don't. For all we know, Urban knew there was a messy divorce going on. Again, all speculation. If he did know, it was a bad call to lie about it. Worse than 4th and 2 bad.
Fair point, but did Davis shut our O down too? Same thing in every Meyer loss...keep the stud RB on the bench.
It's concerning to hear folks mentioning playoffs. That would be the worst thing for this team. We would get embarrassed by any team in the top 10, maybe 15 or 25 for that matter (see 55 24 against unranked, now 3-3 in the conference Iowa). This group has a ton of stuff to work out and another a$$ kicking is not going to fix it. Time to reset expectations and be real. Our leaders are failing the talent coming in and until we can solve that problem, we will continue to suffer embarrassing losses like this.
Still in the driver's seat for a B1G chamionship. I just thought we were supposed to compete for more than that...although we only have 1 since 2012, so maybe I'm the a-hole.
A friend of mine that's a Nebraska alum taught me a neat bit of history about how Iowa got its name. It actually stands for Idiots Out Wandering Around. #themoreyouknow
623
Any insight into whether folks on the university or Nike side run the unis by the NCAA to verify the alternates are compliant? I don't care for these alternates, but my concern is that they end up costing us a TO every quarter. Clearly, FA&M didn't bother before their game, but you would hope a program like ours would have its poop in a group on this.
Biggest game of the year? Let's cost ourselves a TO every quarter to wear an illegal jersey. Great plan!