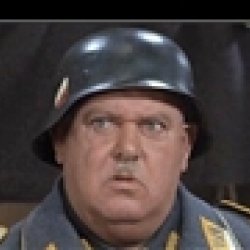 danmas
---
MEMBER SINCE October 01, 2013
Favorites
SPORTS MOMENT: January 8, 2003
COLLEGE FOOTBALL PLAYER: Archie Griffin
NFL TEAM: Browns
NBA TEAM: Cavs
MLB TEAM: Reds
Recent Activity
Is that from the episode Tomorrow is Yesterday where Kirk finds out they have gone back in time to 1968?
Kyle, you mentioned switching to nickel and dime in the second half, but what part of the success of the pass defense to turn things around in the second half was due to a switch from zone to man-to-man on a more regular basis?
Three yards is the legal limit.
He is allowed to be three yards downfield on pass plays. It looks like he was at the ten, and the ball was snapped at the 12 yard line. So it was legal. But that is why Pat Fitzgerald called this rule "The purest form of communism." As a defensive player, he believes the rules are becoming all about increasing offensive production. And he's right, IMO.
Yeah, I always oil up my arms before I bro shake.
Does anybody know HOW this was discovered? Was it self-reported by Chase?
Maryland: zero... OSU: whatever Ryan Day is in the mood for.
I understand Fick's position here. If you put all of your eggs into an emotional basket and lose big... how do you pick up the pieces?
If it was the last game of the regular season, I could understand hyping this game up from the underdog's perspective, but I understand why Fickel chose not to do so.
You are correct. Coop did not start out treating it like any other game. But after being frustrated with losing, he thought that perhaps too m much pressure was on his team and to let them play loose, he tried to downplay the Game.
Like switching overnight hotels to change your luck, that idea failed too. So you are right, Coop only did that "play it down" thing once or twice IIRC.
Colin: the play where Bowen appears to get beat -- that was zone blocking... each O lineman moves to his right at the snap.
The RT (Bowen) does so, expecting a double team with Davis on the end... then Bowen will go to the next level and seal the edge.
HOWEVER, the guard (Davis) double teams the tackle instead, perhaps with the anticipation of going to the next level himself or perhaps he just can't get to the end because of the defensive tackles movements. So the end slips past Bowen because he thought he had help.
So we might say "Bowen was beat", I think there was just a miscommunication there more likely. Not sure who messed up.
I logged on to point that out. He's clearly not even looking downfield... he's just upset that Sims didn't throw it to a wide-open Cooper.
The BIG league office apologized for that travesty.... lotta good that does anybody.
I agree with Meyer's angst there, but he should have shown the same passion in addressing the myriad of stupid penalties his teams committed during his tenure. The above stats show a lack of discipline and, I believe, a poor attitude toward stopping them.
fiance with one e is a man who is engaged... fiancee is a woman.
Kyle, they say it takes a year to put a new offensive system in and have it humming. Do you think that is the kind of time frame we're talking here or do you think UM can come out guns blazing?
Totally agree: Goodbye Yellow Brick Road is his best.
You seem to suggest that you wish Urban had played Haskins to get him ready for 2018. I just can't imagine Urban or any coach of a playoff-hopeful team doing that in 2017 after one loss. Haskins obviously could not have duplicated JT's 16 for 16 effort against PSU in 2017, so add another loss there.
As for your suggestion that Haskins didn't want to dis JT so he's lying about not being ready in 2017, chew on this quote by Tate Martell as to what Haskins told him privately in 2018: "It's an NFL-type of offense, so it's difficult to learn," he said. "It takes people a while to get it down. Even Dwayne, I was talking to Dwayne about it, he was like, 'Well, it took me over a year to feel like I was even comfortable on the field.' Now, after two years of being in, I know what I'm doing. I'm on point with everything I do. I'm running the offense." Ozone 12/30/18 quoting Tate Martell quoting Dwayne Haskins about how it took him two years to be ready.
Clearly, this is something DH has been saying privately, not just to "not dis JT".
Did you read Kyle's article? Three weeks in 2017 to be "#1". It took him longer than that to get good IN 2018. Geesh. I guess Bucknuts is not the only site with armchair know-it-all quarterbacks.
You seem to acknowledge that Haskins and Day are right that he was not ready in 2017, and certainly could not have beaten out JT in a hypothetical team scrimmage in August of 2017, but then you double down that Urban should have played Haskins in 2017 and taken his lumps.
And yet you're probably one of those guys that says Urban "didn't play the best players!!" You "see with your eyes" but you just don't know the first thing about football (or what goes on in practices/scrimmages)/
That's sarcasm, right? I mean, did you read the article?
And here is what Haskins himself had to say about whether he was "ready to go the second he walked onto campus":
"Dwayne Haskins has said he wasn't ready to lead the team as a second-year player, but either Baldwin and Fields will need to do it in their second seasons as college football players." March 1, Ozone, Tony Gerdeman.
And here's what Day said: "Last year, Day said multiple times that Haskins would not have been ready to start in 2017, his second year in the program and first year with Day. " Eleven Warriors, March 5, 2019 Colin Hass-Hill
There are ass clowns on that stupid pay site who will try to tell you that Haskins was better that JT as early as the Fall camp of 2017. They are of course taking the end-of-2018 Haskins and imagining him in 2017 as if he was always the completed product.
Great job, Kyle!
That long catch and run to Bin worked for a TD because receivers OTHER than Bin were downfield blocking for him. :)
We know they can't call themselves the "Scarlet and Gray"... : )
The article didn't reference the head coach. Nor have any of the commenters.
Is it still Ty Tucker? I mean, shouldn't the author mention the HC who put this all together? Geesh.
I just got stupider.
Seriously, Harrison has been described as "stiff" meaning he is not ready to turn the corner and get to the passer. And he's not strong enough to bull rush. No way he gets to 26 sacks in the next three years. No way.
Fields will be a dual threat. No way in two years he beats out a guy who played for 4. NFW.
Garrett Wilson getting 700 yards... not without injuries ahead of him.