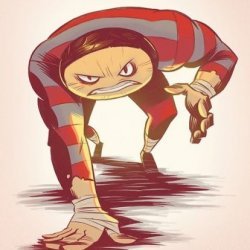 Danify
Marion (via Marion, Ohio)
Member since 28 March 2012 | Blog
28 year old with a passion for Ohio State Athletics (Football, Basketball, etc...), Gaming, Gardening, and Drawing. Been a fan of THE Ohio State Buckeyes since 5 years old after watching the Ohio State versus That Team Up North with my Dad. Aspiring Game Designer with a degree from Full Sail University.
Favorites
SPORTS MOMENT: Between three moments ... Ohio State's victory over Arizona State in the Rose Bowl, Ohio State's victory in overtime against favored University of Miami, and Ohio State's 42-39 victory against That Team Up North in the Battle of Century between #1 and #2.
COLLEGE FOOTBALL PLAYER: Ryan Shazier
COLLEGE BASKETBALL PLAYER: Aaron Craft
NFL TEAM: Cleveland Browns
NHL TEAM: Columbus Blue Jackets
NBA TEAM: Cleveland Cavaliers
MLB TEAM: Cleveland Indians
SOCCER TEAM: Manchester United
Recent Activity
Grant Gunnell just decommitted from Texas A&M, interesting timing with Ohio State offer.
Am I the only one who doesn't like the committee releasing a CFB playoffs style of rankings. I enjoy the surprise and debate of Sunday evening on Selection Sunday.
ESECPN wet dream at the moment with all these kids signing with all SEC teams.
Now I need someone to photoshop Hairball's head on this and it would be beyond perfection.
Haskins - 45%
Burrow - 45%
Tate - 10%

After Spring Ball, it will be easier to see what is what.
Likely talking about Xavier Johnson.
I have a feeling with this class, an unheralded recruit will shock us all, especially the depth of quality in our preferred walk-on spots.
I'm happy if this team ends up as a Sweet Sixteen team, especially after the quagmire of development the past few years.
So, Mel Kipers wants them to draft a kid with accurate issues, after drafting a kid with accurate issues in the 2nd round last year. Makes sense. Make it simple, draft the best player (if it's QB, fine) available at 1 and 4. Personally, I would take Darnold at #1 and Kitzpatrick at #4. While a lot of Browns fans want Barkley, I'm in the camp of using one of their 2nd round picks on Derrius Guice (if there), Sony Michel, or Ronald Jones along with Jamarco Jones (if he isn't taken yet) as the replacement or in-training LT for Joe Thomas.
Oddly enough I read this in my mind as Heath Ledger's Joker voice.
If they didn't go after Barkley, I could see Justin Jackson, Ronald Jones, or Sony Michel (especially after his playoff performances) as an unbelievable value in the 2nd and 3rd rounds.
I remember a lengthy kid in the class of 2014. Similar height (6'6'') and weight (225) to Jean-Baptiste and he turned out quite fine for the Buckeyes. Plus, at 2:19 in the highlight video above, that burst is insane, he's raw, needs weight put on, and coaching but he's got potential.
Couldn't St. Brown get in trouble for promoting a product in public as a college recruit?
It's understandable to have that opinion, it's hard to not feel the team has underachieved, yet at the same time, aside from Clemson and Alabama (equal talent) they've made the playoffs twice and those years they didn't, they won the Fiesa and Cotton (Both huge bowls). I know the national title is ultimate goal, but I lived through the Cooper years of losing to TUN almost every year. Plus, the numerous players drafted and #1 on the list of wins in BCS/NYD6 bowls at 9 is nothing to complain at. I guess it's all about perspective. Between Tressel and Meyer, the consistent success is something any college and athletic program would kill for.
I'm in the Mason Rudolph camp. Big, accurate, has a swagger personality on the field. Con is playing in the Big 12 and after McCoy then Weeden then drafting the train wreck known as Manziel, I have reservations at the same time. Plus, it allows to draft Barkley and Kitzpatrick in the 1st round. Draft him to sit behind a vet QB.
Five bold predictions...

1. Men's Basketball goes to the Sweet Sixteen.
2. Men's Lacrosse wins National Title
3. Joe Burrow wins starting QB position
4. Women's Rowing wins National Title
5. Michigan will continue to suck after Ohio State Football wins "The Game" again.
Jim Leonard is going to get paid soon as a HC. Dude can coach.
I am never one for conspiracy theories, but these refs from the SEC have been quite one-sided in this game, so far. Little $$$ in their pockets to get a Big Ten to lose.... or I'm just crazy.
I always love how Alabama fans act like they aren't always checking on the Buckeyes, continue to show up on the higher viewing ratings. Haha.
8:30 p.m. EST | 5:30 p.m. PST tonight.
I would prefer the Browns to draft Rosen #1 overall, then go after Sutton, Ridley, or Ward with the second 1st round pick. Bryce Love, Ronald Jones, or Kerryon Johnson should be sitting there in the 2nd round. If they take a WR (Sutton, Kirk, or Ridley) in the 1st round, Jackson from Iowa in the 2nd round would be a great pick up in the secondary.
Crazy part is Baldwin in performing this well in Texas 6A.
If I'm a coach, whether head or assistance, I wouldn't touch the Tennessee job for a billion dollars. When your fanbase can railroad and whine like kids because the hire isn't Gruden (NEVER GOING TO HAPPEN) and people can spread false information on social media to affect influence into the process, something is terribly gone wrong with the whole program from leadership to the insane delusional fans.