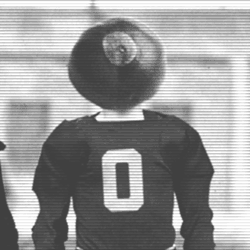 dancinhomer321
---
Member since 12 September 2012 | Blog
Favorites
SPORTS MOMENT: Surviving the OSU vs TTUN in the 02 game. Great seats, great game, great party and riots afterwards!
COLLEGE FOOTBALL PLAYER: Peyton Manning...but gotta go AJ Hawk on the Buckeyes
COLLEGE BASKETBALL PLAYER: Greg Oden
NHL TEAM: Blue Jackets
NBA TEAM: Utah Jazz
MLB TEAM: Chicago Cubs
SOCCER TEAM: Arsenal, but go Columbus Crew!
Recent Activity
This needs more upvotes
A nice alternative could be the Dead Schembechlers show Friday night. Went 2 years ago and had a great time.
Heard this stat watching McCaffrey last weekend. He has no true away game td's (not counting neutral site) in his career.
Love it! Great job Buckeyes!
Most were sent out Tuesday, should be getting them anyday now.
Trey really messed that one up.
Would you put him as a starter at LB for OSU this year? There is so much hype around him, but idk if I wouldnt rather have our guys just based off just potential vs what he has done.
I wouldnt mind seeing a Holmes v DPJ matchup. Maybe have Wade/Pryor/Okudah back there to help out incase DPJ gets lucky against Holmes.
Yeah his arm really gave out in 2015, but no way can you say two years ago. His 2014 stats were MVP type numbers! Oh and another $35 million in his pockets.
G Att Comp Pct Att/G Yds Avg Yds/G TD TD% Int Int% Lng 20+ 40+ Sck SckY Rate
16 597 395 66.2 37.3 4,727 7.9 295.4 39 6.5 15 2.5 86T 66 11 17 118 101.5
You must have been stuck in MI way to long. If you didn't enjoy one of the greatest to ever play and changed the game, sorry about your luck.
I know how ill be spending the day at work tmrw, thanks!
Could watch those stiff arms all day.
Link doesnt work
Love seeing Brady hit the grass!
Lol. Thats funny, no team i offering anything for Johny.
Its an AT&T commercial not heisman house. Its pretty funny, along with the one that has the awkward exchange between young and montana.
Just my interpretation, but I think he's saying that he would be profiting by the original poster selling his tix for $330, when comparable tix are for sale $50-60 less elsewhere. Thereby profiting over the going rate for the tix. Also who knows what the original post bought the tix for. There are plenty of tix under face value for this already, so maybe he bought at a deep discount ya never know.
I dont think i could accumulate 5000 votes in a lifetime, thats crazy!
2 undefeated season, 1 at Utah in 2004 and OSU 2012
Amir was an all american in high school. Couldnt tell if you were referring to hs or college as i was to lazy to google it
Drive to the tailgate lots now and get the party started.
Toms swagger/juice down there, i think he would get them back in the mix in no time, he'd have no problem recruiting. Would be a great hire for them, i hope he doesnt go either.