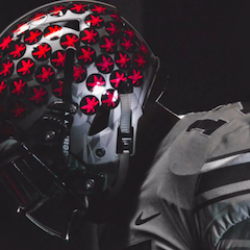 danavh4
---
Fort Myers (via Fort Myers)
MEMBER SINCE January 12, 2012
Favorites
SPORTS MOMENT: Going to Cali for the Rose bowl with my Dad and watching my Buckeyes beat Oregon in 2010
COLLEGE FOOTBALL PLAYER: Ernie Davis
COLLEGE BASKETBALL PLAYER: Michael Jordan
NFL TEAM: AZ Cardinals
NHL TEAM: none
NBA TEAM: Cavs
MLB TEAM: The Tribe!
SOCCER TEAM: United States
Recent Activity
I'm so sick of all of you fair weather assholes and your posts bashing our coaches and team first sign of trouble.
Let's be honest...Day is a great coach but not a "Big Name" that a Big Time Power 5 team needs to stay on top of the recruiting world. I know everyone will argue Lincoln Riley but it's still a fact. The other reality is that there's no one out there that won't be a step down from UFM and it WILL affect our recruiting results. We may be in for a year or two of a downslide until Day proves himself where EVERYONE will take notice and media will make a big deal about him. However, I'm thankful for the years we had Coach Meyer and wish him all of the best! We need to focus on being grateful and not on being "butthurt" lol.
The only thing I don't like that we do on offense is when we run the read option, Haskins never pulls it. If that continues, it's an easy read. Every time we run it, the DE's are crashing because they don't respect he will pull it because it's very rare. It's been there more times than you realize so I hope we change it up a bit. So excited and optimistic about today's game! Go Bucks OH...
An Angry Team with an even Angrier Coach! Hey College Football...this is your wake up call! Tulane, we apologize ahead for the carnage!
Holy $hit it's great to be a Buckeye!
Urban is beyond pissed! I love that he gave the president a big Fuck you and didn't thank him or appreciate him or the BOT in any way!
Glad his still our coach with all that being said.
This is frustrating and concerning. The fact that it's such a rigid timeline of how they will conclude and announce gives me a bad feeling about the outcome not being what we would hope.
Troy...you sound like you are promoting the same narrative that McMurphy started in the first place.
Don't jump to conclusions...that would just make us hypocritical and that we believe what serves us and not what doesn't. I find this hard to believe as I find other information that has come out hard to believe. Let's try to stay innocent until proven guilty as that is what we're asking for UFM as well. #hesitantlyoptimistic
Almost every single article across the sports world is agains Urbs...this narrative has to change and I'm not just talking about this, I'm talking about this worldly mob mentality guilty until proven innocent then still guilty just to be safe "undue" process. Just pisses me off more and more.
This will come back to bit us in the A$$ and not because I don't believe in Haskins but because I know if Joey ends up at a B1G team like the rumored Nebraska (no proof just a hunch) or an SEC team (Florida? Again, just a hunch) he will make them better immediately. With all that being said, I don't have any less faith in my Buckeyes I'm just disappointed because I was excited about him since I followed him his senior year in High School. I will cringe if/when we see him on the other side of the field not just because he will always be a Buckeye in my mind (unquestionable) but because he is one hell of a QB and one that will just get better and better with each snap of real game experience he gets. Best of Luck Joey and blessings to you in your future.
It's not a manipulation in the least bit. A manipulation would be if you tell him that the job is his, he stays then you yank him before or immediately after. He gets what he has earned already in my opinion, the starting job and it's his to lose without a short leash but with a watchful eye obviously. He would get the same wherever he transferred wouldn't he? If he earns the starting job anywhere else and doesn't perform, he gets pulled. Give him the same chance here, that's what he wants and it's what he deserves. I'm simply pointing out the upside of what I believe is the right choice anyways. But hey, thanks for the DV for my logical opinion.
Dj,
From a strategic standpoint, you give Burrow the nod. Make it his job to lose and then he stays. Haskins won't transfer he would have to sit so I find it unlikely but hey who knows. Now Burrow has his fate in his own hands and if he falters, well, he has no one to blame but himself but at least we know Haskins is there if it doesn't work with JB. If Haskins is named the starter, 100% Burrow leaves immediately and plays against us some day and he's way too damn good to want to meet him down the road (Nebraska). All that being said, I have been a big Joe Burrow fan since I watched him play in High School on TB. He is surgical and can run when if and when he needs to run but is definitely pass first. I just think overall, Burrow is the best QB overall and I love Tate, he is the near future of OSU football but I really don't want to see haskins go down and Tate have to start...he's not ready as a passer and you will see the SAME offense that has driven Buckeye faithful insane for the past 3 years.
FWIW
Watch the epic meltdown thread when JT throws nothing but seeds and complete a few long balls this weekend. All the blame will shift to coaching, Urban Meyer, Wilson, day. #alwayssomeonesfault lol. Good news is no matter what...JT is the man and _ichigan still sucks!
I love RS and he is just a true example of what an athlete, Christian and male role model should be.
Bold move cotton. Will he have to sit out a year or will he petition the NCAA for a waiver to get on the field this year?
My daughter is 10 and refuses to wear maize (yellow to her) and blue together ever and whenever she sees anyone wearing a _ichigan shirt or hat she will yell out a hearty OH loud enough so that they will hear them! Muck Fichigan!
Did you hear Clay Helton talk about the USC brotherhood before the game? Bahaaa! #original
Come on stop acting like I'm being an insulting asshat. I have an opinion and I shared it intelligently and logically and that is exactly what the comment section is for correct? If you want to get frustrated with idiotic comments go follow a live game thread...you'll want to pull your hair out there if what I said bothered you Scarlet.
I'm sorry but I have no respect for this decision. The "brotherhood" was this years theme and this is not a "brotherhood" type of move. Yes, it is a team game as some have said...and that's exactly what disappoints me about his decision. With that being said...won't matter in the outcome because this is THE Ohio Staye Buckeyes taking the field tonight! Let's go Bucks!
I know DJ but you have to admit, negativity runs deep here sometimes especially during game threads. My Dad always told me " don't worry about anything ...until it's time to worry!"
My only complaint is that the games aren't long enough! I hate when they are over and I hate every Saturday without Buckeye Football.