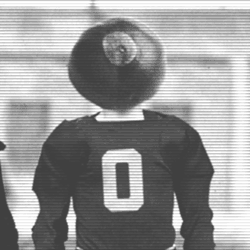 DamienJax
---
Member since 13 July 2011 | Blog
Recent Activity
No, but at least it's not prostitutes.
The great thing about it is that those DBs got a ton of experience on Thursday. It was like two games worth of passes to defend. Ward looked pretty damn good despite some mistakes, he's going to be great. Arnette looks like he'll be a Michael Doss type with those hits he lays.
Who goes to jail for the murder charges?
I'm really starting to think those Woody glasses of his are 3D glasses and he's the type of guy to say the world looks so real and 3D right now when wearing them.
Let the Blood Flow Scarlet
Damnit you beat me! That's all I was thinking. Pay him whatever he wants.
Hard to get hit by a car while on your couch. Unless you live at a T intersection, then you might have issues.
Yeah and you can see why OSU/Meyer isn't saying a damn thing about it. If they mention something like "Greg did this or that" then that could be used against them in the future.
The CAP program is something all big time schools should do. I wish they would do it for all students, not just athletes (well, just a basic financial management class would do wonders). I know that when I was at OSU I helped to startup Scarlet & Grey Financial which was designed to provide financial advice to students which has gone on to do good things as well but you have to seek out their help.
Malik Hooker is the reason I've bought into this team running the table. There was an interview with him posted on here a few weeks back in which he's talking about the defense and the offense of BGSU. What he said in this video about understanding what you do, you become the boss, is absolutely true. In that first video, he explained exactly what he was thinking and what he's seen on film and actually understood what he was saying. Most athletes you hear talk give you the old cliche crap but never really give you an answer because they just don't truly understand. Malik Hooker, and the rest of the secondary by extension, seem to have a full understanding of their roles on the defense and how the game of football is played and coached.
https://www.youtube.com/watch?v=AtPOBV653NQ
If you don't like the play by play version, this leaves in everything except the commercials.
I like how JT threw the ball on that 4th TD before Noah even made his cut.
Matthew Wright is going to be in for a rude awakening... if we can do the OH-IO chant in Michigan Stadium, we can do it anywhere.
He needs to look back a few years at Mike Hart to see what happens when you start a twitter war with OSU fans.
We need more Aussies on this team.
I'm sure it's been said before, but Cardale going 2nd or 3rd round this year rather than late 1st last year will work out for him. Just think about the pressure he's no longer under - he can go to some team and take some time to learn and develop, they aren't relying on him to be a star.
Here's my take on how they set the rankings - 1-4 is ok and obvious at this point. Iowa lost by 3 in a conference championship. They won the Big Ten West whether we like it or not, they should get the nod over us to play Stanford in the Rose Bowl. It actually worked out perfect in that sense - Big Ten vs Pac Ten and that's the way the committee ranked them. They put us 7 next to Notre Dame 8 because that we the next logical step.
I'm pretty sure the committee is setting up bowl games at this point.
Yup, this is what happens when you don't take care of business and look mediocre all year. No one to blame but ourselves.
They actually have to be able to read first. Vanderbilt gets it.
At least you have more class than the scUM fans booing when Raekwan was down.
Herman better stay there until Urban's retirement then take over at OSU.
I turned on the Minnesota game after gleefully watching the fighting harbaughs look like Illinois football. Minnesota played a pretty good game and I think will be a good football team. They were moving the ball pretty well against TCU but had some breakdowns in execution a few times which cost them.
Just wait until Mickey gets done with them.