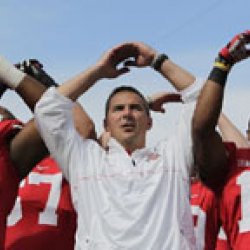 DaiTheFlu
---
MEMBER SINCE November 17, 2012
Favorites
SPORTS MOMENT: Every time I step into the Horseshoe, the 1997 Rose Bowl, the entirety of the 2002 season (especially "Holy Buckeye", The Game, winning the National Championship), the 2006 season - pre-disaster in the desert, the Game of the Century in 2006, the 2010 Rose Bowl victory against "unstoppable" Oregon, the next decade of CFB dominance under Urban Meyer.
COLLEGE FOOTBALL PLAYER: Troy Smith, Anthony Gonzalez, AJ Hawk, Andy Katenmoyer, hopefully Braxton Miller
COLLEGE BASKETBALL PLAYER: Tim Duncan
NFL TEAM: Green Bay Packers
NHL TEAM: I assume this is a joke?
NBA TEAM: San Antonio Spurs
MLB TEAM: The 1997 Cleveland Indians
SOCCER TEAM: Never heard of it.
Recent Activity
Come back and get your upvotes, my man.
Well, this post certainly aged well. :) Get bent, Cincy.
I wish him the best. Which, in VT's case, is 7-5 and a shot at losing to Clemson by 40 in the ACC Championship game.
Thanks, Kendall. Always a Buckeye! In other news, this means Okudah and/or Wade will be starting CB2 next year, with the other starting at nickel. Yes, please!
Now that's funny.
Holy shit, that is amazing
Oh man, this is HUGE. Super stoked to have KJ back. Everything is falling into place for a title run!
...I wouldnt, lol. Hence the comparison to Bill Davis "mutually agreeing" to leave.
NIce to see Cincinnati finish the season ranked in the AP. Wonder if they'll remain ranked heading into the season? WOuld give our OOC a nice boost, although our conference schedule is pretty tough.
"Bill Davis and Ryan Day 'mutually agreed' to part ways".
In other news, Megan Fox and I have "mutually agreed" to not date each other.
I mean, he is an Ohio State football coach in the 21st century, so....
You're thinking of Augh McMoxie
Wont watch, don't care. Both teams benefit year in and year out from preferential treatment and favorable committees and I'm not supporting it any longer. College football is over until 8/31/19.
Ok so we probably don't need anymore Alex Grinch news, then? Happy for him, as the OU defense has nothing but upside - similar to ours after this year. :)
Can they do that under NCAA rules? I have no idea
My assessment is that the combination of Justin Fields and Ryan Day is going to cost several B1G head coaches and D-coordinators their jobs. We're going to straight CLOWN this conference next year, folks.
Agree completely. Haskins basically said as much when he told us that Fields was waiting to see if Haskins declared before transferring here.
And Baylor, and TCU...
This is outstanding. Obviously we still dont know what Sheffield and Arnette are doing, but it sounds like they may both declare, which would make our starting back 4: Wade, Okudah, Fuller and White. Sign me the hell up for that!
Yep, folks are tired of this sham of a system.
Hook 'em!
Said it during the game, but Okudah and Wade will straight clown the QBs in the B1G next year. Especially if we have Fuller and White starting at safety. Folks, our defense might just be damn good next year.
Goose. Bumps. Thanks, Coach Meyer. Let the Day era begin.
Fuck UGA and fuck the SEC. Hook 'em tonight.
To be fair, a month ago, he also said "I plan to coach". So, we really have no clue what this means lol.