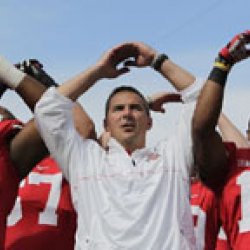 DaiTheFlu
---
MEMBER SINCE November 17, 2012
Favorites
SPORTS MOMENT: Every time I step into the Horseshoe, the 1997 Rose Bowl, the entirety of the 2002 season (especially "Holy Buckeye", The Game, winning the National Championship), the 2006 season - pre-disaster in the desert, the Game of the Century in 2006, the 2010 Rose Bowl victory against "unstoppable" Oregon, the next decade of CFB dominance under Urban Meyer.
COLLEGE FOOTBALL PLAYER: Troy Smith, Anthony Gonzalez, AJ Hawk, Andy Katenmoyer, hopefully Braxton Miller
COLLEGE BASKETBALL PLAYER: Tim Duncan
NFL TEAM: Green Bay Packers
NHL TEAM: I assume this is a joke?
NBA TEAM: San Antonio Spurs
MLB TEAM: The 1997 Cleveland Indians
SOCCER TEAM: Never heard of it.
Recent Activity
To be fair, they paused football related activities way back in October.
It's pretty sad reading Mgoblog.com. They are absolutely LOVING this because it puts our game into question and this is literally the only way they can keep us out of the playoff. What a life it must be.
It's pretty sad reading Mgoblog.com. They are absolutely LOVING this because it puts our game into question and this is literally the only way they can keep us out of the playoff. What a life it must be.
You are looking for logic in a place where there is none. The B1G's entire Covid strategy & response has been illogical all year long.
Darn those unreasonable "results oriented" jerks. We just don't understand, guys!
Also me: Gets my hopes up every time
I'm surprised Kentucky wasn't ranked. Nice of everyone to rank Auburn, thus sneaking in another fringe top 25 win for Bama, as usual.
The only flaw in this argument is that it considers a win over 2-4 Michigan a "quality win". Unless, of course, Mel's one win over NW is better than Harbaugh's entire Michigan resume and OH MY GOD I just now got it. Brilliant!
The what now? Are you referring to the handful of Saturdays in the mid-90s that are permanently blocked out of my memory? Because I really have no idea what happened those days. There's also one Saturday in early November 1998 that I have trouble recalling. No worry, I'm sure we probably won that day since we weren't playing TTUN...Right?
This is a ridiculous rule to begin with and is just another example in how incompetent B1G leadership has been this year. That being said, no, I dont think the rule should be changed now. I agree with others that if we can go 6-0 and beat a fairly highly ranked UW or Iowa in the final game, there's still a small chance we could make the playoff. Ive just resigned myself to accept that this year is going to continue being a shit show of epic proportions and will try to enjoy what little football we have left.
I'm generally pretty optimistic, but you can't fault people for feeling this way. Literally everything that could go wrong this year HAS gone wrong, so even optimistic people are feeling beaten down by this point.
I will be very, very curious to see what the CFP rankings look like this Tuesday. The good news for us is that none of the 2-3 teams right behind us looked overly impressive, with both Texas A&M and UF slogging through wins over middling foes. My concern, however, is seeing what happens if we miss next weekend's game also, as that could be the impetus for us to fall out of the top 4 for good.
What about Sweet Dee from It's Always Sunny in Philadelphia? Lol
That's too bad, I was hoping for something more like this:
https://www.youtube.com/watch?v=0VgG1pXnMfc
Assuming that the Badgers play again (or that WE play again). Sigh.
God I hope not. Harbaugh has done so much for our rivalry that it would be a shame to see him go!
Wow, you really are clueless. Maybe you should join the Penn State forum instead?
You are aware that we probably wouldn't have had a season without Gene Smith, right?
I'm not your guy, buddy.
This place certainly gets, uh, fun when there's Ohio State adversity.
I was resigned to the season being over last night. Seeing this makes me more hopeful. Damn you, 11W! Just when I though I was out, they pull me back in.
Yep, hence all the vitriol against B1G leadership. Total failure on their part (not just Warren, but he played a large role obviously).
Serious question, why do you insist on arguing with literally almost every person here? You know we're all on the same side, right?
Worst year ever. Another lost chance at a title, with the best QB to ever suit up for the Scarlet and Gray. Sigh.
2020 continues to be an absolute nightmare. I suspected this was going to be the case after all the smoke coming drom.within the program this week. At this point, I'd be shocked if we play next week and, as a result, the B1G championship game. This absolutely sucks.