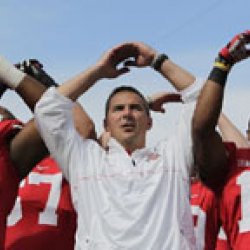 DaiTheFlu
---
MEMBER SINCE November 17, 2012
Favorites
SPORTS MOMENT: Every time I step into the Horseshoe, the 1997 Rose Bowl, the entirety of the 2002 season (especially "Holy Buckeye", The Game, winning the National Championship), the 2006 season - pre-disaster in the desert, the Game of the Century in 2006, the 2010 Rose Bowl victory against "unstoppable" Oregon, the next decade of CFB dominance under Urban Meyer.
COLLEGE FOOTBALL PLAYER: Troy Smith, Anthony Gonzalez, AJ Hawk, Andy Katenmoyer, hopefully Braxton Miller
COLLEGE BASKETBALL PLAYER: Tim Duncan
NFL TEAM: Green Bay Packers
NHL TEAM: I assume this is a joke?
NBA TEAM: San Antonio Spurs
MLB TEAM: The 1997 Cleveland Indians
SOCCER TEAM: Never heard of it.
Recent Activity
That'll work...
Would it be possible to do a power ranking of the Michigan players/coaches who have said "we beat ourselves" over the years in reference to their annual Buckeye clownstomping? That would be a pretty lengthy list but I think you could trim it down to 10 or so.
Between 8 and 14? You mean in the Big Ten, right?
This team is peaking at the right time, folks. Would not be surprised to see a Sweet 16 run.
Good lord, our conference is a bloodbath.
Lollll
Booooom. Turning into a beatdown, folks.
They'll be lucky to finish 5th this year.
Lol wat
Crazy that we had such a huge offensive rebound edge. 3 point shooting and turnovers killed us, plus Iowa just was way better at overall shooting tonight. One step forward, two steps back. I fully expect us to beat Maryland and then lose the next game by 12. :)
I guess we really are a football school now.
Came here to post exactly this. College football is going crazy.
I say yes, considering how inexperienced a lot of our guys are. Wint and Riep weren't starters but did have more game experience than most of our returning players. That underscores the importance of this decision by Ryan Day, as he wasn't dismissing a walk-on long snapper that never saw the field just to satisfy the angry masses. This would have been the same decision regardless of WHO it was and I'm glad Day handled it this way.
I get the whole "innocent until proven guilty", but this was the correct move. Even if, by some chance, the allegations aren't entirely accurate, it's fairly clear that these two players were, at the very least, not representing the team and university in the way that's expected. Kudos to Coach Day for properly handling what was clearly a horrific situation.
I hate Clemson almost as much as I hate Clemson fans.
TTUN fans blaming the refs for this loss, too. You cant even make this shit up anymore.
Get fucked, Michigan.
I think I speak for everyone when I say fuck Clemson.
2020 really freaking sucks so far. RIP, Kobe. Damn.
So it seems like this Ryan Day fellow isnt too bad? Another great win at putting together an elite staff at Ohio State.
Nice one, Ginnandjuice. Kerry on...
They were stopped on Dec. 28th. Nope, still not over it.
Who cares, who cares about Blue?