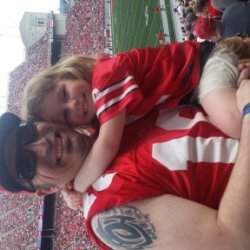 dabuckeyemike
from Bellevue
Member since 14 June 2014 | Blog
Favorites
SPORTS MOMENT: 06 Edition Of The Game
COLLEGE FOOTBALL PLAYER: Troy Smith
COLLEGE BASKETBALL PLAYER: Jimmy Jackson
NFL TEAM: da' bears
Recent Activity
373
Worst was 07 against Illinois, juice Williams lit us up bad and Todd boeckman reared his ugly head and threw 3 picks. That guy could not throw a deep ball to save his life. And it was also my first game in the shoe. Best game was 02 against cincy down in paul brown stadium in cincy. Nail biter..........
Honestly it would of been nice to have Bruce but we are loaded with talent at the wr position. With the haul we have had over the past 2 years I am confident in the players we have
I still have that issue of S.i. somewhere. I wanna get troy to autograph it!
634
347
I can't believe the lack of discipline in the team as a whole. All year they get a drive rolling, and then they shoot themselves in the foot. The turnovers are bad particularly the fumbles. Marshall is carrying the ball like a loaf of bread. When Dolo is on he is on but man when he is off he is off. Those missed td passes in the first half were a kick in the ding dong. The Marshall pass should of been caught but he needs to learn to not fire a rocket sometimes.
125
743
GO UTES!!!!
Have you not seen boogie nights? Direct quote from the star dirk diggler himself.
I'm gonna be nice to you, I'm not gonna give you all 13 inches at once.
I always like to hear about the walk ons losing their stripes and being an integral part of the team, even tho they may never see gametime action.
Honestly I think it would be a 50/50 thing. When we played at Benson stadium a couple of years ago for the state title. The kids were pumped about getting to play on the same field as pros. When you play at canton you can get more of a crowd advantage. We damn near filled our side of the stands and the other side was pretty damn full also. With playing in the shoe there is no crowd effect.
Love that websites shirts!
Still cracks me up with chicken shit saturday
Thanks!
I must me doing something wrong I cannot put a marker on for me.
You can't drink all day I'd you don't start in the morning! A noon banger for the game I'm usually passed out by 630. In 06 the 330 game I was out by 830. I prefer day drinking.I started at 630 am last year!
My signature at the bottom of this post explains it all.
I'm not a cleveland sports fan but I was really pulling for the cavs. Pretty much the only reason is so that I don't have to listen to all the Cleveland fans bitch about how they haven't won a title since 64. Oh well better luck next time and kyries knee cap!
Up vote to infinity for the Christmas Story gif!
I have really come to enjoy soccer quite a bit love when the world cup comes on. I will be trying to watch the women's here in a couple of days.
Tony Gerdmans twitter game is elite
My name is Mike Manning graduated in 02 you related to Josh pocock? GO REDMEN!