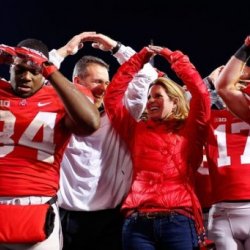 D56GoBucks
---
Powell (via Urbana)
MEMBER SINCE September 11, 2013
Favorites
SPORTS MOMENT: Storming the field to bask in the mayhem after beating Michigan in 2002. "Let's party, Columbus!"
COLLEGE FOOTBALL PLAYER: Mike Doss
COLLEGE BASKETBALL PLAYER: Ron Lewis
NFL TEAM: Brownies
NHL TEAM: Bruins
NBA TEAM: Celts
MLB TEAM: Sox
SOCCER TEAM: 'Merica
Recent Activity
This gif will never get old. Where can I find it?
Three teams are featured multiple times, whether as the team traveling or the host: Alabama, Notre Dame, and Ohio State. Not a coincidence.
I really want to land Ransom, regardless of what it means in regards to Bijan Robinson.
Only because 247's composite rankings have seven quarterbacks in the top 50 overall recruits and McCord isn't one of them. Surprised by it, yes. It's not like I disagree with it or even put much stock into the top-ranked quarterback in the class compared to the third, fourth, fifth, etc. Obviously, he is a big get for the program. And his film speaks for itself.
But apparently, even if I did disagree with him being the top-ranked quarterback in the class, I'm not allowed to have that opinion, and stating such an opinion is worthy of an automatic downvote.
McCord as the top-ranked quarterback is...interesting...
There's nothing lazy about picking Michigan to win the conference. The Buckeyes have arguably more questions to answer, including perhaps the two biggest questions a program could have: a new coaching staff and a new quarterback who has never started a college football game.
He has Bama, Clemson, UGA and Michigan as his CFP picks.
If Sox ownership was able to figure out how to keep Fenway alive and better than ever, the school can figure out how to preserve The Shoe.
It just can't be overstated how big the Real Life Wednesday and internship programs are for recruiting kids to Columbus. As if that were a hard sell anyways.
Shhh, you'll be lambasted for expecting clean copy on a free site.
Fellow B's fan here. I simply have to disagree about the Bruins being a better team than the Blues. For most of that series, the Blues were absolutely the better team at full strength, 5-on-5 hockey.
I walked out of Kinnick Stadium just a couple minutes into the fourth quarter in 2017. The only reason I didn't leave earlier is I just couldn't bring myself to leave a game in the third quarter.
I turned off the 2016 semifinal debacle.
He has an offer from nearly every program that recruits on a national level...what's not to like?
Guys like Taron Vincent, Tommy Togiai, and Haskell Garrett don't do it for you? Of course, all were members of an Urban class. But those difference-making interior linemen are on the roster. And they still have plenty of eligibility. Now, if those guys don't develop into high draft picks, that falls on our favorite position coach.
Not doubting one bit what those coaches were saying, and I'm certainly not disagreeing. But Urban put to bed his early struggles at that position in a big way the last couple of years.
The turnover in the defensive coaching staff will temporarily hurt recruiting on that side of the ball, I believe. But that could turn out to be very beneficial in the long run if guys like Washington and Hafley get the back seven back to playing at high levels. I don't think the loss of Urban will have a significant impact on recruiting that side of the ball. Not nearly as much as losing Coombs did.
Depression shouldn't be ignored. And the NCAA generally sucks. However, that's a tough sell for me to expect the NCAA to grant a waiver to every athlete who says they were previously depressed at their past school. I'm not sure of Hudson's particular situation, perhaps his battle with depression is well-documented. If not, every transfer's case for immediate eligibility just became a slam dunk.
*Checks 2020 commit list, sees four-star recruits from the state of Arizona, Washington, Texas, New Jersey, and Florida*
I agree that it may not be fair to EXPECT Ryan Day to recruit at the level Meyer did at all his stops. To suggest he'll never be able to contend with the best classes in the country is a bit premature considering what he's already been able to do on the trail. Without having even established himself as a head coach. Of course, how he succeeds or doesn't succeed in establishing himself as a head coach will ultimately decide if he can recruit at the highest levels of college football. That much remains to be seen. But, given what he's already done in recruiting, until I see that he can't sustain the success on the field (or very close to it), I'm going to continue believing he will sign top five classes. And any top five class could contend for the mythical recruiting championship with just a couple specific signings.
Because there definitely aren't exceptions to otherwise strong track records. Not to mention, a single top 60 recruit is hardly "locking down" the state. My comment had nothing to do with suggesting Holtmaan can't get top talent out of this state and had everything to do with suggesting he's not going to own a monopoly on every elite high school recruit in the state.
I don't think any Ohio State basketball coach is ever going to "lock down" the state. Be in contention for the elite prospects in the state? Sure. But Ohio State basketball is never going to carry the same weight as the football program. Kids aren't growing up dreaming of playing in the Schott. Even if a basketball recruit grew up in the 'Shoe on Saturdays, but he has offers from Carolina and Kentucky to play basketball, going to Ohio State is going to be a tough sell. Every reason why the football staff is routinely able to pluck talent from all around the country is the same reason elite talent is always going to leave Ohio in basketball.
I'm going to go with "win every game you're favored to win."
The only way in which the reporter didn't handle this well was by publishing the transcript of his conversation with Dwayne. But he absolutely should have made it know that he did (finally) speak with Dwayne Sr., the conversation was weird, and Dwayne Sr. refused to be a part of the story.
The good news is this particular story had to do with Dwayne's younger years, which would make his father a good source. Moving forward, reporters shouldn't have any reason to reach to Dwayne Sr., and he won't be able to try and control the narrative for every story. Dwayne Jr. can/will have to speak for himself starting tomorrow, and that's a very good thing for him because he is very well spoken and carries himself well.
The writer did go ahead and publish the story. He attempted to clear any inaccuracies (according to Dwayne Sr.) and that weird exchange ensued.
I could be wrong but I believe those are still there from the ESPN's College GameDay set, which airs for the final hour down in that corner.