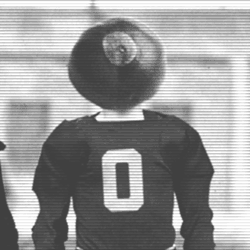 D Mac 24
---
Member since 29 January 2012 | Blog
Recent Activity
Wow - I'm just impressed that you actually use the change holder!! LOL
Just my 2 cents, but a crowd of 4800 or so I'm sure really pumped the team up...I go to many matches throughout the season, and there is usually about 79 people there. No crowd, no atmosphere..etc....
Last night was a different story, and Saturday night will be too!! They have locked in to end this run, and I have full confidence they'll take it home!
To clarify, I'll say they were longer, not technically bigger. Our guys got stuffed the majority of the match.
Yea the serving was not there and Irvine's was pretty stellar. They were just off and didn't have that edge tonight. I think OSU is obviously the better team overall, but Irvine wanted it and put it all together at the right time.
I was there and it wasn't pretty. They got outplayed and Irvine was flat out hungrier. OSU was up 17-12 in the first set and just hit a wall they couldn't get through. Irvine was also a lot bigger and had a left handed setter that took over the match in the pivotal 2nd set.
I'm not new, but I never uploaded an "icon". Well, I actually did once, and within minutes I was majorly shamed on the internet. Boy did that hurt deep. I quickly did a Google search, found a cool pic, and made it my icon. I must have ruffled some feathers, because it took no time for someone to find it and begrudge me for having the same as "his". Oh well...maybe I'll try again some time.
Qué? You lost me at "artifice".
He was unstoppable all night. Hopefully a repeat POY!
Sean Miller. No ties but is an up and comer.
Just being honest. Still a fan, but regressing at this point steals confidence.
I am honestly just not there. I'm literally not seeing this being a good thing. We got beat by a bad team. And we played horrible. The passing game is awful and it's going to take WAY more time than they have to fix it. The running game is good but it can get shut down real fast. I think NW actually has a good chance to come in here and get an upset. I don't have a lot of hope for the remaining games.
I agree. The media and their questions seem to be really annoying. It's like they're finding plays to pick apart, and not looking at the big picture of the entire game. These players are allowed to have an off week, and they still dominated a really good team.
I was at the Big 10 championship against Wisconsin a couple years ago. It was literally at minimum 80% to 20% Buckeye nation. I absolutely love reading things like this when Buckeye nation takes over on away games!
2 straight TDs by Houston...all but wrapped up. Great primer for Saturday night!
27-20 Oklahoma. I think it's more of a defensive struggle then people are giving it credit for. One turnover is the difference in this whole game....who you ask? Weber