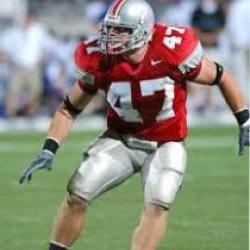 D-Buck
---
Member since 20 November 2012 | Blog
Favorites
SPORTS MOMENT: Watching the '02 Buckeyes win the NC.
Honorable mention: The Catch at the '02 Purdue game. Goodness!
COLLEGE FOOTBALL PLAYER: A.J. Hawk
COLLEGE BASKETBALL PLAYER: Conley
NFL TEAM: Whichever former Buckeye is on the TV
NHL TEAM: meh
NBA TEAM: meh
MLB TEAM: Cincinnati Reds
SOCCER TEAM: double meh
Recent Activity
https://www.elevenwarriors.com/ohio-state-football/2016/10/75661/ohio-state-holds-morning-walkthrough-in-parking-lot-of-state-college-ramada-hotel
https://www.elevenwarriors.com/college-football/2014/10/42285/penn-state-fans-allegedly-used-air-horns-outside-ohio-states-hotel-at-4-am
*I know, a lot of research to do for a PSU fan
DVR it, and with judicious use of fast forward during commercials you can definitely be caught up before the end of the game.
So excited! Both for the event and for having the side of my head in the header picture. Good times had and to come.
I don't know why, but I can't stop laughing at this.
And one against Michigan State, IIRC.
I'm going for the first time in about eight years. Kinda pumped
Well, poop. That is disappointing, but understandable for trying to keep standards so high. On the plus side, the side of my head is in the header pic. So, I've got that going for me...
I like Twilight Princess getting some love! It never seems to get enough credit for being an awesome game. I would still put it in second place behind OoT, though.
Attendance and academic benchmarks are easily kept track of. Athletic transgressions seem to be up to the nebulous will of the coaching staff and could easily be misused to make staying on the team untenable for a mediocre or underperforming player. Schools with a eye for oversigning would have an even easier (if possibly more evil) way of managing rosters instead of disciplining.
I agree that Halo was my jam, but the multiplayer on Halo 4 was...lackluster to be nice about it. No point in having a pro-level game that no one likes.
"It didn't approach its final form until Joey Bosa hurled Akeel Lynch's mangled corpse into Christian Hackenberg to blot out Penn State's white out." The mental image I get from that brilliant sentence is absolutely hilarious. Well played, DJ.
I never understood not having the choice to pump your own gas, and I didn't know Oregon had the same legislation. I guess the threat of having mythical devils and sparkly vampires operate that equipment is too great around there?
Wow. That is...quite a lot of hair.
Yeah, but I still like Destiny. Only I don't get national championship trophies after completing a raid. Just shards...
edit: autocorrect spelling
With all due respect, I don't think it's that clear at all. We watched Braxton play with different offensive pieces with a different mindset to playcalling against different defenses. While it may not quite be comparing apples to oranges, it's something like comparing lemons and limes. If health weren't an issue (looks like it will be) I don't see how anyone can determine the winner of Ohio State's quarterback competition.
Good luck to Tim Beck, Ed Warriner and Urban Meyer in figuring that out.
My only regret is that I have but one upvote to give.
Exactly. But, if the kid is already committed to another B1G school how is that even a play? Maybe Nebraska isn't the academic institution that Michigan is, but he's already made it into a school, right?
I can't tell if I'm more amused with Michigan staff being inconsiderate dicks, or Harbaugh's staff working on kids who may be of lower academic standing after his Michigan comments a few years ago.
Chris Gamble. Lockdown corner, who also gives additional options on offense and special teams.
EzE's breakaway touchdown that sparked high fives between the entire section I was sitting in. That was electric.
I would love to see the Buckeyes implement that tight end shovel pass that Dallas ran to Witten into their playbook.
When your players can only get up for one game, that's a coaching problem, right?
Agreed. Raphael is the best*. *Non-Casey Jones division. GOONGALA!