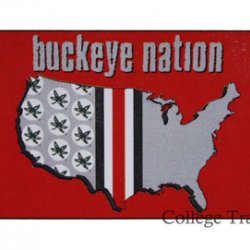 D. Anthony
---
MEMBER SINCE February 12, 2012
Favorites
SPORTS MOMENT: 2002 (if I need to say more, get off this site)
COLLEGE FOOTBALL PLAYER: Eddie George
COLLEGE BASKETBALL PLAYER: Special K
NFL TEAM: Titans
NHL TEAM: Columbus BJ's
NBA TEAM: Celtics
MLB TEAM: Reds
SOCCER TEAM: St. Louis Steamers
Recent Activity
Quadrian Banks seems to be an issue again...wonder why they keep him around???
I'm tired of playing in their nighttime white out games, and then we play Penn State, (Wisconsin, and Michigan State all during the day )
It concerns me (and Urban according to his radio show) that the coaches might not be identifying which players are game ready. It's not like the D has been killing it which would make it hard to throw a couple guys in there with the 1's and see how they play. There really is such a thing as a "gamer", the guys who step in better under the bright lights and take their game up, for whatever reason. We need to use all our weapons. Surprised they didn't have a wildcat package used in all games for Tate, even if it's just for 4-5 times a game.
Where ever he ends up...they ladies are going to like this kid. No, I wasn't looking, but there is an elephant in the room, or at least a horse.
No he is not! He didn't work wonders elsewhere. The players at THE do as much to make these position coaches or more, than the coaches make them. He's probably pretty good but far from the best at any level .
Campbell's tomato soup is so good with a couple big spoonfuls of Kraft macaroni and cheese mixed in...Just try it now and thank me later
Without Cam's suspension we probably don't get Musa's confidence back and others some more key playing time that could end up being huge heading towards the B1G tourney and the dance. So important to have a deep bench and others to turn to when we need a spark. More confident now that we can play with anyone even when we don't have our "A Game".
Didn't cost me anything outside of my tickets, soda, hotdog and a KitKat for my son, plus $10 for the park and shuttle, so yeah about $100+ :) but no bet. Sitting about even with the foul line you could tell it was long. I was excite for OT...it was a gut punch.
One of the worst takes on here in a while "there was never a doubt it was going in from the second it left his hand" ??? The shot was 2ft too long as soon as it left his hand. A lucky-ass 30ft bank shot is far from a no doubter ...it's like a tennis player hitting the tape and the ball crawls over...shit way to lose a point and it's often apologized for. Penn St definitely played with more energy most of the night and shot incredibly, but an unintentional bank shot game winner from 30ft hurts. Garbage way to lose.
Don't be an idiot...I cannot believe that even those basically cleared of any wrong doing could end up getting slandered and losing out on a job, because of a 3rd hand rumor. Please keep the downvotes coming for this "clown"
I've torn both ACL's 3 years apart, both playing basketball in the early/ mid-90's. Back then in was 10-12 months to get back. Players are coming back in 6 months now in some sports. My niece plays D1 soccer and came back last year and was cleared and played in 6 months. It's crazy how they have pretty much mastered that surgery and rehab. In the early 90's it was a huge incision and they didn't let you ben your knee much as all for the first several weeks, which they now know is all wrong...now they have a machine bending your knee and working on your range of motion before you even wake up from the surgery.
Hate double Script Ohio...but love tbdbitl
U G L Y we ain't got no alibi
Luckily we have thoughts and prayers to take care of everything
I really love it when we take the field looking like The Ohio State Buckeyes. It's getting to the point that pretty much everyone only thinks (or at least claims) their alternate/throwback/futuristic unis are cool, and everyone else thinks they pretty much suck.
I hate that anyone is giving this tool any extra attention.
More than half for what I saw. Probably 55-60% OSU...the only reason it was not as high a percentage was a opening night game against the best team they'll play all year, and a night game with a party atmosphere../ Usually Indiana already has lost hope when we play them and their fans are selling there tickets. Many kept them/used them this game.
Cincinnati and Cleveland have iconic blue collar/cheap eat spots but Columbus has better fine dinning...as well as better food trucks and pop-up spots... Hot Chicken Takeover, Ray Ray's Hog Pit, Miley Late Night...
He just seems like a strange, aloof, untrustworthy guy. He's been a "potential" great player, but not looking like he'll ever be great.
Guns guns guns guns, guns guns guns guns...gun-gadda-guns-guns-guns....Mercia!!!
ND sucks...but I sincerely wish Dane a very mediocre career
I think most Buckeye fans have scarlet and gray and black and white Buckeye gear.
We're Ohio State and that IS what we do.
...yeah, but us road warriors are a little more organized and upbeat than some of the home game curmudgeons :)