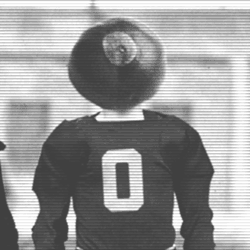 The Cynic
---
MEMBER SINCE October 17, 2012
Recent Activity
Christman looks huge, like an absolute road grader.
You have responded to several of my posts, so I'm sure you know that I feel strongly about the conference not scheduling big games like this in late November. This is a disservice to us all the way around. This is where our AD needs to stand up for his school. If you're going to argue against my positions, at least be honest about them. And I have no problem with playing the Rutgers and Maryland's of the world at noon. But big home games should be played at night for maximum benefit. You also mention wagging the dog, when in fact that's exactly what happening to us. The BIG should be working with us to promote the biggest brand in the conference, rather than allowing Fox to put us in the worst time slot for a big game.

If you enjoy noon games for whatever reason, that's fine. But stop lying about recruiting, by claiming we can recruit nationally, even though some recruits won't be able to make the game. And stop crying about Fox's best interests. We aren't beholden to helping them. They need to look out for us.
There you go. That's the condescension I'm used to from you. You're damn right, I don't like you. And if I could block you on this board I absolutely would. Now let's get back to the debate.

You've made no good argument for starting big games at noon. When I brought up recruiting, your attitude is, who cares? Even though Urban knows full well that later games are important to bringing in out of state players, you seem to know how to recruit elite FB players better than a HOF coach. You're wrong. There's also no question that the prime time audience is larger than the noon one. Look at the games that were played that night and tell me we wouldn't have crushed the other games. Fox knew this as well, but they've made a decision to win the smallest slot, so they stuck with their strategy. They could've won PT, but settled for a smaller slice of pie. There's also the very considerable fact that later starts are better for big game atmospheres. Do you think there's any chance that we play PSU at noon next year in Crappy Valley? Of course we won't, because Franklin understands night games produce a tougher environment for the opponent. So he won't allow Fox to push them around. This was all about our AD not looking out for his program, and bowing down to the conference. We are the biggest draw in the conference and probably the country, yet the B1G has never cared about how to promote it's biggest brand. As such we need to look out for ourselves. Hopefully now that Day is establishing himself as a powerful coach, he can make demands to help his program that he was unable to make this year.

You have made no good argument. All you've done is tow the corporate line like a good lackey. I'm sure Delaney and the conference love fans like you. Hell, you can probably be our next AD with this attitude.
Ugh. What a terrible example all the way around.
You're not arguing the points though. You're just being your snarky, condescending self. The same one who ruined the Bucknuts board.
It would've been the exact same thing if the game kicked in prime time as well. The brand is promoted no matter what time we play. We are the draw. We would've destroyed the ratings in prime time last night. You're arguing the corporate line is all you're doing.
Amen brother. Fox doesn't give a damn about what's in our interest and the conference never has.
Urban would disagree with you. If you want to recruit nationally, you have to get those kids from CA, TX and the Deep South on campus for big games. When they have to play Friday night, it's very difficult for them to get here Saturday by noon. Evan Pryor and his father left NC at 3am to get here. And that's closer than those other states. There's no good reason to play at noon, other than mollifying the old farts who can't stay up past 9.
It's ridiculous for a network to put their best game on at noon. It defies logic. If noon were the best time slot, the playoffs and all the top bowl games would be broadcast at noon instead of prime time. Guess what, they never do. Think there's any chance the B1G championship game will ever be broadcast at noon? Of course not because the goal is to have as many people as possible watching. Fox has lost their minds, and the BIG is just following along.
I completely agree. Reading through this and seeing how many people look forward to early games, tells me that many fans don't watch other games. They enjoy the early games so they have the rest of the day to do other things. I watch games from noon till 2am most Saturdays. We only have 3 months of CFB, so I don't understand anyone who doesn't want to soak up as much of it as possible.
'Getting your football watching out of the way'? You're doing it wrong. Watching games on Saturday is the point of the day. Not an inconvenience.
We would've beaten that if we'd played later. Noon games hurt us out west.
Drew is Doug's son. And yes he's very fast. We're recruiting him, but given that we're basically only taking 5* WRs at this point, we may not have a spot for him.
It will have the best ratings because any big game we play has the best ratings. That's the point: we are the draw. The idea the noon slot is the premier time slot is just dumb. Ratings for big games will always be higher in prime time. Especially when we're playing. Fox is making a mistake putting all it's eggs into noon. We'll have more eyeballs on us nationally if we're playing at 3:30 or 8:00. More eyeballs is what equals more ad revenues. And if it helps recruiting, all the better.
Watching his video, he's slower than Borland.
Watch out for A&M next year. They return everyone unless Mond loses his mind at goes pro. The West won't be as strong next year, so Jimbo could use that as his window of opportunity.
I hope Geno is paying attention to what Adeleye is saying about noon games, and how they affect recruiting. We need to let Fox know we're not playing premium home games at noon going forward, besides scUM. We have all the clout in the conference and it's time we look out for our interests, not Fox's.
People have gambled forever, and no amount of policing was going to stop it. So the states have legalized most forms of it and the world keeps rolling along.
The problem is the lack of interest from top prospects. Henry is the only top guy who seems likely to come here. It would be good to get Cowan in for a visit.
The DL recruiting is a massive disappointment so far. It's tempered by the fact that we've extremely well the last 2 classes, and Sawyer is a great start for next year, but it would be great to get some good news on this front.
I was impressed by how often he had to evade pressure and make a tough throw. All those dozens of throws and not many clean pockets. His OL looked bad tbh. He also throws well moving to the left which is a plus.
From a logical standpoint, I don't understand what Baldwin is thinking, unless there's something going on behind the scenes. And if that were going on, why go through spring ball? This looks like a simple case of a kid wanting playing time, but aside from an FCS school, where does he think he can play this year? He has a great arm, but he needs a lot of refinement. Add to that that Fields has accomplished absolutely nothing yet, and Baldwin's the clear backup, and he could certainly still be the starter this year. He has the right to make this decision, but that doesn't mean it's a good one.
Hyatt's video is very impressive. I'd be thrilled with him.
I was also impressed with what I saw from Teague, Crowley, and Potter. Teague is ready to be the hammer we're looking for and the young guys look like future studs. The DE position is insanely good for years to come.
Johnny Come Lately Wiltfong.