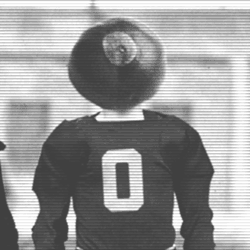 cw823
---
MEMBER SINCE December 02, 2013
Recent Activity
You know this is a line from NBC's "The Office", right?
Oregon? Defense? Hilarious
LOL no. The PAC12 and Big12 conferences are garbage without one decent defense.
"Jameson Willimas" is even better than Jameson Williams.
Good 'ole One-Touch Ross. Pretty sure my grandfather could've tackled him.
And the safety and the corner didn't have the sun in their eyes and they saw it? Boy, that's pretty unlucky for Victor.
Start him in front of Victor. Victor is still lazy, as shown by the underthrown deep ball that he didn't even try to defend. Victor isn't an NFL WR, and he's an average NCAA WR.
Kudos to DeRosa for writing the truth.
White people were far from the first, or the last, group to force black people into slavery.
So I guess only 9 reasons to hate FAU.
Well the article clearly says he throws blocks "when he wants to", so hopefully he "wants to" every snap.
When this sentence was written, did anyone actually read it?
"Along the way, Snow said he twice attempted to end his life. The thought of leaving his three sons fatherless kept him from self-destructing."
Makes sense that Mattison would want anything other than Michigan.
Whoever told Gus to stop talking about the headaches and brain cyst every 15 minutes (during the game), we all thank you.
Bill Davis should be assistant manager in training at a Burger King.
A friend of mine said that the 10-1 Buckeyes were the worst 10-1 team since Notre Dame every year. :D
Bucks will be fine, the worst part will be hearing the stupid Purdue crowd chant whoa whoa whoa whoa-oh
Our sports guy looks like he belongs with Chris Farley talking about "Da Bears"
I wouldn't repeat anything I heard on the local news
Yeah, but you're assuming the wide receivers will actually catch the ball.
Smith loved to eat, especially in the month before a championship game
He'll be remembered for this forever, instead of just being remembered as a great recruiter and a terrible WR coach
I think any player has the potential to be the best pass catcher, period, on this team.
Because he lied about it. What don't you understand? Dude made $17k TODAY. You don't lie to the press.