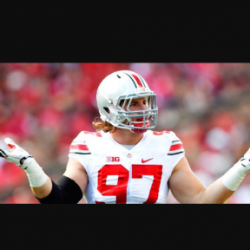 cuttyrock
---
from Toledo OHIO
Member since 27 January 2011 | Blog
Favorites
SPORTS MOMENT: 2002 BCS National Championship game.
COLLEGE FOOTBALL PLAYER: Tedd Ginn
COLLEGE BASKETBALL PLAYER: Jim Jackson
NFL TEAM: Chicago Bears
NHL TEAM: Columbus Blue Jackets
NBA TEAM: Detroit Pistons
MLB TEAM: Detroit Tigers
SOCCER TEAM: Columbus Crew
Recent Activity
Forum Post
40 minutes ago
JT best fit would be the Saints. I think Bree's would be a great mentor and it has a Buckeye flavor. Sean Payton would a great coach to learn from as well. Him sitting for a few years would be great. Sometimes people just need to be an understudy.
JT imho is a rhythm passer. If he completes a few early on or a few in a row. His confidence goes through the roof. If he has turnovers or makes bad reads he can be a head case because he slows down and locks in on wr. He has shown flashes of being a really good qb. He can improve arm strength and accuracy. The thing I will never say about JT is you know he will put in the work so he has a chance. He needs the right fit and maybe sit the bench for a few seasons. Late round pick maybe have that option.
Victor is a man mister who will be really good with more PT
I would honestly start Mack, Victor, and Campbell. They are the best at getting open.I didn't pick Dixon only because of health. TMC, Hill, and Dixon can rotate in. Enough can't be said for playing with a qb where you know on any play you can get the ball. If Campbell a former db can improve his hands like I suspect he will this offseason he can become electric. Most spread teams play 6 wr or so the difference is they throw the ball more. I think we throw it more this year. 12 called qb runs down to 2 gives wr 10 more chances to get targets.
I only say Berry because Rucker will not be at school for Spring ball. That helped Dobbins get acclimated to speed of game, playbook, and Morris reps because when season hits backups run do not get as many reps.
If we called LeCharles Bentley and Cris Carter home to coach I wonder would they accept?
Im happy he's coming back hopefully we can have a more profilic passing attack.
Washington is a monster so just get him and let him play. NPF is still my number one and a de. That's three but I expect transfers. That QB Sam Howell has that it factor. Ultra competitive. We got to get him.
I think we need another H Back. McCall and Gill after this year will be all that's left. We didn't sign an h back last season. Campbell and Hill will probably be gone after next year. If he develops Washington can be a wr. We need dynamic playmakers in this offense. Washington flies and makes people miss. We don't have a wr that gets the ball and makes ppl miss in open field. Campbell is fast but not elusive. We also have not heard anything from TMC. He's never said if he's returning for his 5th year.
I think Burrow is the perfect qb for the offense. He reminds me of Alex Smith with he can throw but is sneaky and efficient at running the ball. Haskins has best arm talent but Burrow is what's best for the team. He's a better runner and probably less of a gamble.
Zone 6 is good but the problem is simple. Are most explosive wr never played wr in high school. Samuel did really well but Campbell is still learning how to catch consistently. Dixon is reallly good but he was hurt first three seasons. Mack and Victor need a bigger role in the offense but they split reps with each other. Offensive play calling plays a factor. Qb accuracy also plays a factor. JT was running qb. He was a decent qb at throwing the football but we all know that was not his strong suit. Michael Thomas never had 57 receptions in a year in here. He averages 98 in the NFL I expect whoever the qb will be will throw for more yards than Barrett in a year and be more effective in a passing game. They will not be the runner JT was. Hopefully play calling will be different. No more than 5qb runs a game.
We already run some 3-4 concepts this season and before with Hubbard doing back in zone blitz and sending Worley. We also used Darron Lee in a similar fashion. I do not think it's a good option because those on d line will be really good. Chase Young will have double digit sacks imho. Two reason will be lack of depth at de and Bosa triple teams. I also think Cooper will be really good. I'm hoping we can add one more de and have 9 man rotation again. Dt will be stacked because Landers, Jones, JC, Barrow, DH, HG, AJ, TT, and Vincent is depth personified. I'm just hoping no injuries at de.
I wish we could hire Darrell Hazel back as quality assistant. He was the wr coach with Ginn, Holmes, Gonzo, Robo, Hartline, and Jenkins but he's with the Vikings now. Spielman made a good hire.
Tho,as is who I want. A bigger back with great size and great feet. Good top end speed. He reads the hole. I love his vision and feet.
Sadly I'm waiting on them. Current team lacks grit, passion, and development. Hopefully working with Jent another year our current players can find it.
Honestly I'm not sold on him and Browns need picks so trade down again. They need utilize the talent that they have. Get a qb and a DB. Malik Hooker, Conley, and Samuel might all be available if you make the right moves and you can still draft a qb. Tribusky, Watson, and others are reaches at best with #1 pick.
Just great to see some one try to bring Toledo back and represent Ohio. Being from Toledo it is a lot of unfulfilled potential and talent that never makes it out. I'm happy for him and others who are continuing to blaze a path to make my city our city Toledo OHIO relevant to the masses.
If we could've on,y kept Ed W I would be estactic. I understand coaching and it's about having a lot of different components and hopefully with EGW with zone 6 and youth movement at war with better play calling we can be a better team in the passing game.
Scholly numbers down to 90 so five or so more to go. We still recruiting though.
Yes he just like Michael Thomas will translate better to the NFL. Play calling and better qb play. His catch radius is ridiculous. He's hands are great. Top end speed will be a determining factor but if he can route technician like Mike Thomas with his big body he will enjoy a great NFL career.
Studs to an administrative position.
EW has called plays since last season but Beck still has to develop a qb and JT has regressed. In a perfect world Stud goes to TE coach and EW goes to o line coach and and co offensive coordinator but stays on the field. The new hire will be qb/play caller in the box.
Quality control coaches are coaches who help during practice and scheme for the season. During game days they're not allowed to coach though. Just for practices.
The line played bad but I just think that scheme failed them. Not a lot of adjustments and the game plan was very vanilla. No mystery on offense. Me and you and Clemson knew just about every play that would be run before the ball was snapped. Curtis Samuael comes in motion he will get the ball. When they pass it will be short so play them underneath and d line get your hands up because Barrett not accurate deep and they never call deep routes. Samuel will run outside and rarely inside. Very easy game plan to stop when you have similar talent.