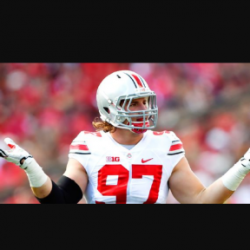 cuttyrock
---
from Toledo OHIO
MEMBER SINCE January 27, 2011
Favorites
SPORTS MOMENT: 2002 BCS National Championship game.
COLLEGE FOOTBALL PLAYER: Tedd Ginn
COLLEGE BASKETBALL PLAYER: Jim Jackson
NFL TEAM: Chicago Bears
NHL TEAM: Columbus Blue Jackets
NBA TEAM: Detroit Pistons
MLB TEAM: Detroit Tigers
SOCCER TEAM: Columbus Crew
Recent Activity
Word of advice Coach Day. Say O-H!
Would a guy like him gray shirt?
Coach Mick will get the depth right. Tomorrow is the day of days. St Valentine's Day massacre. This will be fun.
Is he eligible? Not sure he graduated and if he's already enrolled and taking classes he may redshirt of file waiver.
Why is no stealing Clemson coaches?
He was young and Coach Coombs saw something special in him. He's making progress and maybe with another year he can take the next step to being consistent. This years growth for most is a wash.
If you believe in your skill set then why leave until you lost the job? Hopefully he didn't believe that the job was automatically his. You got to earn it. High school ranking are just that. College is different. Get off of social media complaining and get to learning playbook, throwing to wr, being the first one in and last one out. Work ethic can take you a long way.
Two and a half years. What's his major?
Mattison has no postiotn to coach so I can envision him helping with front 7 specifically LB. Al Washington is an amazing hire because great coaches can't teach anything. He's an elite recruiter and can coach several positions.
I completely agree but some of it is evuaktiin if talent. Luke Kuechly went to BC. Travis Kelce and Jason Kelce went to Cincy. Andrew Donnal I went to Iowa, Dowell Brothers are at MSU. Justin Layne at MSU. Most of these guys are pro or starters for power 5 conference teams. We didn't recruit either of them hard. They're all from the great state of Ohio, The list goes on from James Daniels, Le'Veon Bell, and others. We have lost in past 12 years three potential NFL hall of farmers from our state in Kelce, Bell, and Kuechly. We nee pd to recruit better.
I asked about this years ago. He took his acedemy from NE Ohio to Arizona.
That's the hardest part of the equation.
No Bowling Green already hired a coach.
New scheme could have him wondering that he could be a first round pick.
Why are the coaches not leaving? I know Venerables makes 2.2 million a season. I guess it's about paying staff and some are content on being on the staff instead of head coaches form lower schools and make less money.
I hope Alabi starts next season at rt. NPF needs to put on more weight and I can see Alabi start to figure things out. He looks like he could be a great rt especially in pass pro. He needs to get stronger at the point of attack in the run game. I think he was really nervous but really good. Alabi, Munford, Myers, Davis, and Bowen would be a great line imho.
O lineman is the hardest position to project. Several reasons such as body development, growth, and the technical aspect of the position. Very few true freshman start. It takes one or two seasons to usually get them accustom to speed, technique, physicality, confidence and body growth. O line is the hardest position to play in football. Blitz pickups, stunts, assignments, knowing where your teammates are going to be.
Nothing is given but with that being said he deserves the chance to earn it but starts as ga. I think he doesn't want to lose his job for another job that doesn't play much.
It's all about proving doubters wrong. The worst injury is Achilles.
We recruited him but he was already committed to Wisky. I think he is great but Wisky also doesn't really have great wr. They throw to the te. Skill players mattter as well.
I think Alabi could start at rt over NPF. He was really good. Played better part of two games. He didn't make any errors. I forgot Munford wasn't playing that's how good he was.
I think you can pick select who you want your number to go too. Dixon wants Olave to get his number. I want Wade to be number 2.
Yeah not happy about him leaving and maybe more changes will happen. I think you control what you can control. He controlled safeties and they played terrible. I thought they regressed but I also thought it was because of scheme. If Schiano stays and doesn't change scheme then we will know. If Schiano stays he better be safeties coach again. Teach what you preach.