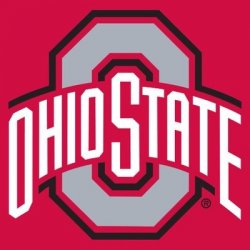 Cuser17
---
Ohio (via Martins Ferry)
MEMBER SINCE January 03, 2016
Favorites
SPORTS MOMENT: 2015 Sugar Bowl
COLLEGE FOOTBALL PLAYER: Braxton Miller
COLLEGE BASKETBALL PLAYER: 1. Tyler Hansbrough
NFL TEAM: Miami Dolphins
NHL TEAM: Pittsburgh Penguins
NBA TEAM: Chicago Bulls
MLB TEAM: Pittsburgh Pirates
SOCCER TEAM: USMNT
Recent Activity
What a way to start my Monday morning!! Love it!!
GO BUCKS!!
Naturally Michigan State drops out right before we play them, but AM somehow stays in...
Just win, baby!
Only 19 snaps for Brendan White makes no sense. He should never come off the field.
Cincy is a solid team and this is their national championship game, but this spread seems right. Ohio State definitely let off the gas yesterday and they can't get away with doing that Saturday, but I think they'll wear down UC in the second half and come away with about a 20 point win.
That being said I won't touch this game with anyone's money.
At least it's a night game and not a noon kickoff like last season
Never thought Urban would be a guy to use so many abbreviations when texting haha. The last part about not even considering impermissible benefits is the best part about this. "We are straight as an arrow" is exactly what you want to see.
Chris Holtmann is a god damn wizard! Hell of a win.
National. Freaking. Champions.
Let the battle commence...
Not just the Natty in 14.. the 3 game stretch with a 3rd string QB is his legacy. Taking down Alabama in the Sugar Bowl is his legacy. 7-0 vs TTUN is icing on the cake.
I love Tate Martell. Whether Fields comes here or not, we'll be in great hands at the QB position once Dwayne leaves.
Tate Martell is going to be great at Ohio State. Haskins is going pro and Martell is going to be a more electric version of JT, in my opinion.
PUT US IN THE PLAYOFF
HASKINS FOR HEISMAN
GO BUCKEYES
Clemson out with a loss. Very unlikely, but Pitt is due. 11 year anniversary of upset of WVU
I don't know what's more stressful. Needing Texas to win this game or needing another 45 points to hit the over!
Oklahoma would be better off just sending the house every play.. if they give up a TD every play, big deal. Just more time for their offense
Just beat the hell out of northwestern and hope for the best. If not, go kick Washington's ass in Pasadena.
GO BUCKEYES!!
Ok cool, Hook em!
If this were a noon kick in Evanston, I'd be a little worried. But a prime time, conference championship, in a controlled environment.. it's going to get late early for the 'Cats. They've had a hell of a year, albeit a weird one, but they don't have the horses to run with the Bucks. Come out early, enforce your will, and never let up.
Buckeyes BIG
No way Zach Harrison heads up north now, right?
I know :P I couldn't remember what other stupid trip they took!