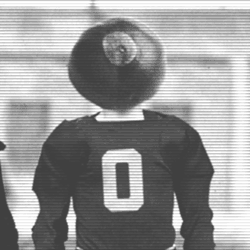 curiousrash
---
MEMBER SINCE November 04, 2017
Recent Activity
Really?
Saban is much older than 156. He was created by God, but will soon be thrown into the burning lake of fire.
I'll take overrated michigan men for 800 Alex.
Notre Dame must have been the name of the junior high that he drop out of.
Not surprised by the outcome. The media is full of #25 ranking Jonny Millers, or at least 40 percent of it is.
John Moten ran for a monstrous 127 yards all season,that 77 yard rip was a bad look for us. Again.
She should stop tweeting and go do her roots.
Win or lose,this is still a Clusterfuck.
This is what happens when you take your foot off your opponents neck.
Who ever is calling plays must have been Fitzs best man or maybe the ring bearer.
I've been reading anything by Jordan Peterson. Your son's will thank you. And Provocations by Camille Paglia.
They seems to get way more exposure here then on the networks.
The fact that OSU has so many QBs is boarder line criminal. I live here in Central Texas and have seen Baldwin play. He and Wilson are going to be special.
All this ass and fuck talk is making me horny!
A little off topic,what do you guys do to get the grin off your faces. It's starting to hurt a little. I tried googling Steve Bellisari but it didn't help.
I think he's talking about the run down his pant leg.
Call me fucking sick,but I want one of the original shirts. Every time a scUM fan sees it they'll be reminded of having their soul crushed.
To call the dogs off at the end of the game was merciful and a class act by Urban.
SOAK IT UP GENTLEMEN. THESE ARE GOOD TIMES!
Any pictures of harbaugh's crying kid? Asking for a friend.
It's a tequila night!!! I'm gonna get Fucking obnoxious. GO BUCKS!!!
As long as we stick to our three predictable plays,were good. Bucks win in double overtime. GO BUCKS!