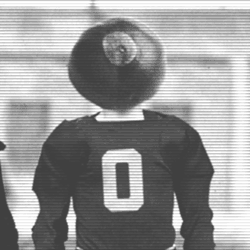 Culp's Freaking Hill
---
MEMBER SINCE November 23, 2010
Recent Activity
I don't know for sure, obviously, but I think it's FS for Hubbard?
I'd guess with quite of confidence it'll be TSUN for Hand, but at this point anything can happen. It's still early.
Yes. He was once a ND lacrosse commit.
Trickery, Jim Delaney is never and can't ever be the commissioner we all thought he was. The only known clear characteristic of the man: he is motivated only by the scent of hot currency being wired across the spectrum of invisible wiring currency. Oh, and getting the last laugh when it comes to Notre Dame, which may or may not happen by the end of the decade.
Further, would we be the first or second game on their schedule?
"I just don't know, Mike, it just seems like if I don't eat fast food at least once a day, I'm just not going to have a good day."
At this point, I don't know if we could claim to be in the hunt for Wiggins. I suppose we could say we are watching the hunt and trying to get a shot. I am curious to see if we add anyone else in 2013 or if we'll focus on 2014 from this point. As far as bigs go, we absolutely NEED to get all hand on deck for Okafor.
That is some positivity. But, I do agree with you: If we can't win against top B1G teams at home, we don't deserve a conference title. This is easily the best conference in the nation. I expect the top 3 teams to get to the Elite Eight, barring injuries, etc.
Bell was wearing similar glasses as Malcolm X has worn and he has a somewhat comparable hair cut, but I think visual similarities end there.
I agree with you in the feeling of relief that his scholaship was not pulled. Though we are opererating under sanctions, I'm glad we are not falling to the level of iffy behavior some schools in the western portion of our Southeast are content to exhibit. However, I can't fault him for choosing Muschamp and Florida. The kid is a Gator fan and has been probably since he can remember. I'll never be able to be upset about a kid choosing to play for the team he has always cheered for. I wish him well unless he ever meets the Freak Show.
I've always had a soft spot in my heart for The Harvard of the South, especially since their namesake hooked the Union up in donating a significant steamship.
Zeke was waivering, so 11W made an exception. I'll allow it.
That no call is much like the no-calls SEC LB's and DB's get on opposing WR's.
I can't agree with you more than I currently do.
That is pretty hilarious. Great story.
That would massively shock me.
In life, and in this contest, if Sparty wins, no one does.
Mine is the same as yours except Mitchell is 1 place higher and Dorain Johnson is right behind Bell.
So, Braxton Miller is going to flip to S?
jk
We need linebackers, though.
How many OL will we take next year or is it too early to call until we see who makes it to August?