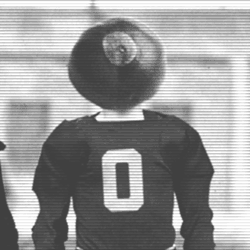 CTownBucknut
from Cleveland
MEMBER SINCE February 15, 2015
Favorites
COLLEGE FOOTBALL PLAYER: Joey Bosa
COLLEGE BASKETBALL PLAYER: Jimmie jackson
NFL TEAM: Browns
NBA TEAM: Cavs
MLB TEAM: Indians
Recent Activity
Definitely top 5, that's for sure
They did, but he was still ranked #37 overall, and $4 at his position. HE obviously still far exceeded his ranking, but it's not like he came out of nowhere or wasn't thought highly of.
Penchant for signing three stars? What a strange thing to say after Day has had 1 full class, and had to deal with the retiring of a HOF coach, and no benefit of having had a season under his belt at that time most players were committing. But even given these factors, let's bring facts into this. Starting in 2012, here are the number of 3 stars or less that were brought in
2012: 9, 2013: 4, 2014: 7, 2015: 11, 2016: 7, 2017: 2, 2018: 3, 2019: 5, 2020: 9, so far for 2021: 2 (9 recruits total)
Of the 9 for 2020, 1 is a kicker, and it's a full class, so there are 16 four and five star guys, right in line with their norm. I definitely don't see anything that should lead anyone to believe Day has a "penchant" for bringing in 3 stars, especially given the factors I listed above. Now if 2-3 years from now, 40-50% of the classes are below 4 stars, then maybe there's a point to be made here. So far, it seems like an absurd comment, especially given the start they are off to for 2021.
I'm not knocking them, I just find it hard to fathom regarding not spots. Maybe they don't think it's the best use of a right spot. If a blue chip CB decided to join the class, I'm quite confident they'd find room, that's really all I'm saying
I'm not sure I completely agree with you. I agree with your general premise, that recruiting could take a slight hit as a whole when losing a HOF coach and recruiter like Urban. But you can look at basically any other position group, and see blue chip studs that have been brought in. IF the issue is Urban, why did they land their greatest WR class ever? I think it's a combination of things, from bad luck and odd circumstance, to a lack of blue chip RB talent in the area lately, etc. But Alford has to take some blame here too, because they have a glaring opening at RB for any blue chip talent, and it's odd they have struggled so much to fill it.
It's just a little hard to fathom they don't have or can't make a spot for another RB. Had Clark Philips not flipped, what would they have done then?
The most amazing part of this roster and the part that is so intriguing, besides the obvious, is that one of the greatest recruiting classes in OSU history, the 2018 class, have barely even scratched the surface yet. You have Teague and Olave as big contributors, and a few others who have added depth and made some plays, but vey few have made major impacts yet. I say this not to knock that class, but rather to emphasize the fact that there are likely future stars from that class who have barely gotten started or been needed as key players yet. In my opinion, that will be the difference between this being a very good versus great season, what impact guys like NPF and Vincent and Tyreke Smith make, will Togiai and Ruckert take that leap from good to great, will guys like Tyreke Johnson and Gill and Mitchell start making a mark, etc. It's time for the 2018 class to really break out!
They've reached new levels of absurdity and delusion. There may literally may be more active OSU threads than TTUN ones right now.
This guy refers to OSU like they are just some little stumbling block along the way to another championship. I especially love when he refers to OSU as a "step up in competition", the way we would refer to Michigan State after playing Rutgers. I get that Clemson can't control their conference, but this guy rolling out all these stats based on playing a bunch of cream puffs means nothing. They could be a great team who happened to play a terrible schedule, or they could be a mediocre team, who looked elite because of said schedule. There really is no way to truly know until they play somebody. I only pray their players have a similar attitude as this writer, and comes in over-confident. I don't remember ever wanting a game as badly as this one, and that includes a few championship games.
Nova did knock off Kansas today, but point taken
That would be funny if it held any sort of irony. Like for example, if OSU didn't recruit among the best in the country. If they didnt end up with 5 star NPF after missing on Carman. If they didn't end up with studs at WR despite missing on a Higgins. The joke loses its humor when it holds zero hint of truth or irony, especially considering none of the 4 players listed in the article even play LB. Big fail.
3) he wants to see who his position coach will be first. I don't think this is a stretch either, he either signs early, or waits until February, it's not like he can just wait a week or so to first see who his PC is, then sign.
It matters plenty, let's not kid ourselves. Beyond the fact that we really don't know who is most responsible for what defensively, we do know Hafley was an elite recruiter. What he did in 1 year was amazing. I think it's ok to admit this hurts. Having said that, I recall thinking how tough it would be to replace Coombs, Ash, etc. I have no doubt Day will make a great hire, and we will be praying not to lose that guy around this time next year
I can understand and appreciate how difficult it must be to see the coach who you were excited to play for, who was your primary recruiter, leave for another opportunity. However, Clark had to know that Hafley wasn't long for OSU. I didn't expect him to be gone this soon, and I assume Clark didn't either, but he had to know it was likely the following year. He has to do what is best for him, but I think it would be short sighted to go elsewhere based on a position coach leaving, one who was likely to leave in the near future anyway. He was always likely to spend the bulk of his OSU career playing for a yet to be hired DB coach anyway.
I agree. It's been a little disappointing IMO that while Chase has been doubled and tripled the last few weeks, nobody has really stepped up to take advantage of that. I'm happy Cooper will be returning next year, but I also think he would be very helpful in the playoffs. It's time for somebody like Tyreke Smith to have their coming out party.
Buckeyedownunder, I agree about OSU having the advantage in a close game. OSU has been unbelievable in terms of adjustments, figuring out what the other team is trying to do and neutralizing it. My biggest concern would be another slow start, as it will be far more difficult to overcome against a team like Clemson. If they can trade punches early, I like OSU to pull away late.
I'm pretty sure that's his point, as he's clearly just making fun of TTUN, and not suggesting OSU should proclaim this any type of revenge tour.
It's almost like they were in a no win situation this year. When they were destroying teams like Wisconsin, many said that they were just beating up on overrated teams from the B1G. When they were finally challenged a few times late in the year, suddenly they showed their vulnerability. The only way to change this is to win. Obviously, the most important thing is getting that Championship, regardless of who they have to play to do so. But this playoffs can also go a long way in dismissing some unfair narratives and being truly respected Nationally among the college elite, which essentially includes Clemson and the top SEC teams. On the flip side, a blowout loss would be devastating on many levels, and would just perpetuate this narrative. So I agree, the revenge factor is pretty far down the list regarding the important story lines in this game.
It's amazing to me not only how many players made first or second team, but also how many players you can make a legitimate case for. Hill and Olave are two already mentioned. Wade seems like a big omission to me as well.
They've completely lost their minds over there, it's really something to see
Only one of the items you listed really matter, and that's Fields possibly having limited mobility. I don't personally buy into the whole bulletin board material narrative. If Wisconsin needs added motivation to beat the #1 team in the land in a B1G Championship game, after getting rolled once this year already, something is wrong. And no amount of motivation can compensate for a huge disparity in talent. I just don't see it being much closer. I can see Wisconsin scoring more, but I see OSU scoring more too. I'll say 52-20, something like that.
Interesting, but that really makes no sense. In a hypothetical where OSU and LSU lose, and Clemson wins, they have Clemson dropping.
Actually Tressel was undefeated his 2nd year, the year you literally referenced already.
I agree with everything you said, and yet I still also expect LSU to remain at #1. My personal opinion on what ultimately it boils down to is perception. Perception that beating highly ranked SEC teams is a bigger achievement than beating highly ranged B1G teams. When LSU gives up high point totals, I believe there's a perception that they came against more potent offenses. I don't believe any of this is true or fair, but I do believe it exists, and is why I expect them to remain behind LSU
I would also add that LSU gave up 38 points to a 3-8 Vanderbilt team that was blown out by Purdue and UNLV earlier in the season. I think LSU is a great team, but I completely agree about the double standard. Everybody who watched the Penn State game could see that OSU completely dominated, as they have done every game this year, and are far and away more balanced than LSU.
He kind of articulated what he meant. My impression is he was saying that he's been places that have gotten crazier for small periods of time, but The Shoe was consistently great the whole game, if not over-the-top crazy at any points. But even that I too find a little odd, seeing as PSU couldn't even snap a football due to the crazy crowd noise