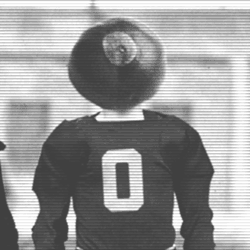 CTownBucknut
from Cleveland
MEMBER SINCE February 15, 2015
Favorites
COLLEGE FOOTBALL PLAYER: Joey Bosa
COLLEGE BASKETBALL PLAYER: Jimmie jackson
NFL TEAM: Browns
NBA TEAM: Cavs
MLB TEAM: Indians
Recent Activity
Looks like he will fit right in there
Agree completely. It's a strange position to be in, where so many elite WR's want to commit to OSU that they almost have to consider turning down potential stars. But as you said, too much at one position may mean not enough at another. But I'll just trust they know the numbers and have it all figured out
Not sure I completely agree with you on that. While I have no doubt all teams do their own rankings, I absolutely think a team may offer a kid sooner than they otherwise would have, if they see a school like OSU offer. Not saying that would be the only reason for the offer, but I definitely think a school may want to make sure they don't miss out on a kid by waiting too long, realizing that once OSU has offered, they better hurry, or risk being too late.
I agree, but sometimes things happen beyond your control. As it pertains to DB, you had 2 players kicked off the team, 1 player who left early, 1 player who hasn't lived up to his 5 star status yet, and 1 blue chip player who flipped late in the recruiting cycle after the position coach was 1 and done. That's a lot to overcome. You also had a legendary coach step down, so really it's a miracle how seamless it's been all things considering, even with the issues at DB, QB and RB you mentioned. But things definitely seem to be stabilizing to the norm.
True, but usually when there is a flurry of CB activity for a player close to when he is committing, there is a reason for it
I think he just means in the context of how important the position is given the scheme, and how unproven Proctor is. Wade is definitely more important to the defense, but he's also much more of a sure thing and known commodity.
All good! And trust me, I very much hope your instincts are right here.
I think it just feels that way because we follow OSU recruiting so closely, and some of the big misses that ended up at Clemson really stand out. Carmen, Breese, Hancock, etc. The reality is OSU wins plenty of battles for players Clemson wanted as well. OSU also offers way more players than Clemson, so simple math would tell you they will lose out on more guys, some of which to Clemson. My guess is if you spoke to Clemson fans, they would see us as a big thorn in their side as well, recruiting wise. If they land Egbuka, they will have landed several players Clemson wanted badly this cycle, along with Henderson and Jakailin Johnson
Just curious, why are you just assuming OSU is in a top 3 he has yet to release?
That's another great bi-product of the class filling up the way it has. It puts a little pressure on players to commit sooner, which is unusual, as players typically have the leverage. My guess, and it's just a guess, is Edwards see's the writing on the wall that Henderson is in, so he's going to take his time looking at other options. I wouldn't even be surprised if Henderson was already a silent. 17 or so crystal balls, all for OSU, says a lot to me.
I completely get your point, but I definitely think the WR position will be improved. Olave already broke out, but now I believe is ready to be a complete star. Wilson should take a huge leap, and IMO offset what they lose in KJ Hill. Jameson I believe will take a big leap, and I expect some immediate contributions from at least 2 of the Freshman. I think the floor is similar to last year, and the ceiling is astronomical. DT to me is nearly impossible to predict. They also have a higher upside, but a much lower floor.
First off, it's only March. I highly doubt they are reaching on kids they don't want because of missing on others this early in the recruiting season. Second, look at his offer list, and that should tell you he's probably a lot better than his rating. Lastly, despite saying you trust their judgment, the entire rest of your post says otherwise.
Because they are trying to do what they feel is right, not just react to what others are doing. Besides, when others either don't take these measures, or are slow to do so, OSU I believe will look that much better being one of the schools at the forefront of putting health and safety above all else.
I felt the same way, he made a few outstanding plays that reminded you of what kind of potential he has
That's hilariously flawed logic. These kids compete in various camps and other events with the best players from around the Country. It's not as if schools and rating services base their entire evaluations of players solely on how they fared against their HS competition. But even if that were the case, if a kid can play, he can play, regardless of where he's from.
I was going off of the defensive report they put out where they broke down who played where, but you're correct, I forgot to also factor in the way the depth chart was laid out. But I also know they were so thin at DB, there was only so many other guys they could have gone against.
Sevyn Banks, Cam Brown, Tyreke Johnson, etc. We are still talking about OSU DB's that have been in the system a few years, so it's still impressive that they already look good, even if not against proven elite talent. That's how it works with practice, for every positive, there's a potential negative. If a WR looks great, maybe the CB didn't, or vice versa, if a DE looks great, maybe an OT didn't, etc.
There's confident, and then there's this: "I'm almost like a Dwayne Haskins, but I think I'll be better and I think they formed that opinion like I said based off my style of play."
Wow!
That will be interesting, but my guess is they do not. I don't know what level of recruit will want to come in when they just brought in Miller and Stroud, and McCord in this class. I would guess if they do want that 4th scholarship QB, it will be a Hoak/Chug type. Just my guess, especially with a smaller class expected this cycle and numbers being so tight.
It's based on more than 1 year of HC work though. He's been in the program for much longer and has been elite in everything he's done. Sometimes, you just know, and in this case, OSU feels confident they know what they have. Furthermore, they also know Day has NFL ties, and they want to ensure his happiness.
I also heard NFL teams are looking to move Chase Young to RB
I do agree that the term is over-used. However, I think it's appropriate in some circumstances, such as Cam Martinez. Here is a guy who played QB throughout HS, yet clearly will not play QB in college. Since he clearly will be moved, yet it's uncertain where that will be, I think athlete makes sense. Now a guy like Egbuka, somebody who had 1600+ yards and 25 TDs in 14 games playing the position teams are recruiting him to play? I'd say it was a little absurd to refer to him as athlete.
So you've just decided they should pass on all WC kids because WC teams haven't been elite of late? So they wasted their time recruiting Wyatt Davis? Gee Scott won't be good because he's from the WC, and WC teams aren't relevant? Just an absurd rationale
Agreed. I was always surprised that NPF was rated so high to begin with. When I think of 5 star guys, I think of players ready to come in and contribute right away, and maybe even play at a high level right away. NPF so obviously needed to add weight and develop for a while, which are not qualities I think of in a 5 star, #1 at a respective position type guy. I think he will be plenty good, I just always assumed it would take a while.
I remember at one point when Larry Johnson of all people was the guy many were questioning on the trail, as OSU had a temporary issue bringing in their desired DT's. Then Stud became the guy many questioned on the trail, as this article alluded too. Now Alford seems to be the coach Du Jour "struggling" on the trail. The reality is, these are all great coaches and recruiters, and sometimes factors just take place that lead to things not always going to plan. Things like Carman wanting to get out of the local area, Bijan backing out of a verbal commitment, etc. Hopefully most people have learned to not overreact to strange luck and small sample sizes, and realize all of these guys know what they are doing.