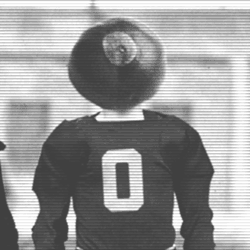 CTBuckeyeFan
---
MEMBER SINCE June 04, 2012
Favorites
NFL TEAM: Browns
NBA TEAM: Cavs
MLB TEAM: Indians
Recent Activity
They sure jumped from the DMac Bandwagon to the Milton Bandwagon quickly up there.
Damon Arnette was benched in Vegas too, it's almost as if lack of a preseason hurt rookie development.
I could use 5 more from Butker on this FG
You're also playing tougher competition so it's at best a wash. Not saying 7 titles is something to brag about given the history since 65 but discounting them is foolish too. It's basically saying winning the Super Bowl means less if you have a bye, not a great argument.
Killer holding penalty on the Chiefs
I hear this small league argument a lot. Hypothetical question, say tomorrow the NFL decided to contract 16 teams. Do you think the 16 teams left standing would overall get better or worse?
Wikipedia missing multiple instances of him leaving Miami for "personal reasons ", dude is a joke.
Sounds like choosing between a kick to the left or right testicle to me.
60 attempts and just over 300 yards?
Was it fun while it lasted?
So these refs know what defensive holding is? Maybe they should watch what's happening to OBJ
Then he's complicit in a very shady ordeal and shouldn't get to be absolved because he was just doing as he was told, he's supposed to be a leader.
Somehow 17 teams cast a vote in that process..........
Well it would be a vote he oversaw and administered, and a decision he implemented so he should at least be man enough to provide clarity into it. It also really doesn't help that he sicked his media dogs on Ryan Day for having the audacity to point out the lack of communication is asinine.
Well there's never been record of that vote produced so who knows. Kevin's lack of transparency and communication is the reason he's the villain though. Hiding from the original dumbass decision was probably the worst course of action.
Most of these fuckers couldn't manage a McDonalds, yet somehow they're allowed to tank local economies and hurt people's futures. How pathetic.
Who doesn't love gophers
God I hope we get 8 of the original 11 No votes.
Cowboys got screwed at the end, nice to see NFL refs still suck.
Shaun Wade can make the most money of anyone on the team by playing well this season, I imagine he'll play if it's in the fall.
Browns lose, Bengals lose, B1G doesn't vote
Terrible day for Ohio
That schedule is better than no schedule
Never forget.
RIP to everyone who died that day almost 20 years (Wow) ago.
Also, RIP to Chris Stevens, Sean Smith, Tyrone Woods and Glen Doherty who senselessly died 8 years ago today as well.