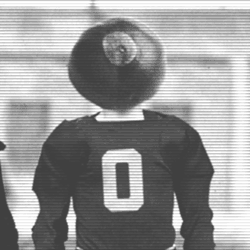 CTBuckeyeFan
---
Member since 04 June 2012 | Blog
Favorites
NFL TEAM: Browns
NBA TEAM: Cavs
MLB TEAM: Indians
Recent Activity
What are we supposed to do with him during road games?
I know plenty of OSU football fans that root for UNC or Duke in bball.
Did any of them actually go to Ohio State? Just curious
If you are rooting for UM to lose every game every year, you are also saying you are OK with us not having the greatest rivalry in all of sports.
I'm good with that
The same Auburn team who looked completely helpless on O without their stud RB will actually improve this year now that he's off to the NFL? We can agree to disagree on that one. LSU is a dumpster fire and Miss St lost their HC, projecting them in the teens at this point is pretty questionable too imo.
How many teams on the schedule do you think will be in the 2018 CFP?
OSU playing Citadel instead of MSU would have standardized the path in 2015. Unless you think Citadel wins that, OSU finishes the season undefeated in a scenario where their path is similar to Alabama's.
I wonder if 2015 OSU would have won a NC, or made the CFP al the very least, had they played Citadel instead of MSU the 2nd to last week of the season. Its the path to the Championship that needs to be somewhat standardized.
Big Porter played at Colorado St, so I'd think he would endorse any big time program recruiting his son.
Playing an FCS team should automatically disqualify any FBS team from CFP consideration.
They won't fire him, he was the end all for them. They wouldn't know where to turn if they lose him, hence all that lifetime contract BS.
With the addition of the Shark Fucker, there can't be a Warrinner AND Drevno situation unless someone else leaves. Traitor Ed's an analyst now right? So he can't coach the OL in his current position. At least thats my understanding.
Ignoring the fact he's from Hinkley, $$$$$$$$$$$$$$$$$$$$$$$$$$$$$$$
AJ to Denver, Cousins to Cleveland?
This assumes Dorsey is the first GM since the return to make good personnel moves though
But I'm also not sure it's LOL-worthy.
It definitely is
Remember when TTUN fans claimed the Harbaugh hire was on the same level as Meyer and Saban? That was awesome.
Should probably tread lightly on this one, you gotta creep...................creep
Yep, big Chicago Sports fan too...................
I knew she was stalking me
No not really. Boston has really overachieved this year without Hayward. I think they can win the East but don't feel like they have enough offense to do so at this time.
You are welcome to move your desk next to mine, all I've heard since the Celtics took the 1 seed last year is that the Cavs/Lebron are/is overrated. They seem to be the least delusional about the Celtics too, any time the Patriots/Red sox/Bruins come up it gets nauseating here.
That said, yeah, naming a kid "Taco" pretty much paves the way for him to be a world-class dumbass. I doubt that's his actual name. But still...
I wonder if he uses it as his password too........
I still remember Booger McFarland saying Bosa would be the biggest bust in the draft, what a fucking idiot.
Especially if that means we lose to Boston in ECF and their miserable, arrogant fans.
Sitting in Hartford, CT, I can attest to the description of the fanbase. Been a fun couple weeks after the SuperBowl and the Cavs bitch slapping the Celtics at the Garden, but as soon as the Celtics win another game they'll be back to their delusions.
All the new pieces are signed for a while too, no? If so they are a Lebron contract extension and TT trade for a big man away from being the East favorites for a few more years. Before the deadline they were looking at being the 2011 Cavs again next year.
I'd agree with the bet. PSU loses their 2 best players on O, now if all falls on McSorley which I don't think he can handle. MSU could be good but given everything going on there, who knows. That leaves them as #2, but they also have a pretty hard schedule next year to navigate. I think the only thing that can equalize us with the rest of the Big East is replacing Jamarco Jones. If someone can step in at LT and play well then I don't think any B1G team can hang.