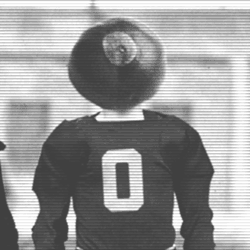 CTBuckeyeFan
---
MEMBER SINCE June 04, 2012
Favorites
NFL TEAM: Browns
NBA TEAM: Cavs
MLB TEAM: Indians
Recent Activity
Is he in the email directory though?
He gave his unsolicited opinion, that opinion wasn't defamatory towards Martell at all. No one asked his opinion on Ryan Day coaching Justin Fields either, was it unprofessional for him to share it? It's a huge reach to say Avery was throwing Shade at Martell here.
He was going to, then Richt talked him out of it. Guessing Richt told him he was retiring and Williams thought they could actually improve then.
If Avery saying Williams is unconcerned with who he'll have to compete with for the starting QB job is considered throwing shade, would't Martell choosing Miami and applying for immediate eligibility because he believes he can walk in and start right away be throwing shade at Williams? Funny part to me is, Williams is younger than Martell so if Williams wins the job Tate's career at Miami ends before it starts.
I fully expect that to happen.
Same reason it bothers people that others talk shit about Tate? No one's hurting him either.
Why, is Riley afraid that Kendall will tell them OU's defensive schemes are written in crayon? Pretty sure all of CFB already knows that.
Well, the fact that our 3rd string QB was good enough to be the starter at LSU is a pretty good narrative. It will scare away those afraid of competition, but they can always go to schools like Miami.
Part of me hopes he's granted immediate eligibility, would love to see how he reacts when he doesn't win the job in Miami.
Coaching change reason is BS, same guy running the offense this year as the last 2.
Did it happen because the other one wasn't 100% though? Seems plausible that the healthy knee buckled under the pressure of picking up the slack. Glad it ultimately worked out for Dean, but OSU not wanting to risk his health just to get him on the field wasn't a bad thing at all.
Well he tore his ACL again like 15 min into his Auburn career, so I think they had cause for concern. Glad he found success for himself though.
Yep, he dropped us from 86 to 85 god bless him.
https://www.elevenwarriors.com/ohio-state-football/scholarship-grid
Sitting at 85 right now, so I don't think it will be too serious. Need 1 spot for Nester, we'll see if anyone else jumps in before NSD.
Edit to add that Brian Snead is still on the roster as well, hopefully it stays that way but if not Nester's spot is open.
I wonder if Barrow was pressured by OSU trainers/doctors to retire? Was it a scholarship (numbers) issue? Was it that he had lost a step or two following his recovery? If so, is it a case where he still feels like he can play, even if it's not at an OSU level, and can only do that if he transfers out?
If I had to guess, I'd say its a situation very similar to Jamel Dean where OSU Dr's won't clear him to play and he disagrees. Best of luck to him whatever happens though.
Kory Curtis? Really? You're going to use the transfer of Kory Curtis as ammo for your argument that Day is screwing up the QB situation here? Thats 1 way to go I guess.
I guess he's smart in the sense that he came to terms with the fact he's not good enough to play here. Because if he were good enough, he wouldn't be afraid to compete with someone who may or may not be eligible this season. Though, if he's not good enough to play here then he's not good enough to play in the NFL so his transfer criteria should have been the school best qualified to prepare him for the job market. Hopefully he found that in Miami.
Why was it a smart move at this point? He's been learning the offense for 2 years, and by his accounts has been understanding and running it well. Ryan Day is considered one of the best QB mentors in CFB. OSU puts players in the league at a rate higher than almost anyone. Why was running away from the QB competition a smart move, personally or businesswise?
If all that is true, why was Tathan spouting off his mouth on Twitter that he was destined to be the starter here? There's no evidence anyone was promised the starting role, which imo is Tathan's problem. He felt after being on the team for those 2 years he was going to be handed the spot vacated by Haskins. He was told he'd have to earn it, and he doesn't think he can against Fields.
Dantonio sandbagging his program just may save Harbaugh's job.
If he does a good job there we may call him up to the majors.
Assuming they hire an upgrade and not another Lane Kiffin.
What are the odds all our games are on Fox next year? Thats the only way we get through an OSU broadcast without having to hear something about Alabama. Herbstreit and Fowler are probably buying lube in bulk right now after hearing the news in the OP.
Sweet, we'll get to hear how unstoppable they are each time they beat up on a garbage team on their schedule again next year. Should be awesome.
However, which part of their previous 3 games was you not impressed on with?
All of them? Oklahoma's D may be the worst in the country, Auburn lost to Ms State and TN while that UGA D had no answer for the sensational Sam Ehlinger. Curious why Gattis would be leaving Bama with the OC spot open if he was really that good. Bama in 2018 was a product of a pretty weak schedule.