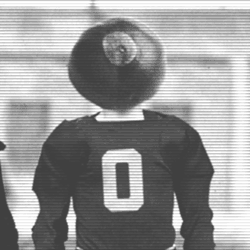 CTBuckeyeFan
---
MEMBER SINCE June 04, 2012
Favorites
NFL TEAM: Browns
NBA TEAM: Cavs
MLB TEAM: Indians
Recent Activity
Holy shit, LSU is gonna regress big time next year.
Honestly wouldn't want either of them, I think Etienne will run better at the combine and is more versatile in the passing game though. Which is why he'll go higher than he should. I don't think Taylor is gonna be a bell cow RB in the NFL but thats JMO.
Ray's a little old now, maybe we could get Edelman once the well run Patriots obviously cut him this offseason though.
Well yeah, he didn't see the dollar signs until then.
Hopefully this can end the "OBJ assaulted a cop performing his duties" narrative.
Really depends how he runs at the combine. A 40 time in the 4.4's will probably get him drafted in the 2nd round with guys like Etienne and Swift. Those should be the 1st 3 off the board, followed by Clyde then Taylor.
I think that's going to be Hill.
If I remember correctly, a lot of the same people were torching him over that incident. Sometimes you just have to sit back and laugh at overreactions.
Can't speak for anyone else, but I am. This shit makes me laugh.
Like when Zeke bumped that security guard in Vegas and he flopped hard? This is actually a lot like that.
He'll plead to Disorderly Conduct and pay a $500 fine, which is what he should have been charged with in the first place.
You like a more humble man to do it? To each their own I guess.
I'm pretty sure if OBJ was being held hostage they wouldn't be sending in stadium security. I guess it's a good thing OBJ didn't run across someone as tough as you though.
Why would a female security guard be in the locker room?
We're all embarrassed that we're Browns Fans, but this shit is just funny.
If I remember correctly, the guy was a pastor too.
I mean, if severing your own pinky with a folding chair is worth $3M then getting tapped on the ass by OBJ should net you at least $50k.
by issuing the warrant they are making it criminal though:
Simple Battery

Simple battery generally includes all forms of contact that are non-consensual, harmful or insulting. This includes any contact that results in injury or non-injury to the victim. The battery is not criminal unless willful intent to inflict an injury or another unlawful act on the victim exists.
It varies by state, so maybe NOLA is different though.
It wasn't a cop, it was a Dome Security Guard. I don't think they are allowed to carry guns. I do expect said security guard to follow this incident up with an attempt to supplement his bank account though.
Normally you need willful intent to inflict injury to secure a Simple Battery conviction, should be interesting to hear how that applies here. Maybe the law in NOLA is more lax in that area.
So that's Battery these days?
You really missed out on some great commentary.
Like when Kirk touted Burrow's rise from 2 star recruit to the best QB in CFB.
Or when Fowler compared the journey of 2 QB's from the midwest who ended up in Louisiana in Burrow and Drew F'n Brees.
Not sure who these 2 have doing their research for them but they are pretty stupid to trust them.
I honestly never heard him linked to Cleveland
No I think having a degree from the same school he does makes us equally Buckeyes.
Ok, SCREAM confirmation bias all you want to deflect from not having evidence to back up your opinion then.
Well, hopefully you enjoyed it LSU because next year will be a lot less fun.
Again, what am I supposed to believe over them? Is there any evidence to the contrary? For the record, I never said he was fake. I took exception to your silly claim that he's more Buckeye than us because he played football. So you can cry confirmation bias all you want to deflect from not having any evidence to back up your opinion.