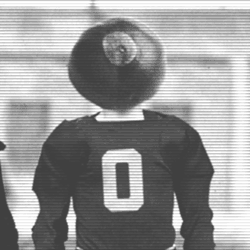 CSnowRun25
---
Ohio (via South Point)
MEMBER SINCE November 01, 2017
Timex-wearin', mini-van drivin, mega-mart shoppin', son of a gun
Favorites
SPORTS MOMENT: King Right, the Dagger, 85 yards
COLLEGE FOOTBALL PLAYER: Eddie George
COLLEGE BASKETBALL PLAYER: Scoonie
NFL TEAM: Cleveland
MLB TEAM: Indians
Recent Activity
Discliplined, controlled football will deter_ine the outco_e. As always it will co_e down to the front lines. History shows that Warriner was a horrible OC; but he's no slouch when it co_es to O line coaching, and you need look no further than back to 2014 and the progress OSU's O line _ade throughout the course of that season cul_inatng in the playoffs—especially against Alaba_a who had arguably one of the best D lines going into that ga_e. He will have his guys ready for CY and crew—incidentally I think it will be Landers and Ha_ilton with the noise this week. End of the day, I believe our D line depth will be the X factor. Hoping for a soul crushing beat down, but I think this is a close, low scoring ga_e. Bucks win 17-14
Meanwhile, Ferentz just locked up BIG coach of the year.
Damn millennials and "their needs"!
Let's see: this is the same Ryan Day coached offense that hung 62 on the nations top defense in 2018. Same Ryan Day coached offense that hung 34 points and 300+ rushing yards on the nations top 5 rush defense coming in to that game. And the same Ryan Day coached offense that just hung 52 on a team that was alllowing less than 4 YPC coming into that game. I see a pattern.
Anyone else see the bottle flip gesture Chrisman made after the punt was downed inside the 5?
I know it doesn't fit the content, but can't help but wonder if we see the Bullet used more for the upcoming game? Wisky uses the TE...A LOT: seam, crossing, fade and flat routes. They'll look to match up on Werner or Borland.
https://www.thelantern.com/2017/12/self-reported-ncaa-violations-prevent-ohio-state-from-recruiting-5-star-prospect-micah-parsons/
She's a TTUN grad. So, there is that.
Not always convenient to adjust in live game situations, but agree 100% with the sentiment.
Template for any DC facing a team with relatively new O line starters and a starting QB in his first game: adjust to a 4-2-5 or 3-3-5 D and make the young QB doubt his ability to throw into tight windows. On run downs, stack the box and slant the line which as the article noted, removes the ability of the O line to tee off. I seem to recall a 2014 game (sorry in advance for triggering the pain) in which a 4-4 Bear D was not anticipated and in which a new QB and relatively new O line starters (and coaches for that matter) could not adjust in game. So, other teams tried to do the same throughout the remainder of that season. Guess what? The line adjusted. The offense adapted, and the rest is glorious history. Just like Novocain...give it time, it'll work.
That moment when you realize you posted your rant on the wrong article...
Is Manchester near Mandrake Falls? Hear they have some wicked good pizza and greeting cards.
Can we have these refs for The Game?
You can't spell 'slaughter' without 'laughter'. Have fun today Buckeye Nation.
The road of life is paved with squirrels who couldn't make a decision.
Truth! Joel Klatt was pointing that out as well during the game. Timing was off with the snaps
10 weeks in. It's too late to make any moves and expect a dramatic impact IMHO. The real question, which was posed above: is there really not enough development of the 2's preventing any sort of change? Speculation I guess. The ripple effect of Meyer missing fall camp and first 3 games is still very real.
Then again it could be Meyer is not going to give TTUN any sort of fuel to scheme, and changes are being made behind the scenes.
Re the Tate Martell packages, I submit the following:
Ellerby: You seem quite happy with that result
Colin Sullivan: It's a result.
Ellerby: Yeah, but cui bono? Who benefits?
Colin Sullivan: Cui gives a shit? It's got a friggin' bow on it.
Somewhere Jim Tressell is skipping down the street shouting to the sky
"You have to just focus on getting better," Meyer said. "He's just focused on getting better each week in practice."
I know it's frustrating to keep reading and hearing this, but you do practice for a reason. As my old coach used to say "piss poor practice promotes piss poor performance". Not saying this is the case with B. White as I'm certainly not on site in the WHAC, but obviously the coaching staff saw something throughout the course of this season and now improved practice performance will be (hopefully) rewarded.
"Hey coach? Remember that one time you didn't play my brother for an entire year? And, and, and then he played, and everyone asked 'why didn't he play last year?' Remember that??" —Marcus Hooker
Someone usually posts the full game or compressed version on YouTube the next day.