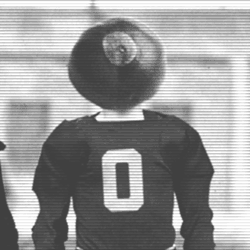 CSnowRun25
---
Ohio (via South Point)
MEMBER SINCE November 01, 2017
Timex-wearin', mini-van drivin, mega-mart shoppin', son of a gun
Favorites
SPORTS MOMENT: King Right, the Dagger, 85 yards
COLLEGE FOOTBALL PLAYER: Eddie George
COLLEGE BASKETBALL PLAYER: Scoonie
NFL TEAM: Cleveland
MLB TEAM: Indians
Recent Activity
Great write-up Ramzy. Back in the mid '90's, in little ole Huntington, WV, I had the privilege of witnessing one of the fastest players I've ever seen, and thought: "this guy will change the game; he absolutely glides past everyone." Then ~10 years later, had the privilege of witnessing another generational talent highlighted in your article and wondered what it would've been like for the two decades to merge and permit Ted Ginn,Jr and—Randy Moss to be on the field together...
Which explains why the Redskins under Snyder's leadership are 2-5 in the playoffs and 139-185-1 in the regular season. It's not about wins for Snyder, it's about revenue.
Apologies in advance if this is ground already covered, but what happened to Damon Arnette? I thought he accepted the invite to play...I'm sure I missed an update
I hear ya BC. And anyone who is a Browns fan knows the impact disappointments can have (e.g. The Drive, The Fumble). The question that remains from this is, does this program have the leadership to rise from disappointment to redemption? I think they do. And I hope...
The difference between bitterness and betterness is one vowel. Take this experience and use it to motivate, not discourage. Disappointing loss to be sure, but proud of what this team accomplished:
8th straight win over TTUN
3rd outright B1G title
CFP Playoff
And all of the preseason bobble heads saying they would finish 3rd in the B1G
Love this team and the teams to come!
Check this. The combined stats of the last 3 QB's under Ryan Day's tutelage (Joe Burrow included since he was at OSU in 2017)
TD/INT responsible for: 182/21 (and counting)
Average comp percentage: 69% (rounded up because, well, you know)
Heisman trophy winner and 2 QB finalists
Day may know something about this QB thing
In a time where bitterness is promoted and revenge celebrated, this man just reminded all of the sporting world of this life lesson: always be humble and kind.
Discliplined, controlled football will deter_ine the outco_e. As always it will co_e down to the front lines. History shows that Warriner was a horrible OC; but he's no slouch when it co_es to O line coaching, and you need look no further than back to 2014 and the progress OSU's O line _ade throughout the course of that season cul_inatng in the playoffs—especially against Alaba_a who had arguably one of the best D lines going into that ga_e. He will have his guys ready for CY and crew—incidentally I think it will be Landers and Ha_ilton with the noise this week. End of the day, I believe our D line depth will be the X factor. Hoping for a soul crushing beat down, but I think this is a close, low scoring ga_e. Bucks win 17-14
Meanwhile, Ferentz just locked up BIG coach of the year.
Damn millennials and "their needs"!
Let's see: this is the same Ryan Day coached offense that hung 62 on the nations top defense in 2018. Same Ryan Day coached offense that hung 34 points and 300+ rushing yards on the nations top 5 rush defense coming in to that game. And the same Ryan Day coached offense that just hung 52 on a team that was alllowing less than 4 YPC coming into that game. I see a pattern.
Anyone else see the bottle flip gesture Chrisman made after the punt was downed inside the 5?
I know it doesn't fit the content, but can't help but wonder if we see the Bullet used more for the upcoming game? Wisky uses the TE...A LOT: seam, crossing, fade and flat routes. They'll look to match up on Werner or Borland.
https://www.thelantern.com/2017/12/self-reported-ncaa-violations-prevent-ohio-state-from-recruiting-5-star-prospect-micah-parsons/
She's a TTUN grad. So, there is that.
Not always convenient to adjust in live game situations, but agree 100% with the sentiment.
Template for any DC facing a team with relatively new O line starters and a starting QB in his first game: adjust to a 4-2-5 or 3-3-5 D and make the young QB doubt his ability to throw into tight windows. On run downs, stack the box and slant the line which as the article noted, removes the ability of the O line to tee off. I seem to recall a 2014 game (sorry in advance for triggering the pain) in which a 4-4 Bear D was not anticipated and in which a new QB and relatively new O line starters (and coaches for that matter) could not adjust in game. So, other teams tried to do the same throughout the remainder of that season. Guess what? The line adjusted. The offense adapted, and the rest is glorious history. Just like Novocain...give it time, it'll work.
That moment when you realize you posted your rant on the wrong article...
Is Manchester near Mandrake Falls? Hear they have some wicked good pizza and greeting cards.
Can we have these refs for The Game?