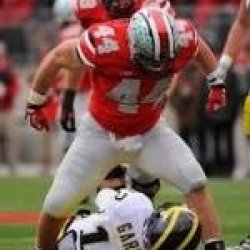 CSAR Buckeye
---
Member since 25 October 2012 | Blog
Favorites
NFL TEAM: Cleveland Browns!
NBA TEAM: Cleveland Cavaliers
Recent Activity
Whoa! Easy Michibuck, that sounds an awful lot like logic! The Buckeye O-Line may have played penalty-free, but it was far from a great game. They gave up 8 sacks and bought JT almost no time in pass pro. Still, I'm glad for the win. Absolutely epic.
An awful lot of trash-talking to come up short time and time again...
You're darn right DTanMango.
Exciting win for the home team. Dismantling? More like de-pantsing!
Yeah, but his punting resulted in 0 return yards!
The ESPN/ABC broadcast announced that it was indeed the team's largest margin of victory vs. a top-ten ranked team.
C'mon, none of us are really upset about this right? So many people on here are saying things like "Harbaugh's a dirty so-and-so" and "classless whatnots", but I think they did it to try to improve their rank in the polls. That's how this game is played, for better or for worse. If you trounce lesser opponents, it helps you rise through the ranks. If our beloved Buckeyes had made such moves we'd be signing their praises for their killer instinct, or something similar.
Another solid dose of perspective -- thanks Ramzy! No reason to let the libelous statements from the world against Ohio State go forgotten!
This is sad to see for this young man. It must be gut-wrenching to have a passion - a calling - ripped away from you. I am, however, glad that the condition has been recognized before it became life threatening to him. Nothing but a Buckeye wish of "Best of luck in all you attempt, Mr. Munger" goes out to him.
101,604 (100K for the goal plus 1 fan per day since TTUN has been TOSU)
Holy sh**! I live just up the road from the arena where the Ryukyu Kings play. I never knew they had a Buckeye to cheer on! And now I need to get to a game, and get my hands on some of that Ravenel Kings vodka. DJ, come on down for a game, we'll tailgate with some Chuhais first, then nothing but E-Rav vodka.
That was actually pretty funny...and phoney baloney!
Everybody please go vote for Coach Matta on the Infiniti Coaches' Challenge. Beilein is currently beating Matta 48% to 35%. We can't stand for that!
False I say! This is the greatest and best song in the world. Or, at least Tenacious D says it is in the song.
Sorry. I know it's not 80's. I cheated.
But, but, but this can't be right. Jim Tressel was a monster and a cheater who fixed raffles.
Ouch. I didn't expect a win, but that was brutal.
I understand he may be some type of joke?
Hey now, he can dance if he wants to. He can leave his friends behind...
Undisputed National Champions U.
Damn fine Skully, DJ. Your best work yet. Go Buckeyes! Let's do this!!!
Well that's just not right. Come on Heisman committee, use your heads.
And he can do it with only one shoe on.
Now that, my friends, is what a complete game looks like. Go Buckeyes!