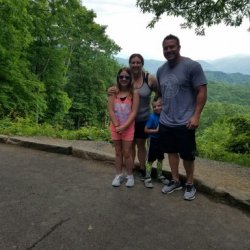 crusher
---
from Youngstown
MEMBER SINCE January 31, 2012
Favorites
SPORTS MOMENT: 2002 NC game
NFL TEAM: Browns
NHL TEAM: Ny Rangers
NBA TEAM: Cavs
MLB TEAM: Mets, Indians
Recent Activity
Me too, I don't like Vampires.
I knew who you were referencing and he would've been a lock if Urban was still HC. It looks like he's not sold on Day and has gone in a different direction just like a lot of recruits that were once heavy OSU leans. That may change if Day and his staff win a lot of games this fall.
Tressel is the destroyer of programs. Because of JT Miami and Michigan have been irrelevant for almost 15 years.
That quote should be on a statue of JT outside of The Shoe.
I agree. With players almost guaranteed to get a waiver to play immediately, Day needs to re-evaluate how he recruits QBs. Going out of state to build QB depth should be a thing of the past. They should consider offering Ohio's top rated QB when depth as needed. Take next year for example. With Miller in the fold and with the need of immediate depth Day should offer the best QB in Ohio . A kid that grew up a Buckeye is a lot less likely to jump ship the second things get a little tough. This new approach by the NCAA has created something worse than free agency. At least in free agency a team knows they have a player for a specific time and can handle their roster accordingly.
It is a little disappointing to see kids that were heavily leaning towards OSU at one time heading elsewhere. It looks like Jarrett and Rogers are heading to Tennessee. Sherman looks like he's heading to Georgia. Bresse, Williams, Davis and Mickens all seem to be Clemson bound. Ringo is trending to Texas.
My question is where the hell is McCall? Is he hurt again? I thought for sure he was going to see legit playing time. It's head scratching that a guy that seems like a home run threat every time he touches the ball isn't even being mentioned. And with Crowley looking really good in the spring game it looks like he's not going to get a touches as a RB. I hate to say it but he may just end up being one of those guys that never really makes any impact on the program which sucks because I'm a huge fan of his.
I've been going to a gym 5 days a week for the last 21 years. I'm certainly qualified to say whether or not a person looks physically sloppy. Neither looks like they have spent any significant time in a weight room. Coach Mick has his work cut out with these two.
Jakob James and Trey Leroux look sloppy. They definitely don't physically look like OSU material.
Some people in the stadium said the crowd was actually boing someone wearing a FSU jersey and not Tater Salad.
Typically when a kid commits he is given a workout and diet program by the team. They expect you to walk in on day one in shape and ready to be able to compete. Especially if you are considered a "project" player. If he doesn't put in the work that is expected and he decides to basically coast through his Senior year I could see his offer pulled.
In state offers are typically 100% committable.
Quit dicking around and offer Thomas already!!! Let's lock up the Cincy three.
I'm surprised. With four guys leaving after this year he'll have every opportunity to see the field next year.
Looks like Wiltfong CB'd J.J. McCarthy to OSU. Curious how much smoke there is here and if he is a take.
I was actually worried more about his concussion issues than his hands early on. I'm glad that neither are an issue anymore. He's a great kid and an amazing athlete. I'll miss seeing him suit up in scarlet and gray.
Day has four linemen locked in. Two are rated in the top 2 of their given position. Two are depth building long term projects that aren't going to transfer out in two years because they're unhappy about playing time. Now Day can swing for the fences and go for two more nationally rated guys. Day did a great job of holding last year's class together and has done a great job of not only holding onto but also building this year's class. If Day rips off eleven wins and has the offense playing like last year the recruits are going to be knocking at the door. Everyone should just be patient.
If Mike can stay healthy I think he could be this year's Nick Chubb.
Looks like every Buckeye that competed at the combine will get drafted. I'm really rooting hard for Dixon. I have the same knee issues. Anyone that does would understand just how much hard work and dedication he had to put into strengthening/taking care of his body. There had to be a lot of nights sitting in ice bathes. I want so badly for it to pay off for him.
They should eliminate the bench press altogether. It doesn't really translate over to football strength anyway. I can bench more than quite a few of the guys that tested at the combine and they'd throw me around like a rag doll on a football field.
I'm surprised they didn't ask him to try out for punter considering 80% of his passes look like an arm punt.
That was Steve Smith that was praising Campbell and Dixon. Said they were running extremely fast and precise routes. It looks like all 3 WRs are getting drafted. I think Campbell and McLaurin go in the 2nd or 3rd. Dixon in the 5th or 6th.
I'm looking at the results right now.
Weber, Mike Ohio St. RB 4.38u
If anyone transfers I could see it being a safety and a receiver. Both positions have some kids that are talented but have been passed on the depth chart by younger players.