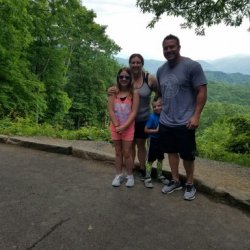 crusher
---
from Youngstown
MEMBER SINCE January 31, 2012
Favorites
SPORTS MOMENT: 2002 NC game
NFL TEAM: Browns
NHL TEAM: Ny Rangers
NBA TEAM: Cavs
MLB TEAM: Mets, Indians
Recent Activity
Is that Joel Hale that Alabi is talking to?
Not saying I'm a Zach fan but as a guy that was in a relationship for seven years with an alcoholic that got mean and violent when she got drunk I understand that there's two sides to every story and we only heard one side. It is entirely possible that the media reported what fit their agenda without investigating what really happened. Again not saying I know what happened but I do know that a woman that has a drinking problem and gets physical with her husband/boyfriend doesn't quite garner the clicks that a coach that abuses his wife does.
Zach certainly sounds like he has an ax to grind with Eleven Warriors. He said he'd discuss his issue with them in a later episode. I'm interested to see what his problem with them.
I love reading the annual "this year they're finally going to use the tight end" article.
Does Urban get blamed for Kellen Winslow Jr too? I mean he did play college football in the state of Florida.
Nothing can ever take away from the greatness of Zeke's run. I can watch him blow past Bama's Defense like they were standing still a million times and still get the chills.
We'll see how attractive LSU looks to those guys once Ricks and Jarrett jump ship.
Great recruiter? He was a mediocre recruiter at best. He consistently missed out on elite level talent. Go back and look at his recruiting classes. Look at all of the top WR that were offered and had interest that committed elsewhere. And as for sending WR to the NFL he sent one developed WR to the NFL and that one happened to be the nephew of former great NFL receiver. Marshall was underdeveloped when he left for the NFL. Campbell and McLaurin were never going to be 2nd and 3rd rounders until last year. Victor is underdeveloped. Hopefully Hartline can change that because Victor has all the talent in the world. I'm sorry, I've always thought Smith was a awful coach. I always thought he was a charity hire. I always thought that he came across like an immature smug asshole on Twitter. I never cared for him as a coach. I don't care what he has done in his personal life.
Who would've guessed that having a WR coach that actually played at the D1/NFL level and was hired based on his ability instead of who his grandfather was would have such a huge impact on recruiting? Also it's nice to have a WR coach that's chasing NC rings instead of cock rings. It didn't take Hartline long to expose just how awful Smith was at recruiting and developing players. What he did to develop Parris and Terry in less than a year was absolutely amazing. Now he's out there landing just about whatever receivers he wants. He's been a godsend.
I wouldn't put too much stock in who is listed as the primary recruiter or the secondary recruiter. Coaches are all given territories so it's entirely possible that other position coaches initiated contact with a recruit. After that the coach will pass off that recruit to the position coach that recruit would be coached by. It's also possible that Urban or Day weren't interested in any O-linemen in Stud's territory. At the end of the day the kids all committed to be coached by Stud. He's no where close to the best O line coach OSU has ever had but he's not Jim Bollman terrible either.
I agree that Stud has missed on some big time talent but he also hit on a lot of top talent too. His 2017 class was amazing. Three of our starters are from that class. 2018 was pretty dang good too. He landed the #1 tackle, #1 center and #9 tackle. 2019 #2 center, #7 guard and a project that has a lot of potential in Jones. 2020 so far #1 tackle, #1 center and a couple of kids from Ohio that are projects. Could he have done a better job of landing some better talent as far as building depth? I'd say yes but it's not like he landed a bunch of garbage either. This year's line will have a 5 star RT, 5 star RG, 5 star G turned C, the top rated transfer lineman at LG and a low rated 4 star tackle that Stud as turned into a pro prospect. Stud isn't the best recruiter in the world but he's not the worst either.
The players in question just all happened to have a banned substance in their bodies that is specifically used by athletes and body builders to gain strength and muscle mass while burning body fat by mistake? GTFO I don't believe for a second that they accidentally ingested it either. That is such a weak ass excuse. They tried to cheat and they got caught. They should just own it.
I hate to be Johnny raincloud but it's starting to look like Babb is going to be one of those kids that has all world talent but just can't stay healthy. I really feel bad for this kid. He had to be heart broken when it happened a third time. I really hope that I'm wrong and that after this he never has another knee injury again but I don't think it's likely. His best bet might be to take full advantage of his academic opportunity. Whatever happens I truly wish him the best. He seems like a very high character kid.
I may be in the minority but I believe this years O-line will be much better than last years. I think that Davis and Jackson will be an upgrade over Pridgeon and Knox. Hopefully Dobbins can stay healthy because there isn't much experience behind him. I am very interested to see what Crowley can do. We were in on some big name backs last year but decided to go all in on Crowley who was a low 3 star at the time. Miami fans were PISSED when we swooped in at the last minute. I have a feeling that in the future he's going to be one of those 3 stars everyone uses as an example when we land a 3 star recruit.
This one is a head scratcher. This kid was fast enough to play and excel at CB in high school. I thought for sure he'd be used for blitzing and covering TEs. Hopefully Washington can help him out. He's a physical freak. If he can put it all together he'll be an outstanding LB.
If Rosemy ends up at Georgia and OSU misses out on Fleming after missing out on Jarrett it would be a gigantic failure on the staffs part. I truly hope Hartline can land Fleming.
I'd be thrilled with Troy Smith 2.0. Hopefully Jameson Williams can be Ted Ginn 2.0 and Garrett Wilson can be Gonzo 2.0.
I would add Banks, Vincent, Proctor and Togiai to that list.
Doesn't look good at all for Sherman. Look for the staff to start investing more into other LBs that already have an offer or potentially send out some new offers.
I actually think Pridgeon has a legit chance to be successful in the NFL. Smart pickup by the Texans.
I watched quite a bit of the draft. One thing that really caught my attention was the players drafted that OSU passed on. It was nice to see Justin Layne, Lonnie Johnson,Mike Edwards and Jamel Dean all go early. Those guys all wanted to be Buckeyes pretty bad. I'm happy that they were able to find another path to the league. Also it was pretty cool to see Jalen Hurd get drafted. I thought it was pretty crappy how Tennessee treated him.
Me too, I don't like Vampires.
I knew who you were referencing and he would've been a lock if Urban was still HC. It looks like he's not sold on Day and has gone in a different direction just like a lot of recruits that were once heavy OSU leans. That may change if Day and his staff win a lot of games this fall.
Tressel is the destroyer of programs. Because of JT Miami and Michigan have been irrelevant for almost 15 years.
That quote should be on a statue of JT outside of The Shoe.